h2g2 2011 Bikini Competition: Results
Created | Updated Sep 6, 2017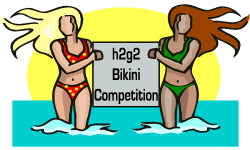 H2G2 Bikini Competition
Sponsored by the

This year's competition had a balanced mix of previous entrants, including the reigning champion Mina as well as Amy Pawloski, aka 'Paper Lady', Turvy and Vip as well as new entrants 2Legs, Minichessemouse, Prof Animal Chaos and Rosie
Bikini Competition Results
I would like to thank everyone who entered the competition - without every entry the competition would not have been the success it has become. Similarly, I would also like to thank everyone who voted.
And now for the results. As is traditional, I'm going to mention the top three in reverse order:
This year was a very close competition, with the top two neck-and-neck all the way.
Just beaten into second place was the reigning Bikini Competition champion, Mina, on her fourth entry into the Bikini Competition.
...And The Winner Is
So, who has won the 5th Annual H2G2 Bikini Competition?

And the winner is Vip
Congratulations! And once again, I'd like to thank everyone who entered and voted!
Previous Results
Bikini Competition Links