The h2g2 Bikini Competition 2011
Created | Updated Nov 20, 2011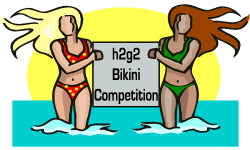 A friend of mine wondered how to gain admission

To this year's Annual H2G2 Bikini Competition.

'It's easy,' I replied, 'You can do it quite quick,

You can Enter the Competition with just a click.

Go along to the entry page and look over there

And describe the Bikini that you're planning to wear.

Anyone is welcome to join in the fun

The competition is open to every one.

Animal, vegetable, household object or stone

Everyone's welcome, and don't join in alone.

If you wish to make sure the fun never ends

Then don't feel lonely, but enrol your friends.

So don't miss out on the finest competition of the age

But come along to the Bikini Competition Home Page.
Now in its 3rd Decade!
h2g2 Bikini Competitions Archive