h2g2 Bikini Competition Update
Created | Updated Nov 27, 2011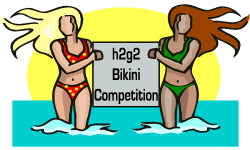 H2G2 Bikini Competition
Sponsored by the

Now in its 3rd Decade!
The H2G2 Waterworks and Beach is currently hosting the Fifth and Final of the Annual H2G2 Bikini Competitions. This competition is open to anyone and everyone on H2G2. Bluebottle will now tell us about the history of this, one of the oldest competitions on h2g2, and how it all began.
So, how did the Annual H2G2 Bikini Competition begin?
Bluebottle pauses for a moment, before answering, 'I can't remember,' honestly. 'I'm not even sure if it was my idea, instead it was something that just seemed to evolve naturally.'
Back in 1999 there was a lot more role play on h2g2 and the Beach was the most popular place on the Guide. Researchers on the guide enjoyed imagining that they were somewhere warm and exotic, and the bikini competition seemed to be something that took place in December 1999 as an antidote to the cold, harsh weather outside. This competition proved popular, and so it was held again the following year, and again, and again, and again throughout the early years of the naughty noughties.
Bluebottle elvised for a few years in the middle of the decade and on his return discovered that h2g2 had changed quite considerably, with role play and imaginative play now a much reduced part. Despite inquiries to host another competition, Bluebottle has waited until now to do so. When asked why, he replied.
'On the one hand, you can't recapture the past and any attempt to do so will fail. H2G2 has, naturally, moved on, many of the people who were here before have gone and there doesn't seem to be as much role play as there once was. On the other hand, what was fun 10 years ago and was still fun 5 years ago is likely to still be fun now. Even when the beach was the most popular part of h2g2, people came and went, and the beach and swimming pool carried on. I'm not necessarily trying to recapture the past, but hope to use the previous places as a starting point to create new conversations and adventures.'
With the return of so many old researchers recently to the post-BBC h2g2, Bluebottle decided that the time was right to hold a last bikini competition for old time's sake, and to bring new and old researchers together. If you wish to make the most of your last opportunity to take an active part in a long-established h2g2 institution, then why not Enter the bikini competition.
Bikini Competition Post Archive