Bikini Competition Post Report
Created | Updated Oct 20, 2002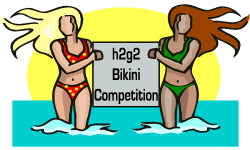 Are you fed up that each time you want to find out about the latest bikini fashions, your search engine points you at www.sex.org.asm? Well, worry not - for on H2G2 you can always rely on the Annual Bikini Competition!

Voting in the competition has now begun! To vote, simply go to the Voting Page. But if you haven't entered yet and want to don't worry - you are still free to enter at any time.

But remember to Vote Now before voting ends on the 3rd October.