4th Annual H2G2 Bikini Competition
Created | Updated Oct 20, 2002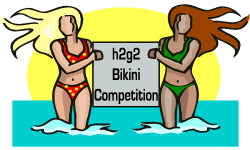 H2G2 Bikini Competition
Sponsored by the

The Bare Facts Of Beach-Bathing Bikini Babes

For a small item of clothing, Bikinis have had a surprisinly large effect on contemporary culture. Mention a James Bond film to someone, and the scene they are most likely to remember is from Dr. No when Ursula Andress came ashore from the sea dressed in that bikini. Ask someone what the funniest sketch in a comedy film is, and chances are they remember the scene from Carry On Camping when Barbara Windsor, does her excercises in a bikini and it flies off.
That is the impact the humble bikini has had! It doesn't matter that Ursula Andress' Honey Rider Bond girl was the dullest other than Britt Ekland's Goodnight, what matters is that the Bikini turned even her into a sex symbol. That is the Bikini's power; it can even make Barbara Windsor1 look attractive.
So, if that is the power of the bikini, why not harness it, and enter this year's Bikini Competition!
Rules

Rules for Entering:
Entry into the competition has just begun!
You can either nominate yourself, or someone else. If you nominate someone else, you must leave a link to their homepage in the nominating thread. To enter or nominate - click here.
Only people on H2G2 can be nominated to enter.
As this is a HRASC approved competition, we would like to ask all entrants to join the H2G2 Researchers Against Swimming Costumes
You also must be "seen" wearing your bikini. This just involves hanging around threads in both the Swimming Pool and the Beach. I'm not fussy, any threads there will do, so just visit, say hi, and hopefully hang around for a chat.
Rules for Disqualification:

You can be disqualified if:
You never actually wear your bikini anywhere - ie, if you don't go to the Swimming Pool and the Beach at all.
You are rude or insulting to anyone else in the competition2
You take the competition too seriously.
The Rules In Case Of A Draw
When voting begins, in the event of a draw, the following may apply:
Previous entry into the Annual Bikini Competition may be taken into consideration. If the person has entered three previous competitions, this will count as two points. If the person has entered both two competitions, this will count as two points. If the person has entered either only the first or only the second competition or only the third, this will count as a single point.
If this still results in a draw, an extra weeks voting may be allowed. Who-ever gains the most votes during that week will be declared the winner.
Answers to Frequently Asked Questions:
Do I have to be female to enter the bikini competition?


Of course not - the competition is open to anything animal, vegitable, mineral or alien. As long as it looks good - or bad - in a bikini.

What about sharks????


Don't worry - this bikini competition, somehow, remains HRASC compatible.
Entrants So Far This Year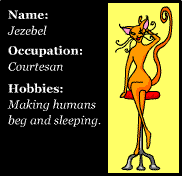 In alphabetical order, to avoid favouritism, complete with a description of their bikini:
Previous Results

The Swimming Pool And Beach:
If you've never been to the Swimming Pool or the Beach before, here's a guide to help you chose the thread for you.
The Swimming Pool
Swimming Pool - VI - the latest swimming pool thread, for all who enjoy drinking chlorine! There are waterslides, wave machines, rapids, fountains, waterguns,
showers, hottub, diving boards..! So if you want a swim, or a water fight, come here.
The Barmy Banana Boat Adventure - an inflatable banana boat escaped from the pool and is carrying it's passengers on a mad adventure throughout the Galaxy!
Swimming To Jupiter: 5 - A swimming pool spacecraft is taking the swimmers on a mission to Jupiter
The Jacuzzi - A jacuzzi filled with champagne, where you can drink champagne and relax in style.
The Beach
Bikini Competition Links
1A very talented actress who we respect very much, who just isn't that beautiful.
2As this is H2G2 I don't expect a problem with this. Friendly jibes are okay and encouraged, but anything offensive WILL be reported to Peta. This includes the people running the competition as much as those entering.
3H2G2 Researchers Against Swimming costumes