2nd Annual Bikini Competition Entrants
Created | Updated Jan 28, 2002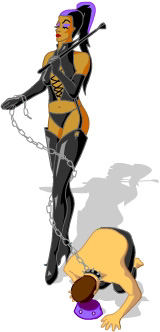 This is the page which will list everyone who has entered the Bikini Competition, plus a description/picture of their bikini!
All entrants are listed in alphabetical order to avoid favouritism. If you would like to change or add your bikini discription, picture1 etc, please say here.
Remember, voting is now over - you can find out who won on the Competition Results page.
Bikini Competition Entrants:
A Fish Called Bob
A Fish Called Bob
AquaMarina the Mermaid
AquaMarina the Mermaid
Bumblebee
Bumblebee
A horizonal striped, orange and brown bikini, size no-where near the scale.
Drop Dead Gorgeous Demonic Babe
Drop Dead Gorgeous Demonic Babe
Wearing a tiny Denim Bikini.
Ebany
Ebany
Emmy
Emmy
Galaxy Babe
Galaxy Babe
Go-Go Dancing Queen
Go Go Dancing Queen
HappyDude
Happy Dude
Bikini made of Latex!
JLC the TTP
JLC The TTP
A dayglow orangeish red body glove!
Lucinda
Lucinda (AKA MyRedDice)
A fairly plain Sainsburies conversion - the bottom is a fancy self-tie thong, made from a royal blue bag I got from the local fudge shop
Lucy Fur
Lucy Fur
Mina
Mina
Wearing a spray-on latex bikini.
Penguin Girl
Penguin Girl
Wearing a simple blue bikini!
Peta
Peta
"2Now this bikini competitition. Do you get extra points if you
actually send in a photo of yourself in a bikini? If so I may be in with a chance. I've got a great photo of me in a bikini that 18-30
holidays used of me in an advertisement (without my permission I'll add). 18-30 holidays may need a bit of explaining to the non
USA people. But basically, think tacky...
Purplejenny
Purplejenny
St. Seven of Nine
St. Seven of Nine
Wearing a chain-mail bikini, with a thong bottom.
TechnicolorYawn
TechnicolorYawn
Zmrzlina
Zmrzlina
Bikini Competition Links
Sponsored by the H2G2 Waterworks & Beach
1I would like to thank the H2G2 Post for permission to use their bikini animations.
2A Quote from Peta herself!