The h2g2 Bikini Competition: Update II
Created | Updated Sep 6, 2017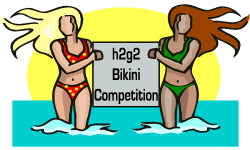 H2G2 Bikini Competition
Sponsored by the

Now in its 3rd Decade!
The H2G2 Waterworks and Beach is currently hosting the Fifth and Final of the Annual H2G2 Bikini Competitions. This competition is open to anyone and everyone on H2G2, and voting is now open!
Voting in the competition has now begun! To vote, simply go to the Voting Page. But if you haven't entered yet and want to don't worry – you are still free to enter the competition – but hurry, time is running out!
Remember to Vote Now before voting ends at the end of the week!