Northwest US Researchers Group
Created | Updated Jun 14, 2007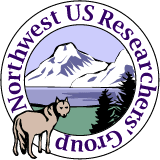 Hi! If you're from the Northwest US (i.e., Washington, Idaho, Oregon, etc), or are stopping by our area, drop a line below -- maybe we can all get together sometime!

I'm also trying to collect here links to the guide entries about the Northwest, so please let me know if you find or write some more.
There are also researchers' groups for the Southwest, Midwest, Southeast, and Northeast US.


Here are the people we've found so far:

Washington State:
Montana:
Oregon:
Idaho:
Alaska:
Wannabes:1
Related Links

Here are some entries on the guide related to the Northwest US:




Being as special as we are, we were the very first group to receive our own blobbed artwork via the new Community Art scheme. Out lovely artist was Amy the Ant. Here is what our group badge looks like. If you need help with the code for displaying the badge on your very own personal space, see below.


<LINK H2G2="A537428"><PICTURE EMBED="LEFT" BLOB="B4365432" ALT ="Snow-covered mountains with river and wolf encircled by text reading Northwest US Researchers' Group"/></LINK>

1Unfortunately, not all are lucky enough to live in the Great Northwest, but some people wish they were one of us!