Fish Recipes
Created | Updated Jan 4, 2019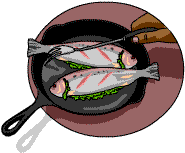 They gave him a piece of a broiled fish...
- St Luke chapter 24, verse 42
The above has to be one of the dullest recipes for fish ever conceived. It is for this very reason that you, the beloved h2g2 Community, have come up with some lip-smacking, enchanting and truly tasty recipes that will help elevate the humble fish to its rightful status as king of the dining room table.
General Fish Recipes
Fish Train Crash
So called due to the tomatoes found therein, this is one of the easiest fish recipes ever and absolutely yum to boot:
Take one fish or part thereof and place on a sheet of tin foil.

Fold the tin foil over the fish and seal it at two of the three edges by folding it over a couple of times.

Drop in a lump of butter, a finely chopped onion, some freshly chopped tomatoes as well as any other veg you fancy.

Season well, adding a splash of white wine should you feel like really going crazy.

Seal the remaining edge as above making sure nothing can escape, and bung the whole shaboodle into a hot oven for 20-25 mins.
A variant on this recipe would be to include some finely chopped parsley during the onion cooking stage, and thin slices of lemon on top at the end, before wrapping and sealing. It comes to resemble - though not perhaps by the classic definition - the Greek recipe fish plaki. With so many flavours it's good for relatively boring, tasteless or cheap white fillets such as coley.
Battered Fish
For a crispy batter, mix 125g plain flour with 10fl oz (1/2 pint) beer, or sparkling water. Add the liquid slowly, and beat until the batter is smooth. Coat your fish in flour, knocking off any excess, before dipping in the batter. Make sure it is coated well! Then fry in hot oil for 4-5 mins, until the batter is golden and crispy.
Key success factors or issues are:
Getting the fat really hot - testing it by dropping in a teaspoon of batter which should puff and float. If it sinks, the oil is too cold.

The choice of oil is vital. English fish and chips fans swear by beef dripping, but many would prefer a plain odourless oil such as corn or sunflower.

The choice of beer is important too. A recent prizewinner in a TV cook-off knocked the socks off judges by using a full-bodied beer rather than the more usual lager.

Adding a bit of something fizzy at the last moment increases the puff-up factor, if that's what you're looking for. What's the point of adding fizzy water early in the mixing if you're going to beat out the bubbles? As always, experiment and see what suits you.

As a recipe, you could try folding a suitable size and shape of fish fillet around a piece of cheese and cooked ham before pinning it with a small soaked-in-water cocktail stick and then battering and cooking.
Kedgeree
This recipe was a staple of the British in India and swiftly became a firm favourite in the UK - it's usually, but not exclusively, eaten for breakfast.
First, the fish. Traditional recipes use smoked haddock, but you can use virtually any fish - salmon works well for a more upmarket version or you might like to mix your fish, to add a bit of variety. You'll need to cook the fish, usually by poaching. Place the fish in a pan just big enough to hold it, and just cover with milk/water. Then simmer for ten to 15 minutes, or until the fish is cooked through.

When the fish is cooked, drain off the cooking liquor, but do not throw it away! The next ingredient is rice - about half a cup per person is adequate. Cook the rice as normal, but substitute half (or more) of the cooking water for the liquor from the fish. This will increase the flavour of the final dish.

You also need to boil some eggs - between one and two per person. Place the eggs in a saucepan, cover with water and bring to the boil. Then simmer for ten minutes, and allow to cool.

To put the dish together, you'll need to either cut or flake the fish into small pieces - this is also an ideal opportunity to remove any bones. Also roughly chop the eggs.

Then just pile it all together, fish, rice and eggs. Season with black pepper, and mix in a little cream if desired.
Posh Fish Pie
Vary the amounts to suit appetites/number of mouths for this dish which is a winner at the dinner table every time.
Ingredients
Fillets of salmon, smoked trout (or other smoked fish), white fish according to pocket/season/taste
Fillets of plaice
Dry white wine or unsweetened apple juice
Handful fresh dill/sprinkles of dried dill to taste
Ditto oregano
Dash olive oil
Shredded leek and/or spinach
Mashed potatoes (King Edwards if possible)
2tbsp grated strong cheese
Black pepper
Anchovy strips (to garnish)
Tomato slices (to garnish)
Optional - finely chopped clove of garlic, sea salt
Method
Cut fish into strips and wrap in strips of plaice, lightly oil an ovenproof dish - just to stop the fish from sticking to it - and layer fish parcels with shredded leek and herbs.

Pour over wine/apple juice and season to taste.

Top with mashed potato mixed with a little milk and the cheese.

Decorate with anchovy strips and tomato slices.

Bake in a moderate oven for 20 - 25 mins, brown under the grill
Sole Almondine
This recipe goes something like this...
Put olive oil on medium heat in a Teflon pan.

Use a garlic press to press some garlic into the oil and stir it around a bit. If the garlic clumps together and goes brown, the heat is up too high. The garlic tastes pretty good this way too (kind of nutty), but the recipe calls for it to stay separated and yellowy in colour.

Put the fillet (or two fillets, or however many you can fit) of sole into the pan.

Cut some wedges out of an orange and squeeze a quarter-of-an-orange's worth of juice over each fillet.

Throw on some sliced almonds and let them toast a little.

The sole is done when it flakes easily - do not overcook.
This is an amazing fish dish and it's pretty simple and fast. When the flavours of oil, garlic, sole, orange and almond blend just right, it's heavenly. Cooking for longer over a lower heat allows the flavours to blend.
Fish Soup
This is a classic dish that serves as a starter or a main course with a distinct Mediterranean feel.
Ingredients
1tblsp oil
2 leeks, chopped
2 potatoes, chopped
2 carrots, chopped
1-2 cloves garlic, minced or crushed
15oz can chopped tomatoes, undrained
1/2 to 1 pound fish
Method
Put the oil in a pan (roughly 3 quarts in size), and heat.

Place fresh veggies in the pan, toss to coat with oil.

Lower heat and cover. Let sit for 10 minutes.

Add tomatoes and 1 to 1.5 cans of water.

Bring to a boil and simmer for ten minutes.

Meanwhile, cut the fish into bite-sized chunks.

Add to the pan, bring to a boil again, and simmer for ten minutes, or until the carrots are done.
Skate Wings with Capers
This is a variation on an already established recipe. The advantage of skate wings is that they are easy to eat, you just scrape the delicately cooked flesh off the wing bones (which stay in their fan shape).
Ingredients
Skate wings
1ltr bouillon (made from vegetable stock not fish stock)
2oz French unsalted butter (it has to be French, it has to be unsalted - don't ask why, it just does)
Splash of wine vinegar
1/2 glass of sherry/port/red wine
3tbsp capers (get the best you can find - you really don't want to mess around with substandard spices at this stage)
Salt and Pepper
Method
Gently poach the wings in the bouillon for three to four minutes - if the flesh starts to separate from the bone - remove immediately.

Put the wings on a plate and keep them warm in the oven.

In a heavy-bottomed pan, melt the butter until it is blackened.

Add the sherry/port/wine, vinegar and capers to the butter, season and reduce the mixture until it is velvety...

Pour over the skate wings.
Sweet-fleshed Fish
Fish or shellfish should be cooked as simply, quickly and gently as possible. Other ingredients and flavours should be introduced at the end of the cooking process or served as accompaniments. In the recipe below, if you haven't got a good supply of fish heads and bones to make stock you could use water or mild chicken stock instead of fish stock. Grilling results in a very clean flavour but pan-fry the fish if you prefer.
Snapper Fillets with Capers and Pickled Lemons
Ingredients
400g fillets of snapper, or other sweet-fleshed fish such as tarakihi or bream
Light olive oil
1 cup fish stock
1tbsp capers (brined or salted)
Piece of pickled lemon skin, from a jar, or home-made using a Mediterranean recipe
Big bunch tender tips of New Zealand spinach (or regular)
Method
Preheat the oven grill turned to a high heat.

Lightly oil or butter a baking dish and spread the fish fillets in a single layer.

Lightly brush with oil or butter. Sprinkle with salt.

Put the fish stock, rinsed capers (or pre-soaked if using salted capers) and chopped pickled lemon in a pot and simmer to reduce by half.

Put the spinach tips in a bowl and cover with boiling water. Drain after a minute or two.

Slide the baking dish of fish fillets under the grill and cook until barely opaque right through.

Remove from the heat and divide between two warmed plates.

Put the drained spinach in the sauce to imbibe the flavours, then put on the plates with the fish.

Pour the sauce over the top and serve.
Pickled Lemon, Red Pepper and Caper Salsa
A development from the above recipe is this salsa, which is a nice match for pan-fried fish fillets or steamed shellfish. Vary the quantities of the following recipe according to taste.
Skins of two pickled lemons
1 red capsicum, roasted and peeled
1 small red onion
2tbsp capers, rinsed if brined, soaked if salted
1tsp cracked black pepper sprinkle of cumin
Squeeze of lime juice
Splash of fruity olive oil
Chop the lemon skins and finely dice the capsicum and onion. Mix with the other ingredients and leave at room temperature for 30 minutes before serving with seafood.
Salmon
Whole Salmon
You'll need a roasting tin big enough to hold the fish, and lots of tin foil.

Tear off a piece of foil twice as big as you would need to wrap the salmon.

Fold it in half (so that the shiny side faces out, and you can still wrap the salmon).

Place this centrally in your roasting tin, and grease it well - butter or olive oil is probably best.

Next, place the gutted salmon onto the foil. Put plenty of butter in the body cavity. If you want, you can put some herbs in too - a large sprig of dill usually works wonders.

Don't forget liberal amounts of salt and pepper, inside and out.

Finally, wrap up the fish - ideally, you should gather two opposite edges of the foil, and roll/fold them together (making a sort of tent shape), and then fold in the other edges.

Then cook in an oven at 130°C, for 15 mins per lb (approx 35 mins per kg).
Glazed Salmon
Ingredients for the Glaze
2 spring onions (very finely chopped)
1 inch fresh root ginger (peeled and chopped into the smallest bits that your fingers can manage... do not grate
2 cloves garlic
Large glug of light soy sauce
Crushed dried chilli to taste
Small glug Thai fish sauce
4 dessert spoons red current jelly.
2 dessert spoons sugar.
Sweat the ginger, garlic and spring onions over a moderate heat for 3 minutes. Then chuck everything else in and cook for about 5 minutes. Allow to cool.
Method
Put four middle salmon fillets onto skewers (going up through the skin, through the flesh and back down through the skin. Dip the salmon in the glaze and put on a hot BBQ skin side down.

If they're chunky middle fillets you'll want about 3 mins on the skin side and about 2 mins on the flesh. Remember, a little translucent in the middle means they are perfectly cooked.

Dish it up with a little more of the glaze and watch several happy smile faces.
This glaze keeps for weeks in a jam jar in the fridge and is superb with wantons and the like.
Salmon Lasagne
Although this is not a dish you can cook any day (takes some time), it's certainly worth it.
Ingredients
Salmon (let's say four pieces)
Spinach (fresh or in a can)
Béchamel sauce
Seasoning of your choice
Method
First grill the salmon, remove the fish bone and tear the fish in little pieces.

Then make the Béchamel sauce, in the traditional way, with butter, flour, milk, salt and pepper or buy it prepared in a jar.

When you have all these ingredients, you can 'build' the lasagne in a big oven dish by alternating layers of lasagne, spinach, salmon, sauce, spices, lasagne, spinach, salmon, etc.

End with the sauce on top.

Then you shove it in the oven for about 20 minutes and it's ready!
Quick Salmon Recipes
Take your salmon steak or fillet and put it on a piece of really long tin foil. Pour about two shots of Canadian Mist whiskey on the salmon and wrap it up so there is at least three layers of foil around the fish. Grill about 7 mins each side. The whiskey turns into a sweet glaze and nobody will guess that it's whiskey.

To cook salmon cutlets or steaks, grill them, with a bit of olive oil and a light sprinkling of mixed herbs. This takes about 7 mins, and on a bed of bok choy (steamed with oyster sauce) is absolutely delicious. The oyster sauce goes well with the salmon.

Take the salmon (whole or steaks), place on foil big enough to seal around the fish. Place lemon slices, ginger slices, and a bit of tabasco sauce on and around the fish. Wrap, and put on the barbeque grill for about 10 minutes.

As above, only use butter, cayenne pepper, and garlic.

As above, only use onion sliced thin, butter, and a bit of dill.

For salmon with Boursin, cook the salmon in the microwave for a few minutes, about 2-3 minutes per salmon steak. Take a small Boursin cheese, put it in a bowl with 2-3 tablespoons of milk and microwave for 2-3 minutes until liquid. Volià, sauce for the fish. You can use either the garlic or the black pepper Boursin, both are equally as good on fish. And of course, you don't have to use salmon, this works well with trout, or other white fish too!
Our host [in Italy] had bought a fresh salmon from the market. Then he stuffed it with some herbs (oregano, marjoram, parsley, dill, basil) and covered the whole fish with a crust made of salt (lots of salt!!) and olive oil. After he had grilled the salt-crusted salmon, the crust was absolutely dry and cracky, but the fish inside was really delicious, juicy, tasty, just marvelous!
Fruits of the Sea
Octopus
Octopus cut into chunks and fried with olive oil and hot smoked paprika is a great favourite and very popular in Spain as a tapas dish.
Shrimp Cocktail
1/2 cup Heinz chilli sauce
1/2 cup catsup
1/2 cup horseradish
1tspb Lea & Perrins Worcestershire Sauce
1tbsp lemon or lime juice
1/2 cup parsley, chopped fine
Louisiana hot sauce to taste
Boiled shrimp
1/2tsp salt
Combine all ingredients to make the sauce. Pour over shrimp, or dip the shrimp in the sauce.
Prawns
If you've got some big tiger king prawns (raw), think about barbecueing them. Peel the prawns, and remove the small veiny bit down the back. Then just put onto skewers with chunks of pepper (capsicum) and mushrooms. The prawns are cooked when they have just turned pink.
Here in Queensland we are blessed with fresh seafood, and prawns are my favourite - I like to barbecue them with a honey and chilli sauce (just a mix of honey and crushed chilli). Delicious with a refreshing ale.
Prawn Cocktail
The only thing that needs a little thought is the sauce. Traditionally, it is a Marie Rose sauce. You can often find a generic 'fish sauce' that will work equally as well - this is the thick, pink mayonnaise type sauce, not nam pla (Chinese fish sauce)! Or, you could make your own version - mix equal quantities of tomato ketchup and salad cream (or mayonnaise, but salad cream adds a nice 'tanginess').
Shred a little iceberg lettuce, and arrange on the serving receptacle. You might like to add a small dollop of the sauce, before piling on the prawns. Then top with the sauce, and a little garnish if desired. A sprinkle of paprika or finely chopped chives works extremely well.
Scallops
King scallops have a delicate, sweet flavour, which is enhanced by the addition of Pernod. The following is an incredibly quick and easy way to produce a sublime dish that works well as a starter or main course for two people.
Ingredients
8 king scallops (with corals removed)
2 tomatoes finely chopped
2 shallots finely chopped
2 cloves garlic finely chopped
1/2 teaspoon chopped red chilli (optional)
Pernod
Method
Quickly stir fry the tomatoes, shallots, garlic and chilli (if using) in olive oil, until it thickens, then throw the scallops in and cook until they have completely become opaque. It is important not to overcook them, as this ruins their texture and they become rubbery.

Just before serving, turn up the heat, pour a generous amount of Pernod in the pan and then serve.
This also works beautifully with king prawns, and goes well with a side dish of saffron-scented rice.
Sauces
A Fresh Ginger Salsa for Oysters
This fresh ginger salsa is nice when spooned on top of half shell raw oysters.
Ingredients
1 red onion or 3 shallots
Thumb-sized knob of fresh ginger
Squeeze of lemon juice
1tbsp sesame oil
Salt and pepper
Method
Finely dice the onion or shallots.

Peel and grate the ginger.

Combine in a bowl, add the lemon juice and bind with sesame oil.

Season and leave at room temperature for 30 minutes before using.
Tartare Sauce - Version One
Ingredients
1 cup mayonnaise
1teaspoon grainy French mustard
1tbsp chopped parsley
1tsp shallots
1tbsp sweet pickle
1tbsp capers
Mix them all up for a great tartare sauce.
Tartare Sauce - Version two
Ingredients
Method
Combine the above for a far less elegant, but much quicker and simpler recipe for tartare sauce. It's actually quite good and does taste like tartare sauce. Also, substituting Miracle Whip for mayo gives an even better result.
Hollondaise Sauce
The best sauce for salmon is a hollandaise sauce. It sounds tricky, but it isn't too difficult.
If you have it, place one tablespoon of tarragon vinegar in a saucepan with two tablespoons of water. Boil this until you have about one tablespoon of liquid left, and allow to cool. If you don't have tarragon vinegar, don't worry. Just skip over it.

Next, separate two eggs. You'll only need the yolks, so you could make some meringues with the whites. Place the yolks in a heatproof bowl (with the cooled vinegar/water mixture). Also add a large knob of butter. Put this bowl over a pan of simmering water, and start whisking. A balloon whisk is by far the best for this job. The butter will gradually melt, and the sauce will start to thicken. Now just keep adding butter and allowing it to thicken until you have the required quantity. Whatever you do, don't heat it too strongly - this will cook the eggs, and the sauce will separate. And keep whisking! You should aim for a thick, glossy sauce, that will coat the back of a spoon.

If the sauce doesn't thicken, you can either add another egg yolk, or add a little corn flour (mixed to a runny paste with water first and then add gradually over a low heat).
This sauce is unsuitable for the elderly, pregnant women, or others who may have adverse reactions to uncooked eggs.