What the Dinosaur (XII)
Created | Updated Nov 6, 2019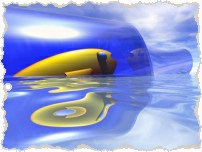 THE STORY SO FAR



The Beatles once sang that every summer you can rent a cottage on the Isle of Wight if it's not too dear - you can scrimp and save. What they neglected to sing about was what the effect of a resurrected dinosaur would have on local property prices. For that is the situation we find ourselves in, and only local crackpot scientist Dr Beeching has expressed concern. He has frantically phoned for the fire brigade, the police and for emergency medical attention. After the fire brigade and police arrived and left seemingly unconcerned, an ambulance approaches. It doesn't look overly like an ambulance, I grant you, but it is an ambulance. Bluebottle isn't a very good artist, you see, he just does the best with the skills he has.
What impact does the sectioning of Dr Beeching have on the rest of the story? Is this a metaphor that those who tell the truth in today's society are often considered mad? Or is Beeching's being sent 'under the clock' to Whitecroft1 a convenient way to side-line him so he cannot participate in future events? Will the readers forgive Bluebottle's 'White Mattress' in-joke?2 Will the dinosaur actually appear in next week's issue of What the Dinosaur?
The Bluebottle Archive
1Technically Whitecroft Mental Hospital closed in 1992.
2Back in his school days when every advert was for a washing powder that promised to wash 'whiter than white', three school children – one with the surname 'White', and the other lads were named Matt and Tris, hence the name 'White Mattress' – wrote a funny film script for a spoof washing powder ad for 'White's Whites', which when used would destroy the washing machine. Sadly this was never filmed because their mothers wouldn't let them borrow and explode a washing machine, and they didn't have a film camera. Explanations that the bigger the explosion and more destroyed the washing machine, the funnier it would be inexplicably fell on deaf ears.