Barbecue Recipes
Created | Updated Jan 7, 2019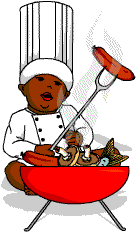 There's something about barbecued food that really makes the mouth water - even just the thought of it. Maybe it's a combination of the outdoors and those woody, smoky odours wafting through the air. Or maybe it's the way the food gets all charred and crispy, sweet and gooey. Or it could be the food itself, the food that we choose to cook and the secret marinades that we soak it in. Whatever it is about barbecued food, if it's done well, it can taste absolutely marvellous. Here are some great recipes to get the stomach juices flowing.
Vegetarian
Although barbecues typically centre on meat, vegetarians can equally enjoy the sumptuous, delicious fare that is barbecued food. For example, potatoes and onions wrapped in tin foil are extremely tasty when roasted together, and other vegetables can also be added to the wrap. When the smell is simply too nice to ignore any longer, remove the food, allow it to cool for a few minutes, and then get stuck in. Or how about grilled corn, with or without butter? For best results, buy and roast your corn with the husk still on. After the husk has been slightly charred, remove the ear from the grill and carefully peel off the husk. The result is succulent and tasty. Anyway, if your mouth hasn't started watering yet, it certainly will when you read on. Here are some other vegetarian delights:
Barbecued Potatoes
Potatoes? Sound a bit boring? Not at all - potatoes are great on a barbecue. Check out these two little gems:
Method
Chop an onion into small pieces.

Take a tablespoon of butter, heat it, and fry the onion till soft.

Add a tablespoon of cheese spread or cheese whizz with a pinch of salt, some pepper and some garlic paste.

Cut off a small piece off the top of a potato, scoop out its innards, fill it with the cooked onion and other stuff, and replace the top of the potato.

Wrap in aluminium foil and put on the barbecue.
Or how about barbecued potatoes thinly sliced and burned...
Method
Thinly slice half a dozen potatoes and place them evenly on a large foil sheet which has been coated in butter.

Wrap up the potatoes and put the foil package on the barbecue grill.

Turn it after about 5 or 10 minutes and let the other side heat for the same amount of time.

Take it off the grill and carefully open the foil (be careful here otherwise you might get a nasty steam burn).

There should be some potato slices that are crispy and stuck to the foil; peel them off and throw the whole lot into a large serving dish.
Kids love this recipe as the browned/burned ones taste like potato crisps1 and the rest are nicely cooked and lightly seasoned with the butter, salt and pepper.
Cheese
Baked Brie or Camembert or slices of Greek Haloumi cheese tossed on to the barbecue grill - all are unspeakably delicious.
Method
Take a whole cheese and stud the top with garlic cloves to taste.

Drizzle with olive oil and add a grind of black pepper.

Wrap in foil and place on the barbecue grill for 10 - 15 minutes or until the cheese is good and soft.

Unwrap and eat with a spoon and some good crusty bread.
Home-made Vegetarian Burgers
This is a very easy recipe for making beef-style home-made burgers and they're much nicer than anything you can buy from a store. They're also a healthy alternative to meat.
Ingredients
One handful of fresh or frozen Linda McCartney mince (or equivalent) for each burger.
Finely-chopped onion and/or garlic, to taste.
One egg for every two burgers to be made.
A little grated cheese.
A generous dollop of your favourite barbecue sauce.
Method
Toast the mince and onions without oil in a non-stick pan. If you don't have one, use a normal frying pan with a very small dash of oil. Stir constantly over a medium-high heat until the mince and onions are tender.

Transfer to a bowl and add the grated cheese and barbecue sauce. Season to taste with salt, pepper and any herbs or spices you care to use. Finally, add the raw egg and mix well.

Form into patties before the mixture has a chance to cool.

If you can find a fine mesh grill to use on top of the barbecue, transfer the burgers on to it and cook both sides for a few minutes until they crisp up on the outside - the egg and cheese will serve to bind the mince together.

However, if you do not have a fine mesh grill, just transfer the burgers onto tinfoil and cook them under your household grill, or under the heat reflector on your barbecue, if it has one. Again, they should crisp up in just a few minutes.
Tip: half-way through grilling/barbecuing, the burgers will still be very fragile on the uncooked side. Try to turn them very carefully using a fish slice.
Aubergine (eggplant)
Several people have noted the affinity of aubergines with kebabs. In fact, this tropical vegetable lends itself quite beautifully to the barbecue 'genre'. Here's how you prepare an aubergine 'steak':
Slice the aubergine in rounds about as thick as the tip of your thumb - smaller or larger depending upon the size of your thumb.

Salt them and let them sit for a bit.

Press the rounds in a towel and rinse with water - this process takes some of the bitterness out of them.

Brush with olive oil.

Sprinkle with salt and pepper.

Grill like a steak.
This works just as well with thick strips of courgette (zucchini) or any other type of squash. And baby aubergines work extremely well too, developing a delightfully smoky and creamy flesh when barbecued - just rub with olive oil and throw on the rack. And why not add a Thai flavour to the whole thing by serving these delicious vegetables with a spicy peanut sauce?
Tofu, Red Pepper and Aubergine Brochettes
Method
Marinate in a sauce containing 2 tablespoons soy sauce, 1 tablespoon honey, 1 tablespoon sesame oil, 5mm piece of fresh ginger, 1 crushed garlic clove.

Chop some tofu, aubergine (egg plant) and red pepper into about 2.5 cm/1 inch cubes or squares, and some de-stemmed shiitake mushrooms on the skewer and brush with the marinade.

Cook over the coals for 5 - 10 minutes, turning occasionally.
Patty Pan Squash Kebabs
A Patty Pan is a small squash-shaped vegetable which looks like a flying saucer. If they're not available where you live, use thickly cut courgettes instead:
Method
Make a marinade of 1 crushed clove garlic, 1 tablespoon chopped fresh thyme, 3 tablespoons of olive oil and a little seasoning.

Take 6 green patty pans and cut them in half; do the same with 6 yellow ones.

Take 1 small onion, 1 red pepper and 1 yellow pepper cut them into 2.5 cm/1 inch squares.

On barbecue skewer sticks alternately place the vegetables, making a kebab, and cover in the marinade.

Place on barbecue grill and cook for 5 - 10 minutes, turning constantly.
New Potato, Red Onion and Fennel Kebabs
A great favourite, this, especially if you like baby new potatoes.
Method
Make a marinade of 1 tablespoon mixed chopped fresh herbs - tarragon, thyme, parsley, chives, chervil or any combination to taste - 1 crushed clove garlic, fine grated rind of 1 lemon, 3 tablespoons of olive oil and seasoning.

Soak the following in the marinade for 20 minutes: 225g/8 oz new potatoes, 1 large red onion cut into 2.5 cm/ 1 inch squares, 1 fennel bulb cut into large chunks and 12 bay leaves.

Using wooden skewers, alternate the vegetables with bay leaves between each, and cook on the barbecue for 5 - 10 minutes, turning constantly.
Meat and Fish
Barbecued Pork Tenderloin
This is an extra tasty yet easy recipe for pork tenderloin.
Method
Start with 2 inch thick pork tenderloins and pound them down to a thickness of about 1 inch.

Place an onion slice on the pork, a sliced Portobello Mushroom on the onion, a slice of red pepper on the mushroom and wrap the whole thing in thick-cut bacon. Secure with toothpicks.

Cook indirectly over the coals for 40 minutes. When 5 minutes of cooking time remains, place a slice of Havarti2 cheese on top.
This barbecued pork tenderloin dish is absolutely delicious.
Home-made Hamburgers
This is a nice way to barbecue up some of your own home-made hamburgers.
Ingredients
Ground Beef
Garlic salt
Barbecue sauce of your choice
Method
Simply take the ground beef, powder it lightly with cinnamon and mix.

Then add garlic salt and do the same, varying how much you want depending on how you like the various spices.

The important part comes next; poke your thumb into the middle of your patty and pour in the barbecue sauce. Now fold the patty over so that there is a little pocket of barbecue sauce in the middle and cook till it's 'pleasant-looking'. If done correctly (that's to say, if you don't go crazy with the sauce) the barbecue sauce will naturally mingle with the rest of the patty and you will end up with some mean hamburgers.
Home-made Burgers II
Whack some minced beef in a large bowl with an egg, mixed herbs, black pepper and finely-cut onion, and mix until it's a large sticky blob. Then divide it up into patties and chuck on them on the barbecue.
Picante and Caliente
I grew up around a bunch of Mexicans and consequently, have grown up with the need to make marinades that make your insides well up like a lava lamp on speed.
The following is a list of ingredients. Folks in the UK might have to search a little to find them, but should do eventually.
The Meat: Preferably beef, tender enough to really soak up whatever you are pouring on top.
The Sauce: A good well-rounded barbecue sauce is of course a necessity. In the USA 'KC Masterpiece' - the spicy variant - is a good choice. In the UK, 'Spicey Mehem' works wonders.
The Juice: A mixture of teriyaki sauce and Worcestershire Sauce on both.
The Alcohol: Add a wee bit of alcohol , ie cheap lager old wine you've got knocking around the kitchen, to help tenderize the meat and add a bit of flavour.
The Spices: Go crazy. Not nuts , but crazy. Okay, go nuts too. Tabasco sauce, both red and green, is a must. Your generic herbs like basil and parsley are good as well. Go to the supermarket and pick up some nice picante sauce, preferably the Pace Picante Sauce, or El Paso, if that's all they have. Find a good Tex-Mix packet of fajita seasoning, and a fajita marinade sauce from El Paso while you're at it. If you've lost the will to live, find a few freshly picked jalapenos - the ones that still have enough acid to literally burn your hands - and squeeze in those juices.
Method
The Researcher who supplied the recipe neglected to include measurements, preferring instead what he referred to as 'gut' instincts. What he actually said was:
Now you're going to ask, 'I have the ingredients, now WTF am I supposed to do?' If you want a list of measuring cups... sorry. Homey don't play dat.
Obviously, you want the marinade to completely cover whatever it is that your cooking. Add the sauce, giving a good cover all over.

Then add the juice - about 3 parts teriyaki to 1 part Worcestershire. Add this until the BBQ sauce is diluted, but not runny. Then add your alcohol - not too much but enough for it to attack that meat.

Now for the spices. You want a lot of tabasco - a lot. Then add the other spices to taste. Now toss in that meat and stir it around. Then let it sit in the fridge for 24 hours.

Barbecue or grill. Preferably, you want a grill set to cook the meat in 20 - 30 minutes time. Flip the meat every 4 - 5 minutes and add some of that juice that your meat's been soaking in. If you can, add wood chips to your barbecue - it really adds to the flavour, despite the fact that it's probably a bit carcinogenic.
Note: if you're using pork meat, either ribs or chops, you can also baste them in a little olive oil and honey or maple syrup.
BBQ Baby Back Pork Ribs
A great favourite is BBQ Baby Back Pork Ribs - kids love them.
Method
Take 4 racks of ribs and parboil them for approximately 1 hour.

Then spice them up with garlic and cayenne pepper and slather with barbecue sauce (home-made or commercial, depending on the time factor).

After this the ribs should be refrigerated (up to two days) so the sauce can be drawn into the meat as it cools.

Remove the ribs from the fridge about 1/2 hour before grilling then cook for 15 minutes over a low heat, or on a gently-smoking barbecue, until the meat is lightly charred - delicious.
Salmon With Chillies and Coriander
This is a magnificent addition to any barbecue...
Ingredients
1 Whole salmon
Bunch of flat-leaf parsley
Bunch of normal parsley
Bunch of coriander
2 lemons (unwaxed)
1 Red chilli
1 Green chilli
Olive oil
Method
Chop up the all the herbs, chillies, and the whole lemon (including the rind), and combine well with a little olive oil.

Stuff the mixture inside the salmon, cover with lemon slices and rock salt, wrap in foil and throw on the flames.

Depending on the size of the fish, this should be ready in about 15 to 20 minutes.
Note that trout works equally well on the barbecue, too.
Dessert
No traditional barbecue is complete without marshmallows, toasted then dusted down with a light coating of cinnamon. But marshmallows aren't the only thing for pudding...
Pineapple
For a sugary treat, try cooking pineapples directly on the grill. The sugar in the pineapple will caramelize nicely. This also works with segments of orange, nectarine, and grapefruit. However, be careful when placing and turning these over on the grill - make sure they don't slip through the metal bars.
Banana
Bananas on a barbecue are amazing - especially with chocolate. Just bung them on the barbecue for about 10 - 20 minutes until the skin is all black and the inside is all warm and squishy. Slit the skin and slip in a square or two of plain chocolate - or maybe even a bit of double. For a slight variation on this sensational theme, what you can do is split the bananas, add a little chocolate Flake bar down the middle, a big dash of brandy and then parcel them up in tinfoil and fling them onto the barbecue.
Marinades
An essential component in the preparation of that succulent, tangy, smoky barbecue food is the marinade it's covered in. So often, the marinadeis the magic ingredient - and one that it pays well to get absolutely right...
Sweet and Simple Marinade
Ingredients
1 1/2 cups soy sauce
1/2 cup honey
2 tablespoons cinnamon
Marinate stuff for as long as you want in this. Brush on as you grill. This is so simple to make and it's really tasty stuff.
A Marinade and Dip
This is also a simple recipe that can be used either as a dip or a marinade.
Ingredients
3 Large red peppers
2 Yellow/orange peppers
1 Green pepper
1 Large tub of marscapone cheese
1/2 Scotch bonnet chilli pepper
Method
Basically cut the peppers into thin strips and dry fry in a heavy-bottomed pan until soft and slightly charred.

Five minutes before they are ready, slice the scotch bonnet very carefully (don't touch your eyes or anything else as this stuff is exceptionally hot) after removing the seeds. Add this to the peppers.

After 5 minutes take out and let cool.

When cold, put all the ingredients into a blender and whizz it all up.

Soak your meat overnight in the marinade and cook as normal.

Alternatively, leave it as a dip and let people dunk their food in it at will.
The Joy of Soy
Soy sauce makes the ideal base for a marinade. Mix a generous few glugs of soy with a pinch of sugar and some herbs and spices, then pour on to a dish or plate with a high lip. Stick your meat and vegetables onto skewers (if they are wooden sticks, you must soak in water for 20 minutes beforehand to stop them burning). A favourite trick is to add a little dry sherry to the mixture and skewer long strips of chicken breast in a running stitch pattern before marinating. This makes a great basic teriyaki sauce. In fact, just soy on its own is fantastic on joints of chicken. Marinade for a while first, then mix some soy sauce in with some oil and baste away.
The Joy of Beer
Open a tinnie while you're making the fire and chuck your meat in some of the beer. Drink the rest. Once the meat is actually cooking, baste it with some more beer; dark beer for beef, light beer for chicken. Oh, and cider for pork.
Teriyaki Marinade
This is a great teriyaki marinade for steak or chicken . It makes quite a lot but can be stored in glass jars in the fridge for up to 6 months. It usually gets used long before that, though.
Ingredients
1 Onion
2 Cloves of garlic
2 Teaspoons grated ginger
1 Whole papaya (peeled and seeds removed)
1/2 Cup water
Method
Blend the ingredients together.

Then add 2 1/2 tsp of brown sugar, 25oz soya sauce and 1 cup of water.

Mix and store in glass jars.
Super-simple Marinade
This one's so simple - oil, white wine vinegar, dash of lemon juice, plenty of garlic. Great on kebabs.
A Few Final Barbecue Oddities
Barbecue in Winter
One particular Researcher had quite a unique take on the barbecue experience...
Winter rains make it difficult to enjoy an outdoor barbecue, which is traditionally the domain of summer, but there has to be a way. I recently stepped outside and lit a few coals in a dreadful downpour - but took the precaution of carrying an umbrella. This experiment was fine and dandy, until the smoke billowed up beneath the umbrella, and I found it difficult to breathe. And so I grabbed a pair of scissors and snipped out a few strategic vents in the umbrella. The smoke sailed away, and left me free to consider what I might cook, but then the rain fell onto my head, and I got soaking bloody wet. Well, they say there's more than one way to skin a cat, which brings me nicely to my recipe...
Keeping Eggs Under Control
To control eggs when cooking them on a barbecue, take a slice of bread and cut a large circular hole out of the middle. Place this 'holey' bread on the barbecue hot plate and break the egg into the hole. The result is that the egg stays under control and cooks much better for being kept together. The bread can then be eaten as quaintly-shaped fried bread, used for bird food, or you can just throw it at gate-crashers.
All-in-one Tinfoil Barbecue Meals
A good, convenient way to barbecue food is to wrap everything in one sheet of cooking foil. Put an assortment of vegetables on a sheet of tinfoil, such as potatoes, corn, onions, mushrooms, peppers, etc. Then add some meat, such as chicken, sausage, or steak. The food needs to be cut into pieces preferably no thicker than half an inch thick. Seal up the tin foil around the food. The easiest method is to fold the foil over the food and then roll the tin foil up around sides. Make the tin foil packet just loose enough so that you can shake the food up a bit. Throw the whole packet on the barbecue, and roast it. The end result is wonderful, largely because the juices of all the different foods have soaked into each other, making for a delightful marinade. The fact that it leaves no mess on the barbecue is also a good thing.