Tips on Job Applications and CVs
Created | Updated Dec 8, 2005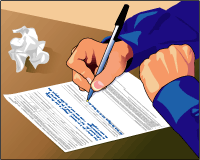 Don't panic if this has just appeared on your personal space. This is a previous Topic of the Week that you have contributed to in some way. It is currently being collated into a Collaborative Guide Entry!
The careers adviser might have mentioned something in your last months of school. Maybe an older relative showed you how to bash together a curriculum vitae (or 'resumé' if you're from America). But nowadays, long before you meet 'the boss', getting that great new job depends more than ever on how you present yourself in writing.
People change jobs all the time, and it's often surprising just how many tips you need to know to create 'the perfect CV'.
What should come first, your qualifications or your work experience?

How do you summarise 20 years of working experience or downplay the fact that this is, in fact, your first 'proper' job since you gave up that paper-round?

And if your prospective employer requires you to fill in an application form, how do you personalise it in a way that makes you stand out from the crowd without you resembling a sore thumb?
The purpose of this entry, therefore, is to capture all those hints and tips about how to sell yourself as the ideal employee.
The best contributions will be compiled for a future Edited Guide entry.
Graphic supplied by Community Artist Lentilla