Comfortably Numb
| Blog | | Newbies | | Ask h2g2 | | Info | | AWW | | Ed Feedback | | Coming-up | | Curators | | Convos | | Morts Links | | Morts Office |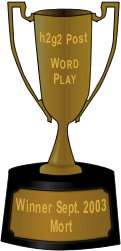 If I am not around at the moment but you need help then the ACES or GURUS will be more than happy to help you.
LAIR OF THE GOTHIC PRINCESS (!)

Best viewed in Classic Goo!
Digibox Friendly ~ Plain Skin
I Am MORT ... An Ageing Goth!
Smoke me a kipper.....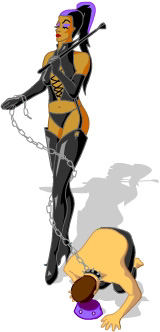 Greetings 1, Welcome to My Lair.
A bit about me....
I am 41

and live in Scotland I love Sci~Fi, reading and sleeping as much as possible. Feel free to drop in for some 'Scumble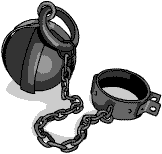 2
anytime!
My favourite joke: What do you call a sheep
with no legs? ...
A Cloud!

............I'll be back for breakfast!
DID SOMEBODY CALL MY NAME?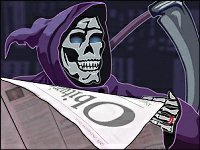 BUSY UPDATING THIS WHILST ATTENDING TO MY OTHER DUTIES!
IN THE MEANTIME, MY APPRENTICE MORT WILL BE ABLE TO ATTEND TO ALL YOUR 'NEEDS'NOW, WHERE DID I MOVE THOSE HOURGLASSES TOO...AHH! OF COURSE THE Temple IN The Avenue of Small Gods
The more sand that has escaped from the hourglass of our life, the clearer we should see through it.
- Jean Paul
MORT's
Memberships
and places to hang out! Plus lots of other intersting links! Go take a look!
Well, who needs 'real life' anyway.....
1This a trick called the tag used in Guide ML to show the visitors name

2

A drink served at The Quene's Hed, Sto Helit. Rumoured to be made from apples (mostly), on damp marshes with recipes pased down from father to son. Stories of rats, snake heads, lead shot and dead sheep are complete fabrication, however the one about it not coming into contact with metal is DEFINITELY TRUE. Drink more than a thimble sized cup full and you have only yourself to blame.......3.
3From Terry Pratchetts Discworld Novels
Subscriptions
Title
Status

Created

This user has no Entry subscriptions