Citybreaks
Created | Updated Nov 22, 2005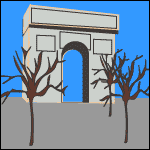 Sometimes, you just want to get away from it all, but can't afford the time for a full week's holiday. But all is not lost, because this wonderful world of ours has a number of fine cities just perfect for spending a weekend in. Take your luggage into work with you on a Friday morning, then as soon as everyone else heads off home, you can begin your journey to a new city. This week's h2g2 Community entry takes a look at city breaks...
Minneapolis, Minnesota, USA
Why go to Minneapolis? Because for an extraordinarily small amount of money, you can have a great three-day vacation. First, take a trip to the Walker Art Museum. While there is a nominal fee most days, the outdoor sculpture garden is free and is wonderful to see. The famous 'cherry spoon' bridge is there, as well as a 30 foot high glass fish.
Walk one way on Hennepin Avenue, and you come to Uptown, a lovely little neighbourhood of funky shops and bistros, and Two Pesos, a cheap, delicious Mexican cantina. A little further into Uptown is one of Minnesota's 10,000 lakes where you'll see waterfowl galore from a paved walking trail around the edge of the lake. Also check out Tatters, a used clothing store with everything from vintage eveningwear to white t-shirts, and Calhoun Square which boasts upscale shops, while the ultra-hip Urban Outfitters is right across the street.
If you head in the other direction on Hennepin you end up in downtown Minneapolis, with its soaring skyscrapers and busy-looking people in suits. For the best views, head into the skyway system. From it, you can get from one side of downtown to the other, and even into the library, if you are so inclined. The skyways have their own points of interest: they are home to funky little niche shops, like a cabin that only sells ties, right next to one that only sells socks. If you're lucky, you'll find the Godiva chocolate stand, as well.
Downtown has plenty of hotels to chose from, from the ritzy to the inexpensive. Halfway between Uptown and Downtown is a hostel for travellers, which is an inexpensive way to enjoy the city.
In Minneapolis there are plenty of places to eat. There's even a traditional pub serving bangers and mash, Scotch eggs and an excellent selection of ales. You can find a cheap quick bite or elaborate and very pricey restaurants such as Aqua. Dinner in Minneapolis can range from five dollars up to in excess of 200 hundred dollars.
Luxembourg
Luxembourg is not the easiest or cheapest of cities to get to, but its unique charm and sheer beauty make it worth the effort.
It's a small city, easy to explore on foot, although there is a miniature tourist train as well as guided tour buses. Must sees include the Casemates, the Grand Ducal Palace and the Pont Adolphe. The main square (Place d'Armes) and the secondary square (Place Guillaume) both have plenty of restaurants and cafés (as well as the ubiquitous McDonalds). Good souvenirs include porcelain from Villeroy & Boch (there is a factory shop in the city) or locally-produced wine and chocolates. Nightclubs are found near the railway station district.
Within a weekend it's feasible to go a bit further afield and see the castle at Vianden, and/or go on a trip down the River Moselle.
The currency in Luxembourg is the Euro. French is the official language, although you will hear Letzeburgish spoken widely. Some handy phrases are:
Moyen, vee gedet: Hello, how are you
Merci: Thank you
Addy: Goodbye
Hong Kong
On Friday evening arrive at Hong Kong's Chek Lap Kok Airport and, having got through customs and immigration, travel to Tsim Sha Tsui (TST), the tourist ghetto at the tip of the Kowloon peninsula on the Chinese mainland of Hong Kong.
If your trip is an up-market one, you'll stay in the prestigious Peninsula Hotel and you'll get there by hotel limousine, very possibly a Rolls-Royce. If you are back-packing you will stay across the road in the high-rise dive that is Chung King Mansions, and will get there by train, the MTR.
The trip from the airport, across the impressive Kap Shui Mun and Tsing Ma bridges should, subject to traffic, take around half and hour (by road) and less than 20 minutes by the MTR.
Spend early Friday evening shopping on Kowloon's Nathan Road, browsing through the stalls and acclimatising to the hustle-bustle. Take in the neon-lit atmosphere and buy a copy-watch in one of the plethora of electronics shops.
Then, upon nightfall, wander down to the clock-tower at the harbour-end of Nathan Road and take the short cheap Star Ferry trip across Victoria Harbour to Hong Kong Island. Sit downstairs to fully enjoy the perspective.
A five-minute perambulation through Central district will deposit you in Lan Kwai Fong, a narrow L-shaped pedestrianised alley dedicated to eating and drinking. Eat and drink wherever you please - the choice is almost limitless. If you are looking for live music, pop out of the top end of Lan Kwai Fong and turn left to The Fringe Club.
Otherwise, if you want something a little quieter, wander up to SoHo (South of Hollywood Road) where, in Elgin Street and Staunton Street, restaurants cater for all tastes. Finish the night off in Petticoat Lane, a romantic hideaway tucked away off Lyndhurst Terrace (By Fah Guy, mm goi, if you are in a taxi).
By now, it's probably too late for the MTR (which closes at 1am) or Star Ferry (which closes at 11.30pm) so get a cab back to TST (Chim Sar Choy, mm goy should be sufficient) through one of the harbour tunnels.
Saturday
Ignore the hangover and get up early. There's too much to do.
After breakfast (a sumptuous buffet in the Peninsular, or a delicious super-sandwich takeaway, depending on where you've elected to stay), take the MTR across to Hong Kong Island again, and choose between Admiralty (for up-market shopping) or Causeway Bay's Times Square.
If you select Causeway Bay, and you've got the inclination, pop up to the Hong Kong Jockey Club Museum at the Happy Valley racecourse, and spend an hour or so looking at the evolution of the sport that grips this city. It's open from 10am to 5pm and admission is free.
Alternatively, go back to Central's Hollywood Road if you want to buy Chinese antiques and expensive souvenirs. Note that the trip from Admiralty to Hollywood Road is walkable, perhaps with a small diversion through Hong Kong Park's public aviary (a zoo for birds and an impressive piece of architecture to boot) and passes by the former home of the Colonial Governors, Government House.
Get an early lunch and take the Star Ferry back to Hung Hom, and take a short walk to the KCR terminus. Be sure to get on one of the trains going via Race Course Station, and within about 20 minutes you'll be in the heart of the New Territories outside Sha Tin Racetrack ready for an afternoon of top horseracing.
After the last race, join the masses and head back south, this time disembarking at Kowloon Tong, where the MTR and KCR intersect.
Hop on the MTR to Admiralty station, and then make the short hike up around the back of the glorious IM Pei designed 74-storey 368-metre high Bank of China building. Here you can take the Peak Tram to the top of the Victoria Peak to enjoy spectacular views over the city and harbour. Wine and dine in the sumptuous restaurant inside the Tram complex, or in the more quaint surroundings of the stone-built Peak Café.
Return back down by the tram and then either walk or take a cab to Wan Chai, a district made famous by Richard Mason's World of Susie Wong as an area of ill-repute. Here you can sample Hong Kong night-life to its fullest. Around 3 or 4am, get some noodles and dumplings from one of the noodle-bars in Lockhart Road, before taking a cab back to your room.
Sunday
Take it easy today with a leisurely bus ride to Stanley on the south side of Hong Kong Island. It is an ideal way to see the whole of the island relatively cheaply. At Stanley Market, you can wander around the stalls and pick up some trinketry or some designer clothing.
Finally, to settle that dodgy belly before you board the plane home, take in a dim sum lunch, a buffet of Cantonese savouries, like har gau (steamed shrimp dumpling), chu yuen shiu mai (sliced pork liver with steamed pork and shrimp dumpling) and ho yip fun (steamed fried rice in lotus leaf wrapping).
If you haven't got a limousine service built into your hotel package, go back to the airport at Chek Lap Kok by MTR, conveniently checking in your bags at the boarding station.
Chicago, USA
You can drive to Chicago or you'll arrive at one of the two airports or at the city's train station. Once there, it is entirely possible to spend a weekend in Chicago, Illinois, without hiring a car, driving anywhere, or even taking a taxi. Once you're there for $5 or less you can get unlimited access to CTA buses and trains that go virtually anywhere you would want to go in the space of a weekend (a hotel concierge can usually help you get the passes). If you've ever witnessed a taxi weaving its way through downtown you wouldn't feel safe in anything smaller than a bus anyway.
The museum campus can be reached by bus. The Field Museum is here as well as Shedd's Aquarium. On the campus one of the few downtown trolley bus stops that will take you to Navy Pier for free. At the pier there's fountains, a sculpture park, a shopping mall, restaurants, boat rides on the lake and the Children's Science Museum. A trolley tour of the city is also available for a fee which includes unlimited boardings (so if you see somewhere that takes your fancy get off and catch another one later). The trolley tour stops at several impressive landmarks including the Sears Tower and Lincoln Zoo.
Chicago's shopping districts are on Michigan Avenue and State Street. You'll find good things to eat at The Cheesecake Factory, Bubba Gump's Shrimp Co, The Hard Rock Café, The Rainforest Café, Planet Hollywood, The Rock & Roll, Harry Caray's and McDonalds (which is fun to look at even if you're not hungry).
Ljubljana, Slovenia
Budget airlines have opened up hundreds of cities across Europe to weekenders, but here's one that remains a little secret.
Ljubljana is the capital city of Slovenia, the first country to declare independence from the former Yugoslavia in 1991. Tucked away between Italy, Austria, Hungary and Croatia, Slovenia is quite a gem of a country. It's only the size of Wales, but contains virtually every type of geography that you can find in Europe. It's also the most forested country on the Continent.
Ljubljana is perfect for a weekend, with the charming Old Town snaking between the city's Castle Hill and the River Ljubjlanica. Ascend the Castle Hill and then the Castle Tower to get the best view of the city. Do this in the morning so that the sun is behind you when you take pictures of the city below you.
Ljubljana has the look of a mix of several European cities: part Vienna, part Venice, part Florence. It's small enough to be manageable yet varied enough to enthral. Hire a car and explore the beautiful mountains and lakes to the north and west, especially around Lake Bled.
There are no budget flights direct to Slovenia yet, but Ryanair flies from London to Trieste just across the border in Italy and Klagenfurt in Austria. British Airways and Adria, the national airline of Slovenia, both fly direct to Ljubljana.
Vancouver, Canada
Vancouver, British Columbia (BC) Canada, is a popular vacation destination. The wild storms of the Pacific are calmed by the protective Vancouver Island and so the weather is relatively mild. The spectacular Coastal Range mountains are a short drive from downtown Vancouver and the city is full of great places to visit.
Vancouver's Chinatown is reputed to be the second largest in North America. It's a wonderful shopping area with great deals on everything from cookware to furniture and there are lots of good restaurants.
A short walk away is Gastown, the original neighbourhood of Vancouver. The city was incorporated in 1886 so it is very new by the standards of the rest of the world but walking down Gastown's brick streets and charming alleyways are a pleasant way to spend an afternoon. Public transit from this point is handy. The Skytrain is a subway system that goes under the city in some places and over it in others, supported on five to 10 metre columns. It's a cheap way to see the city (CDN$2.50 to go anywhere for four hours) and leads to the suburbs of Surrey, Burnaby, Coquitlam, and New Westminster (which was originally supposed to be the capital of BC). There is also a Seabus which is a large passenger- and bicycle-only boat to North Vancouver. There is also a commuter rail service but these only run into the city on weekday mornings and out in the evenings. There's the usual bus services, too.
To name a very few of the many tourist destinations that can be reached using the transit system there is:
Grouse Mountain (a local ski area where you can see the whole city)
Lonsdale Quay (a farmer's market of sorts)
Capilano Canyon
The UBC Anthropological Museum
The Pacific Space Centre
Canada Place Convention and Cruise Ship Centre
Stanley Park (named after the same Lord Stanley who bequeathed ice hockey's Stanley Cup)
And lots of beaches and walks
The night life and theatre opportunities are good but less than you would expect from a city this size (hovering below two million). This could be because of the huge diversity of things to do outdoors such as camping, hiking, boating, skiing and the outdoor mindset of most of its inhabitants.
Barcelona, Catalonia, Spain
Barcelona is a great place to visit particularly during Autumn when it's warmer than the UK but is not too hot. It's easy and relatively cheap to get to with plenty of budget flights from the UK. Once at the airport, take the bus into the city.
There are plenty of galleries, churches, museums and an Olympic stadium to visit. There's some fantastic architecture to be found including Gaudi's houses, Parc Guell (designed by Gaudi, too) and the Picasso museum. Be sure to check out Sagrada Famillia, the city's famous cathedral, to see if they've finished it yet. Most places of interest are within walking distance of each other, but Barcelona's public transport system is decent if you find you are wearying of walking. Also you're only a few hours by train from Figures where you can see The Dali Museum (although it's closed on Tuesdays).
Once you get back to the city, stroll down Las Ramblas and then head down some of the side streets to find cheaper and quieter places to eat, or head down to the marina for superb tapas.
Krakow, Poland
Head for the city centre where you'll find the market square, one of the largest in Europe at about 40,000m2. On the square you'll find Rynek Glowny, the old cloth hall, which is the best place for souvenirs. Also on the square is Holy Mary's church recognisable by its two different towers and every hour, from one of them a guard sounds a trumpet. Notice that the fanfare cuts off suddenly as a legend has it that a trumpet player was shot by an enemy arrow while warning the city of an attack. The City Hall Tower can also be found on the square.
West of the market square you will find the Tourist Information point and Florianska Street, where you can buy clothes and food.
East of the market square (about 500m away) is Wawel Hill. Once, on the top of this was the residence of Poland's first king, Boleslaus the Brave. Later, a cathedral was built on the spot. Wawel Hill is situated near the River Wisla. Follow it southwards and you'll come to Kazimierz, the old Jewish quarter.
For Krakow's nightlife just go into the city centre. There are a lot of pubs, discos and restaurants to choose from. Many of them are located in basements and have a nice atmosphere. If you can't decide, go to Pod Jaszczurami at the north of market square (a student's pub with good music) or Carpe Diem on Florianska Street.
If you're able to get out further afield, ten kilometres east of Krakow is the Wielizka Saltmine, a huge mine with about 300km of underground tunnels. It is easily reachable by minibus from the Krakow's bus station.
Calgary, Alberta, Canada
Calgary and the surrounding area can be a great place for a getaway. With a variety of attractions both in the summer and winter, the city is bustling with excitement.
For the summer guest early July is the most favourable time to visit. Throw on your western duds and see the Calgary Stampede. With rides, pancakes, horses and light shows it's easy to see why it's one of the world's largest summer events. If you don't make it for July, don't rely on being able to find genuine cowboy barbecue food. There are no barbecue restaurants in Calgary. There's steakhouses and eateries, but no true to life barbecue joints. The closest thing would be the Red Devil restaurant, but largely that's just a bar.
As winter goes, Calgary can get pretty chilly, but don't worry. Calgary's city centre is well planned and equipped with what the locals call the 'Plus-15s': a set of overpasses connecting most of the building in the downtown core.
For sports fans, Canada Olympic Park is located 15 minutes from the downtown core, where you can enjoy skiing, bobsleigh, and Calgary's own Olympic museum, celebrating the 1988 Winter Olympics, proudly hosted by the city. As well as many small and large ski resorts located within two hours of the city.
Accommodation can be found throughout the city and travellers should be able to find lodging to fit any budget, ranging from small motels and hostels, to Calgary's impressive Paliser Hotel - a stately 80-year-old hotel with a gracious air.
Washington DC, USA
Early Autumn or late Spring is the best time to visit Washington DC. The Summers are sticky and the Winters are bitter. All the best, major attractions are completely free: the Lincoln Memorial, The Jefferson Memorial, The Washington Memorial, The Smithsonian, The Capitol, The Library of Congress, Union Station and the Arlington Cemetery to name a few. Seeing some or all of these will satisfy the most difficult to please architecture and history buffs. One of the very best places to visit is The Smithsonian Air and Space Museum. It's brilliant, you can see The Spirit of St Louis, The Wright Flyer, X-1 and you can even touch a piece of the moon.
Accommodation in the city is plentiful but doesn't cater for low budget travellers unless you go out of town some distance. However, getting around by the public transport system, the Metro is cheap, quick and safe.
London, England, UK
For people outside the UK, London is one of the most interesting cities to visit. One of the most important aspects to get right is where you stay. It is worth paying a bit extra for a hotel which is right in the centre. If you're interested in the opera houses at Covent Garden and St Martin's Lane, for example, and the book shops of Charing Cross Road, you could stay in the Strand/Bloomsbury area, you you'll be within walking distance of nearly everything you want to see. Being able to drop back easily to the hotel to dump your shopping or change your clothes means you can fit in a lot more in a few days, so picking a hotel in the right location for your own interests is important (and it's great not to have to worry about the times of the last train or bus!)
There's so much to see that it's hard to choose. Places which have been improved or opened in the last few years include the Bankside area (with the Globe Theatre, the Tate Modern and the Millennium Bridge); the Great Court development at the British Museum; the Royal Opera House at Covent Garden (which has an interesting backstage tour you can book in advance); the museums and fountain courtyard of Somerset House, and the Queen's Gallery at Buckingham Palace. And of course the London Eye, which should probably be avoided if you have a fear of heights. Not far out of the centre of London is Greenwich or Hampstead Heath two green areas of London that are well worth a visit.
London might not be as classy as Paris but there's a hell of a lot more of it. And you don't need a car. Take the Tube instead.
Dublin
The Westin Hotel in central Dublin is a new hotel in College Green right in the centre of the city. It has a very friendly atmosphere, the rooms are very clean and superbly comfortable, and it has a very nice bar. It is also very close to Temple Bar, Trinity College and Grafton Street, so it is probably one of the best locations in the city. Parking is a problem, but they have valet parking and the staff are really helpful and friendly, so this minor irritation is easily overlooked.
If it's your first time in Dublin, the quick and cheap way to see the city is by the open-topped bus. The trip can last an hour and a half or you can take your time with a 24 hour ticket, jumping on and off whenever you want to. There is also a Literary Pub Crawl that runs in the early evenings that takes you round the pubs and locations frequented by Dublin's literary sons - Joyce, Beckett and Wilde. The tour is run by a pair of actors and a musician, who intersperse the history with acting, readings and songs. It's well worth doing if you have an evening free. You might also like to try the Viking boat tour. Stick on your horned helmet and make gruff noises at passers-by both on land and on the river.
The newly-renovated National Gallery off Merrion Square, is one of Dublin's must-sees. It features many of the best works of Irish artists dating back four centuries, plus it regularly holds international exhibitions. One of the centrepieces of the gallery is the haunting painting The Betrayal of Christ by the Italian artist Carravaggio. It was found by accident a few years ago in a Jesuit monastery, and was very kindly passed on to the State.
The Natural History Museum is nearby, and to be frank, you may be a bit disappointed. Nothing in the museum really conveys the importance of the natural environment to our existence here on Earth, so it is in bad need of a major overhaul. The only thing that really impresses is the restored skeletons of the Giant Irish Deer (often mistakenly referred to as the Irish Elk) which lived in Ireland just after the last Ice Age. The antlers are three metres long. Other than that there are simply lots and lots of stuffed animals - a taxidermists dreamworld.
The National Museum has a very interesting collection of all things relating to Dublin and Ireland. Lots of gold, stuff saved from the bogs, and Michael Collins's uniform can all be found there.
The Castle's worth a trip. You can find out about all the evil things that Queen Victoria did to things like the black pool that gave Dublin its name (Dubh = black; linn = pool) for example. Another plus is that if you're into that kind of thing, your allowed to take photos inside the building in all but one room.
The Guinness Museum is very cool, almost self-consciously so. First you queue and queue to pay, and they give you a little Perspex pebble with a tiny bit of Guinness inside, as a souvenir. The process of making Guinness is explained on the first three or so floors of the museum (you work your way up the building) and then exhibits kind of fizzle out on the upper floors, so everybody dashes to get to the top floor for the free pint of Guinness (or a soft drink) that your Perspex pebble entitles you to (don't worry - they scan it and give it back). After drinking that pint, you'll swear that after tasting Guinness in all its glory in situ, you'll never be able to drink it anywhere else again.
The National Botanical Gardens is in Glasnevin, on Dublin's northside. This is a pretty oasis of peace, with a lot to occupy the minds of anyone who has an interest in gardening or nature. Most spectacular is a long colourful row of scented flowers, which would appeal to anyone except hay-fever sufferers.
Go to Trinity College where The Book of Kells can be found. Because no visit to Dublin is complete without seeing them both.
Take a quick walk through Temple Bar. This part of the city has been renovated over the last decade, and is now the Bohemian and artistic quarter of the city, although in reality it is also a haven for raucus bars, nightclubs and drunken stag and hen parties. The nicer part of this area is towards Parliament Street, near Dublin Castle, where there are some nice pubs and restaurants. The most important reason to venture into Temple Bar is the Elephant and Castle. The spicy chicken wings are absolutely celestial and comprise a big basket of greasy, crusty chicken pieces with celery and a mayonnaise dip.
The real mecca for shopping in Dublin is the Stephen's Green Shopping centre, which is just at the top of Grafton Street. It is a large space, over three storeys high, packed full of high-street shops and a few cafés, with plenty of nice vantage points if you just want to rest awhile, and look out at the world passing you by.
There is a huge amount of road construction taking place in the city as a road tunnel and a new light-rail network are simultaneously being built. But overall, the place is a great place to go for a weekend break. The centre of the city is small and manageable, and it's relatively safe, with a lively, young atmosphere. In recent years it has become very cosmopolitan, with lots of different nationalities living side by side, so there is something for everyone there. Including:
Forbidden Planet on the quays is the mecca for comics and TV show merchandise in Ireland. They have a Jesus Christ action figure that has to be seen to be believed.

The Chester Beatty Museum is well worth a visit. The man collected art and artefacts from all over the world, so the collection has Japanese samurai armour, Imperial Chinese furniture and Polynesian bead-maps, along with a large collection of medieval European manuscripts.
One Researcher postulated the following theory about Dubliners:
I was in Dublin a few weeks ago. Something that struck me in my research before going was that, it appears that all Dubliners are poets. Let me explain. There is a statue of a woman lying in some water, I'm not sure who she is, but she must be important. What do the Dubliners call her? 'The Floozie in the Jacuzi'.
Another statue is one of Molly Malone, they call that one, 'The tart with the cart'. The most recent addition is the Millennium spire/spike, nicknamed, 'The stilletto in the gheto'.
There was the 'Time in the Slime' or 'the Chime in the Slime', an ill-fated attempt to put a huge digital countdown to the millennium in the Liffey. Unfortunately the water was too dirty to see the numbers. Is this something the Dubliners can't help themselves with? Do they have to nickname everything? If so, good luck to them, I love it.
Moscow, Russia
In Moscow the nightlife is awesome. Even though there is a drinking age nobody really cares about it. As long as you've got about $200 in your pocket, you can get in practiacally anywhere. At the end of an incredible night of indulging yourself with few limits, you are probably going to have about $100 left. If you are stopped by a 'cop' give him $50 and he'll leave you alone. Just make sure the next morning to get plenty of sleep, because there is a very good chance, that you will have a hangover.
Bangkok, Thailand
Many people travel through Bangkok on their way to Thailand's beaches, but never really get the feel of this vibrant, exciting city. There is so much to see and do, and a weekend break is the ideal time.
If you are on a tight budget, then Khao San Road is the place for you, but you will only get a very limited view of Bangkok. The best places to stay are along the river, near Silom Road or Sukhumvit Road. Places here can be cheap, just do a bit of research before you leave home.
One of the great things about Bangkok is the shopping, and every weekend there is a huge market in the north of the city called Chatachuk Weekend Market. Start out early to beat the midday heat (or afternoon rain if travelling in the wet season), and take the BTS (otherwise know as the Sky Train) to Mo Chit station. This will cost you about 40 baht (less than £1). Follow the crowds heading towards the market, armed with the only map of the market. Nancy Chandler's Map of Bangkok is recommended and you can pick this up at any bookshop or hotel lobby. It is advisable to sort out a place to meet if you and your friends are separated (such as the train station or the clock tower in the centre), and always carry two different stashes of money just in case. The best thing to do is to just wander aimlessly; you never know where you may end up. There are people selling pets, plants, used clothing, and of course, loads of cheap Thai arts and crafts (of the kind you will find in many Western department stores). Bargaining in Thailand is a must. The most important thing is to always be nice, and smile. If you see something you like, only show casual interest, then ask how much it is. If you bargain hard, you should be able to get the item for 60% of what they quoted (there are three scales of pricing in Thailand, just hope you can wrangle the 'expat' price not the 'stupid tourist' price and don't ever expect the Thai price). Pick up a Thai phrasebook, and learn a few key phrases to aid in this process.
After you are exhausted from all the shopping, go back to your hotel for a relaxing swim. In the evening head out to one of the many fantastic Thai restaurants near Silom Road. After a huge meal, head to one of the local expatriate bars in the area, and chill out with a few beers, or hop into one of the foot massage shops and get a foot massage (it is well worth it and is usually very reasonably priced). Alternatively, if you are not too exhausted from the shopping, wander through Patpong market. This is a crowded place, fringed with girlie bars. Expect to see cards shoved at you, offering a wide variety of shows. If you are brave enough, give one a go, but a few words of warning. There is usually no cover charge, but you will have to buy a drink, and these are very overpriced by Bangkok standards. If you accept a back or neck massage from one of the girls, be prepared to pay for it. Before midnight, head to one of the local bars such as Radio City. This is a great place, where a Thai impersonator does a very good job of Tom Jones songs. After the show, head up the stairs to Lucifer, a night club, or down the road to the Music café where you can watch all the goings-on in the market. There are also plenty of nightclubs in the area, though be warned, due to new laws, these will all close at 2am.
After a morning swim, head out to a café for a hangover brunch (try Kappa, Greyhound café, or one of the hotel cafés). Once the feeling in your head is back to normal, head out to the Grand Palace for a dose of Royal Thai Culture. This is considered a sacred place to Thai people, so appropriate clothing should be worn (such as long skirts/trousers, and shirts that cover your shoulders). After looking around the palace head to one of the nearby boat piers at about 4.30pm and take a 'Bangkok Noi' trip in a long boat. The temperature will be starting to drop, and the sun will soon set, so this is a great time to explore some of the canals that earned this city the title of 'Venice of the East'.
Head back to your hotel for a well deserved shower, then out again for some more fantastic Thai food, followed by a stroll along the streets. After all the exercising you have been doing, you should reward your body with a traditional Thai massage. These massages target your deep muscles, and can at times be quite rigorous. However, you will leave the parlour (after nearly two hours) feeling so supple and relaxed that it is well worth it.
Transport in Bangkok is very cheap by western standards. The Sky Train is wonderful, and gives you a very different perspective of this city. However, it is very limited in location. You will likely have to catch a taxi at some stage, which is easy to do, just flag one down in the street. Make sure the driver understands where your destination is, and that he puts the meter on. The starting amount should say B35.00. If he refuses, just smile and get out. There will always be another taxi along soon (except maybe in rush hour).
A word of warning. Be wary of anyone telling you that the temple you wish to visit is closed, or offering you a very cheap ride in a tuk tuk. These people will usually want to take you to fabric or gem shops, where they will get money just for bringing you, and a percentage of anything you buy.
Edinburgh, Scotland
The setting of Edinburgh is really spectacular. The centre areas of the old and new town are small enough to make everything very easy to reach, if your hotel is reasonably central. The Castle, the Royal Mile and Holyrood Palace are all well worth seeing. The Botanic Gardens are well worth the short bus trip from the centre. And there seems to be plenty of good restaurants.
However, don't depend on being able to buy a good selection of whisky at Edinburgh airport on the way back. The Scotch Whisky Centre on the Royal Mile has a huge selection of single malts in all kinds of sizes, so buy your souvenirs there.
Edinburgh also has Pagan festivals. For more details check out The Beltane Fire Society.
Munich, Germany
Anyone visiting Munich will need more than a weekend to see all. But there is nothing impeding people to make more than one citybreak here.
It always helps to know the language when you visit a country, but in Munich for the most part, you can get by in English. Even if you can speak German someone might start talking to you in Bavarian and you will be lucky to understand them.
A good place to start your Munich adventure is the Englisher Gartens. There is so much to do in this the largest public park in Germany. If you like music there are musicians all over the place and most of them are quite good. Or if nude sun bathing is your thing there's a place for that, just be careful not to walk through it clothed. The Englisher Gartens is also a great place for bike riding, duck feeding, ice-cream eating or just eating.
The Glockenspiel at the Marienplatz imitates the wedding of Wilhelm V and Renata von Lothringen, a tournament that was held in 1568 and the 'Schäfflertanz' which dates back to the year 1517 when the city was struck by the plague. Performances take place at 11am and noon, and during the Summer at an extra time of 5pm. Another great thing about Munich is the public transit system. You can get anywhere from anywhere.
And of course there's the Oktoberfest, the world's biggest event of that type, with millions of visitors. The O-fest lasts for three weeks and ends on the first weekend in October so actually most of it is in September.
For things to eat and drink, try Weisswurst, Weizenbier, Schweinsbraten mit Knödel and Blaukraut (roast pork with dumpling and red cabbage), Leberknödelsuppe (liver dumpling soup, it sounds worse than it is and actually doesn't taste of liver at all) and Kasspatzn (a type of dumpling, made with cheese and roasted onions).
For places to eat and drink check out Rathauskeller (which is right under the Rathaus - the city hall), Augustiner (on the pedestrian zone between Marienplatz and Karlsplatz), Augustiner beergarden (on the corner of Arnulfstrasse and Zirkus-Krone-Strasse), Weisses Bräuhaus (between Marienplatz and Isartor) or any of the dozens of beergardens in and around the city.
The 'Deutsches Museum', which despite of its name is not a museum on German history, is the biggest - so they claim - museum for technological development, ranging from aircraft to a huge replica of a coal mine in the basement. One day is certainly not enough for that museum. It's located near the city centre, on the S-Bahn station Isartal where you'll see signs for it.
There are also at least five immense galleries:
Get off at Königsplatz subway station for Lenbachhaus, Alte Pinakothek and Neue Pinakothek, while the Haus der Kunst is located right at the southern end of the Englischer Garten near the Odeonsplatz subway station.
Nymphenburg Castle is a Versailles in miniature and there is a huge park surrounding it. That park also has little 'castlets' (which one can visit) which were made for the King's mistresses. Beware of the geese and swans as they are they are very snapish, they're probably there to protect the estate.
Prague, Czech Republic
Prague is definitely worth the time and travel. There is fantastic architecture, particularly in the Old Town. It is a very civilised place, and you'll see Czech people reading anywhere and everywhere.
For anyone interested in classical music and opera, Prague is a particularly good location for a city break. There are two opera houses, one of which, the National Theatre, concentrates on the works of Czech composers like Dvorak, Smetana and Fibich. In addition there people give out handouts for classical concerts on the streets. There is also a marionette theatre which is great fun. There is also the 'Black Theatre', which is rather hard to describe but is a combination of mime, lighting effects and movement by actors dressed in black which is very dramatic but mostly wordless, so is very popular with tourists. If you do get a chance to visit during the Prague Spring festival, do so. There are concerts all over the city so you might see, for example, a Dvorak mass in the cathedral. The tickets are cheap, too.
If you're someone who makes a beeline for any city's museums and galleries, the National Museum needs a bit of work - a big bit of work. Think back to the bad old days of British museums, when they seemed to be glorified storage bays for paintings, sculptures and stuffed animals, rather than institutions of entertainment and enlightenment, and you're on the right lines. If fossils and minerals are your thing, great; if not don't bother.
Wenceslas Square is not much more than a boulevard and isn't actually square, but you'll find a statue of King Wenceslas there. Incidentally, on the tourist maps, Wenceslas Square is noted as 'Vaclav Namesti' - so please don't spend half an hour looking for it, as one Researcher did, before discovering they were actually standing on it. The Old Square or Stare Mesto is more picturesque than Wenceslas Square and has a beautiful astronomical clock on one of the towers there.
The environs of the Castle (Hradcany) are stunning. Get to the front of the Castle at midday to see the changing of the guard ceremony. It's well worth it. And if you actually make it inside the castle, get the three day ticket, you may need three days to get round the whole thing.
According to one Researcher, the trick is to get someone Czech to show you around.
I had a friend from my academic days who was a lecturer at the Technical University. He knew all the old watering holes. One afternoon we were walking along a nondescript street and all of a sudden he went towards an anonymous house and pulled open the front door. Inside was a huge pub full of lager-swilling Czechs having a great time. I think it was midnight when I eventually got out. Don't ask me what the day was, though.
The beer lives up to its reputation big style. The Czechs may have invented Pilsener, but it's not the only thing they do well, so don't forget to try some of the Dark Beer, too. There is a huge pub called U Flek, where they sell nothing but dark beer. It's very touristy (with a brass band) and the atmosphere is great. If you're not a beer drinker, try some Slivovice instead. It's a plum brandy that will knock your socks off.
Newcastle upon Tyne, England, UK
With a population of 320,000 plus this is the party capital of England. It has more pubs and restaurants, and single people than anywhere else in the UK or Ibiza. Traffic isn't bad if you happen to not go driving between 7 and 9 o'clock in the morning and 6 and 8 o'clock in the evening. The most commonly spoken language is Geordie with English as a secondary language.
Newcastle is bidding for European city for culture in 2008, and rightly so. There are museums and art galleries aplenty. There is stunning architecture, great bridges and a huge range of excellent shops (from humungous department stores to exclusive designer boutiques). And don't forget that only a few miles away are gorgeous beaches, fascinating castles, the Northumberland moors and Hadrian's Wall. The city was also recently named as one of the eight top creative cities in the world by Newsweek International.
Newcastle is easy to get to. It's 2.5 hours on the train from London, or you can fly, or you can even get the ferry (which is very popular with the Danish). Once you're there, it's easy to travel around, too, thanks to the metro system.