The Unofficial h2g2 Rock Music Society...
Created | Updated Oct 19, 2005
The Unofficial h2g2 Rock Music Society... the home of...
The New Rock Revolution!!
Welcome if you're here to f***ing rock then you've got the right place... yeah that's right... this is the NEW ROCK REVOLUTION!! and it's back... it's bigger, better and it couldn't give a f*** what others say or think... get your a*** in here and break something... go on... you know you want to!!
And with new looks comes new responsibilities... if this place is going to survive then it's going to need the help of ALL it's members... it'll need updates and input all of the time... net users can get the news and I can print if for you... or... print it yourselves... it's a free Society... Let Rock music live by letting it thrive!!! right here... in the Rock Music Society of h2g2!!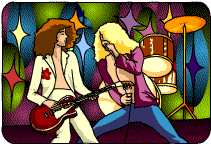 And if you don't like it then f*** off!