Meanwhile, Back At The Ranch....
Come in! Wipe your feet. Not there. Well, you've made a right mess of the carpet now....
Anyway, this is the home of all my prattlings and musings on the subjects of life, fatherhood, and rock.
Life
Mysterious little thing, isn't it?
In an effort to make some kind of sense of it, I tend to pootle about
*
on
Ask H2G2
, randomly talking to the people I meet there. So don't be surprised if I suddenly pop up on your page: I'm not stalking you.
*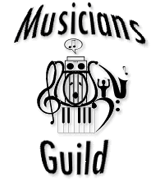 Which brings me nicely to the subject that I'm in a rock band.
*
See a bit lower down for stuff on that. I've also recently rediscovered a website full of basically insane stuff that I made with a couple of friends from school about 6 years ago- check out
www.morethanjam.co.uk
.
Fatherhood
I'm a single dad, which means that I fall nicely in the "other" catagory on most forms. I've got a very tiny
*
son, who goes by the name of Tyler. What his
real
name is, I don't know. He won't tell me.
*
Through his instruction, I have been introduced to such mind-bending experiences as The Tweenies, The Fimbles and cocaine.
*
I've also discovered that chocolate spread and spagetti bolognese
together
tastes even more horrifying than it sounds. And that's going some.
I long for the day that I am as grown up as him.
Rock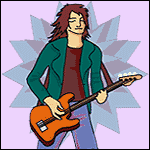 I look nothing like this man
*
. But he
is
playing a bass, and that's close enough for me.
As (briefly) mentioned above, I'm in a rock band. We're called Livid (go check us out at
www.livid.tk
). Or, if you don't want to go off-site, there's a kind-of-regular column in The H2G2 Post about us. It's a bit like a real-life Spinal Tap
*
.

The best way to describe us
really
is to imagine if Guns 'n' Roses and Aerosmith got into a fight in a bar, while Metallica were having a drink with Kid Rock, cheering them on.
*
But with a more modern edge. That's us. Our current stomping ground is sunny Stoke-On-Trent in the UK, but with any luck that's all about to change.....
Stuff I use
Well, I've got me a 1976 Gibson Firebird bass
*
and a Peavey 5-string bass
*
. All this runs through a big-ass Laney amp which has seen better days and is getting swapped for a bigger-assed Trace Elliot stack when I get some money.
Dodgy "42" bit
Seems that everyone's got one of these...
So my number is 221369
((2-3)+1)+(6X(9-2))=42
Interesting, yes?
So, erm, yeah
So that's me. I'm normally at work when I'm on the old hootoo, so don't be offended if it takes me a while to get back to you- a guy's gotta earn a living....
Subscriptions
Title
Status

Created

This user has no Entry subscriptions