Who Wants to be a Rock Star?
Created | Updated Jul 23, 2003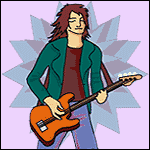 Livid have been going now for about 3 years.
We're a rock band from Stoke-on-Trent in the UK, mainly influenced by Led Zeppelin, Aerosmith and Guns 'n' Roses. Just to bring you up to speed, about 3 weeks ago we finished our Demo CD and sent it off to record companies up and down the country. Check out our website: www.livid.tk
And now, introducing a new real-life soap that's only available on h2g2...
LIVID
Cast of Characters
Psy Ward

Occupation: Singer.

Age: 20

Interesting Stuff: Psy is a vegan. He's also a little bit, well, unhinged.
Phill Ward

Occupation: Drummer.

Age: 17

Interesting Stuff: As well as being a fantastic drummer, Phill is also clever, funny, good-looking and an accomplished skate-boarder1.
Steve Paris

Occupation: Guitars.

Age: 23

Interesting Stuff: Steve looks a bit like Joe Perry2. Spends a lot of time listening to Zakk Wylde, just to hear all those weird 'Whirrrr!' noises that he can do.
Ency

Occupation: Bass, occasionally backing vocals.

Age: 22

Interesting Stuff: Ency is tall. Very tall. Also, he's the guy who's writing this article. Scared of clowns3.
Plus a full supporting cast including:
Stevie-J: Guy who runs the studio where Livid rehearse, record and stuff.
Rich: Stevie-J's business partner.
Bazz, Dave and Matt: The guys from Rhesus, another band that use the studio.
Right, so now you know who we are, let's get on with it.
Episode 1: The Signal Menace
A couple of things happened over the last few weeks that have been fairly worthy of mention. First of all, we've heard a little bit of interest in our demo CD from a few record companies in London4.
We've got a bit of a problem with our local Radio Station. As far as we've been able to make out, they are the only local station in the UK that doesn't play local bands. Another thing is the fact that they recently held a Battle of the Bands and an already-signed band from Wales won5. But just lately, they organised a festival in Hanley Park, a local green-spot6. 'Okay', we thought, 'That sounds like it would be good.'
Oh, how wrong we were...
Puppet Show!... + Livid
Summer in the City. Sounds quite good, doesn't it? And to be fair, it was one of those 'family days out' that you used to have. There were giant bouncy castles, clowns, donkeys, and four quite confused rock bands.
So we walk in, and there's a large stage set up, PA system at either side, right in the middle of the park. 'Ah!' we think. 'Looks like that's where we're playing'. Oh no no no no. That'd be too easy. Turns out that the band stage is in a far-flung corner of the park, next to a Punch and Judy tent. The big stage is for a local girl's school dance troupe.
Hmm.
Hangin' With the Hardcore Now, Brother
Night out in Hanley. Much silliness was involved. Events of the evening are a little blurry at best, but I'll try and recount the bits that stick out...
Psy is wearing a t-shirt with the Superman logo on. Two stunning blonde girls say something like 'So, are you really Superman?'. Psy, who by now is getting a little bit crazy, says yes. 'Prove it', they say. 'Okay!' he says, unzipping his trousers...
The girls spend the rest of the night with Psy.
Phill attempts somersault off a wall. Succeeds.
Ency attempts somersault off a wall. Succeeds. In running into a wall.
Fear and Loathing in, erm, Crewe...
The Limelight in Crewe. Playing a gig at this place is great. There's a room upstairs with ten-pin bowling and air-hockey tables, the main floor is essentially a giant pub with loads of pool tables and pinball machines, and then the gig room is downstairs. Well, we'll call it a gig 'cavern'. We're the first band to turn up, and we get the pick of when to play, because the band that were supposed to be headlining (a girl rock band called Snatch - classy) have 'lost their drummer7'. So we pick to go on second. This means that there's more of a crowd8 and we get to start drinking early. Great.
It soon becomes apparent that we are the only band to have sold any tickets. As the club only issued us with 30, the atmosphere on the night is, to say the least, a little muted. As soon as the last band take the stage wearing matching executioners hoods9, we decide it's time to leave.
BOOM-cha! BOOM-cha! Discotheque!
Next gig we've got is The Sugarmill in Hanley, which we're headlining. After the gig, there's a four-hour rock night, at which we'll be getting free beer throughout10. So, until a few weeks time, Seeya!
1Annoying, isn't it?
2Y'know - from Aerosmith?
3Very scared!
4Can't mention any names just yet, but I'll keep you posted.
5I'd like to point out here that this isn't us being poor losers- we didn't even enter.
6And yes, it would be quite nice once they cleared away the syringes...
7Where? Is she in a field somewhere? Has anyone checked down the back of the sofa?
8In theory, anyway.
9Seriously.
10There is a God.