One-hit Wonders
Created | Updated Aug 29, 2012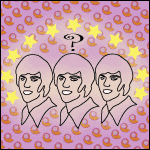 They dominate the music chart for a few weeks, you hear them playing on the radio in every shop you go into, they peak and then... nothing. You never hear from them again apart from on a compilation album of obscure artists ten years later. Yes, pop-pickers, this entry is about those little discs of love better known as 'one-hit wonders'.
Here's the possible career path for one hypothetical subject:
Their first tune gets to No 1, played everywhere, can't move without hearing it, masses of fame and dosh for the 'artiste'. Then the follow-up should be similarly trumpeted... and fail. Dismally. Appallingly. The subsequent slide into drink, drugs and Christmas pantomime gleefully chronicled by the tabloids. Then maybe rehabilitation via some ironic, yoof TV Show about seven years later. Or just ending up on daytime cable shows...
So, What Makes a One-hit Wonder?
Purists among us might insist that it means a group or artist with just one hit single to their name. But then, what constitutes a hit? Natural Selection's 1991 single 'Do Anything' was the band's only chart entry, which peaked at No 69 in the British 'hit parade'; for the artists themselves, this might qualify as a hit, yet in more comparative rather than subjective terms it's... um.. not. And then there's the fact that, in the 1970s and '80s, a top 20 placing was considered respectable. Nowadays, bands are considered flops and end up dropped by their label if they don't get into the Top Three.
For the purposes of this entry, then, we're playing it safe - a hit is a release that reached high enough in the charts for people to remember it. Simple as that.
One-hit wonders can be loosely categorised into three general groups: Ones where the artist/s had more than one hit, but they're remembered for just one; ones where they might have had lots of hits in one or more countries, but are considered one-hit wonders elsewhere (as North American, British, European and Australian charts reflect differences in musical tastes, we have to take into account those instances where a million-selling band on one continent is reduced to a novelty act across the globe); and ones where they simply had one shot at success and never managed to follow it up. Whether one or all of these categories represent your own ideas as to what makes a one-hit wonder is your own affair.
So, let's start with the first of those groups, those who, for one reason or another, are adamant that they're so much more than one-off success stories...
Not-so One-hit Wonders
We almost fall at the first fence here because there are some artists that might qualify as a one-hit wonder because they don't release any other singles under that name, but have plenty of others in different guises. For instance, while David Bowie and Bing Crosby had plenty of hits individually, they only had one hit together - 'Little Drummer Boy' - yet no-one would seriously consider 'Bowie and Crosbie' a one-hit wonder. Similarly, ensemble projects such as Band Aid1, USA For Africa or The Crowd might boast one number one hit each, their ranks were swelled by such individuals as Boy George, Michael Jackson, Bruce Springsteen and Gerry Marsden - all successful artists in their own right. And though Derek and the Dominoes' 'Layla' didn't lead to a follow-up, no-one would doubt Derek's later success - as world-renowned guitarist Eric Clapton.
The Funk Soul Brother from Brighton
The comparatively modern trend for bizarre Euro/American techno-dance-combos, with names that contain 'featuring' and 'versus' in the title has made identifying the 'unique performer' more difficult.
A perfect example of this is the DJ-music-meister Norman Cook, former member of the Housemartins and currently working under the moniker 'Fatboy Slim'. Post-Housemartins, Mr Cook brought together Beats International who got to No 1 with a cover of an old SOS Band2 number in the form of 'Dub Be Good To Me'. Despite the presence of vocalist Lindy Layton (whose biggest solo hit, a cover of 'Silly Games' reached no 22 in the British chart), Beats International managed only one other significant top ten hit, the much-forgotten 'Won't Talk About It'. For many, 'Dub Be Good To Me' remains the only song anyone remembers.
What makes Norman Cook significant is that he also qualifies as a one-hit wonder in four other guises, breaching the top 40 under his own name, and as part of 'Pizzaman', 'Freakpower' and 'Mighty Dub Katz'. The 13th Edition of the Guinness Book of British Hit Singles (published in 2000) noted that, taking into account all his various appearances in the charts, Norman Cook comfortably makes it into the top 100 artists of all time... just behind Neil Sedaka.
In a similar-but-different vein, what of The Timelords, who got to No 1 in the UK charts with 'Doctorin' the TARDIS' in the summer of 1988? A brilliant, calculated exercise in having a number one hit, it was based on Gary Glitter's anthem, 'Rock'n'Roll', was supposedly performed by a car (a police-liveried 'Ford Timelord'), and had various samples of the Daleks (from the sci-fi series Doctor Who) doing their best impressions of comedian Harry Enfield saying 'Dosh! Dosh! Dosh! loads-of-money'.
What was clever was that The Timelords were nothing more than another incarnation of the KLF, (who had performed under a number of other names, including the Justified Ancients of Moo Moo and 1300 drums), one of the biggest chart successes of the early 1990s. One-hit wonders, or just serial self-reinventors?
Legacy of the Disgraced King of Pop
Before he was convicted of sexual assaults on minors, pop impresario Jonathan King was one of the most influential people in the pop world, whether through promotion or participation. King had a long-running campaign to produce as many hits as possible under different aliases. In other words - he was the most successful deliberate serial one-hit wonder in pop history. Sometimes it worked - as with the ground-breaking 'Johnny Reggae' by the Piglets ('woss 'ee like, Mavis?' ''ee's a real tasty geezer!') and sometimes it didn't - Bubblerock's '(I Can't Get No) Satisfaction' anybody?
He also 'discovered' Hedgehoppers Anonymous, who hit No 5 on the British charts in September, 1965, with 'Its Good News Week'.
I bought their 45rpm single for one Canadian dollar in Chilliwack BC at the age of 14. It was only the second record that I had ever purchased and I can still repeat some of the lyrics.
Given that Canada has a strong British heritage and that my own mother was a war bride from Edinburgh and that North America was in the throes of the 'British Invasion' during my teen years, I guess it was natural that I was more influenced by culture from overseas that from the huge melting pot less than 10 miles to the south of my home.
Session Success
Though the name Tony Burrows might not immediately come to mind when talking about chart success, he does have one unusual boast to his credit - he once appeared on four different singles performed by four different groups at the same time. Though 'My Baby Loves Lovin' was the first of five top 20 hits for White Plains, and 'United We Stand' would set The Brotherhood of Man on the road to stardom3, Edison Lighthouse's 'Love Grows (Where My Rosemary Grows)' and The Pipkins' 'Gimme Dat Ding' would remain each band's sole UK success. Edison Lighthouse's follow-up 'It's Up to You' (without Burrows this time) failed to make the Top 40.
The Swingers
As a spin-off band from Split Enz (who, in the UK at least, are also one-hit wonders with 'I Got You'), Phil Judd's 'The Swingers' were commercial nobodies except for one exception, 'Counting the Beat'. This song was a huge hit for the band in 1981 and became the biggest-selling Australasian song for that year.
This song is distinguished by Phil Judd's faux English accents and a simple but memorable chorus: 'La da de da, La da de da....'. For those who live in Australia, this song was until recently the backing tune for K-Mart television commercials.
Chris Isaak
The use of Chris Isaak's mournful guitar-strumming ballad 'Wicked Game' in the movie Wild at Heart gave the San Francisco-born crooner his first British chart hit, reaching No 10 in November 1990. A follow-up a few months later, 'Blue Hotel', lurked around the lower reaches of the top 20, while 1993's 'Can't Do a Thing to Stop Me' only just managed a top 40 slot.
Not that Isaak should worry - the UK release of 'Wicked Game' coincided with a compilation of the same name, featuring the best of his previous three albums. A subsequent five albums, a film career and a hit TV show in the States can only have helped to dull the pain of the lack of further chart success...
Helen Shapiro
When teenager Helen Shapiro first strolled onto the Top of the Pops stage with her seminal 1960s hit 'Walking Back to Happiness' ('Woo pah, oh yea-ea-ay'), she won the hearts of the British people and was voted the nation's favourite female singer. Despite five top 10 hits before she reached the age of 17 (two of which were No 1s), it's solely for 'Walking Back to Happiness' that Helen is remembered.
Well, that and a starring role in the doomed 1980s soap opera Albion Market.
At round about the time she was having that hit, my Mum went to see the Beatles at Sheffield City Hall, where Helen Shapiro was supporting. The legions of Beatles fans weren't impressed and booed her off stage!
However, classing Ms Shapiro as a one-hit wonder is a bit unfair. She was after all an entirely unintentional pop star, having already had, and continued to have afterwards, a pretty healthy career in jazz.
Millie
Just three years after Helen Shapiro came to prominence, young Millie Small gave us the ground-breaking 'My Boy Lollipop', which laid the ground for the international success of ska, and later reggae. Produced by Chris Blackwell and arranged by the great Ernie Ranglin, both native Jamaicans, as a deliberate attempt to 'Anglicise' the sound. Despite two other releases that hovered at the bottom end of the top 40, Millie was consigned to one-hitness, almost certainly due to the catchiness and freshness of her debut single.
...and More
And now for a few others whose 'lesser' works might have gone unnoticed had it not been for our eagle-eyed and sharp-eared Researchers...:
Keith West, who got to No 2 with the school-yard sing-song anthem 'Excerpt from a Teenage Opera' ('Grocer Jack, Grocer Jack'), was also a member of the psychedelic band Tomorrow (who also featured future Yes guitarist Steve Howe).

And lest we forget, former Undertones frontman Feargal Sharkey took a sidestep with an outfit called The Assembly, whose 'Never Never' was their only towards the end of 1983.

'What's up' might have been the only single of merit to come from 4 Non Blondes (and also, some years later, from DJ Miko), but lead vocalist Linda Perry has reinvented herself as a much sought-after lyricist, penning many of the songs (including the award-winning 'Get the Party Started') on Pink's M!ssundaztood album.

After 'hardcore Irish-American hip-hop' combo House of Pain scored their only chart success, 'Jump Around', singer/rapper Everlast scored a couple of hits on both sides of the Atlantic and a million-selling album in the form of Whitey Ford Sings the Blues.

The infectious harmonies of Charles and Eddie came together for the No 1 hit 'Would I Lie to You', and despite being popular inclusions in previous one-hit charts, did manage to shove three other songs into the UK top 40, including 'NYC (Can You Believe This City?)'.

'Broken Wings' is the track by Mr Mister that you'll often find on all those 'not available in the shops' driving compilations albums, of course, but the religiously-flavoured 'Kyrie' - a No 11 hit - seems to have slipped through the cracks in time.

Until very recently, we had Lieutenant Pigeon's seminal '70s track 'Mouldy Old Dough' firmly listed in our 'Definite One-hit Wonders' category at the end of this entry. Further research, however, has revealed that their follow-up single 'Desperate Dan' reached No. 17 in the British charts in 1972 and racked up ten chartweeks in all. So this is definitely a case of 'remembered for one, responsible for two'.

Novelty funsters The Firm inflicted upon us the Star Trek spoof 'Star Trekkin'' in the summer of 1987, which unthinkably got to No 1. Their previous release - 'Arthur Daley ('e's Alright)', which picked the British TV show Minder as its victim, reached No 14 in 1982. Some things are better best forgotten, eh?

The satin-soulful voice of Tasmin Archer impressed many with the song 'Sleeping Satellite', reaching the top of the British charts in the autumn of 1992. Her follow-up, 'In Your Care' despite being in aid of the charity Childline, failed to break the top 10, and subsequent singles, including 'Arianne' and a cover of Elvis Costello's 'Shipbuilding', appeared in the lower reaches of the UK top 40.

Late 1960s chart-toppers Procol Harum's 'Whiter Shade of Pale' defined an era, lifting heaving from Bach's 'Air on a G String'. It's such a superb production that it's perhaps not surprising that the group's five other singles tend to be overshadowed by their only No 1... even if people do tend to get some of the words wrong:

Steven:  We skipped the light fantastic-
Jimmy:  Fandango!
The Commitments (Alan Parker, 1991)

'There's No-one Quite Like Grandma' was not the only chart appearance by St Winifred's School Choir4. - they also provided backing vocals on Brian and Michael's own sole chart hit 'Matchstalk Men and Matchstalk Cats and Dogs' and appeared on The Housemartins' album The People Who Grinned Themselves To Death on a track called 'Bow Down'... which brings us full circle with Norman Cook's first band
A Hit at Home, A Wonder Abroad
If all of those artists balk at being called one-hit wonders, pity this next lot. Despite extensive careers in the pop industry, for some reason they're considered one-offs in countries other than their own...
Europe (no, not the place)
The band Europe arrived on the scene in 1986 as part of a movement that was, for some, a low ebb in rock terms. Outrageous fluffy perms and costumes that suggested that maybe glam rock wasn't as dead as we'd all hoped, they had the whole of the continent they shared their name with bobbing along to the anthemic 'The Final Countdown', which can be summarised as follows:
Dede der der! Dede der der der!
Dede der der! Dede der der der der der!
Dede der der! Dede der der der!
Dede der der! Dede der der der der der!
Der der der!!
Dede der der der der der daah daaaaah!
De de daaaah!
de de daaaah!
Europe were, for a time, huge in mainland Europe, but in the UK 'The Final Countdown' remained their sole chart-topper, despite valiant attempts with 'Rock the Night', which reached No 12, and 'Carrie' - a moderate success elsewhere - which peaked at 22. Such are the penalties of writing one song that so captures the public's imagination that they cannot imagine another from the same band.
T'Pau
British band T'Pau found immediate fame in America with 'Heart and Soul' in the summer of 1987. Despite being named after a Vulcan from Star Trek, and the bold looks of flame-haired lead singer Carol Decker, they were consigned to the 'No More From These' folder shortly after. But back home in Britain they scored a No 1 with their follow-up, the pizzicato-mungous 'China in your Hand' and a further top 10er with the timely-released 'Valentine' (which of course targeted St Valentine's Day).
Men Without Hats
Canadian band Men Without Hats' 1983 song 'The Safety Dance' was, depending on who you ask, an early 'wear a condom' safe-sex campaign or a quirky ditty with a video that featured a comedy dwarf and lots of frolicking through fields. 1997's 'Pop Goes the World' made it to No 20 in the USA Billboard charts, but sadly flopped in most other countries. Cheekily, their greatest hit compilation had the rather clever title Greatest Hats.
It's a Briddish Thing
Any British viewer of music TV channel VH-1's 2002 show 100 Greatest US One Hit Wonders might have felt like they'd passed into a parallel universe. But here are just some of the artists they singled out as supposed contenders:
At No 2 - Soft Cell's 'Tainted Love'; presumably 'Memorabilia', 'Bedsitter', 'Say Hello, Wave Goodbye', 'Torch' and 'Down in the Subway' never crossed the pond. Which makes Marilyn Manson's decision to cover 'Tainted Love' in 2002 all the more unusual...

At No 3 - Dexy's Midnight Runners' 'Come On, Eileen'; so that's 'Geno' and 'Jackie Wilson Says' gone to waste.

At No 18 - Sinead O'Connor's version of Prince's 'Nothing Compares 2 U'; though, to be fair, Sinead's infamous antagonism of the American Right Wing may have played a part in her full catalogue gaining airplay there. But at the very least, 'Lay Your Hands on Me' was the end theme for A Nightmare on Elm Street 3...

At 21 - Gary Numan, although possibly his work under the banner of Tubeway Army negated much of his solo stuff

At 39 - The Verve, whose 'Bitter Sweet Symphony' famously stole a sample from an orchestral version of the Rolling Stones hit 'The Last Time' (meaning they made more money from 'forgotten' works like 'The Drugs Don't Work' and 'Lucky Man' than their one big international hit).

At No 41 - Frankie Goes To Hollywood's 'Relax'; no doubt helped into the US Billboard chart by a brief appearance from Holly and Paul in Brian De Palma's Body Double, but it would seem strange to a Brit that only the second act ever to top the British charts with their first three singles and debut album could ever be considered a one-off. Especially for anyone who remembered the 'Frankie Say' t-shirt craze of 1984.

...and at No 48 - Spandau Ballet! Now, admittedly, 'True' was the band's only No 1 in the UK too, but that still ignores the eight top 40 singles prior to it and the nine that followed.
But then again, there are lots of bands who failed to break the tricky American market. For example, a-ha, whose theme for the Bond movie  The Living Daylights seems to have been ignored in favour of their debut 'Take on Me'. Or how about New Zealand's finest Crowded House? Or Falco, the first - and so far only - Austrian to top the British chart?
Oh, wait, he was a one-hit wonder in the UK too... never mind5.
How to Avoid 'That Label'
For some, the stigma of being seen as a one-hit (no) wonder is too great. One such performer, John Otway, stormed the British charts (as 'John Otway and Wild Willy Barrett') with a song called 'Cor Baby, That's Really Free'. He did subsequently appear in the last episode of The Young Ones (entitled 'Summer Holiday'), in which he performed a song called 'Body Talk', a quirky little number utilising drum pads attached to various parts of his anatomy, but this song never achieved the success of his previous release.
These two tunes, and it has to be said many others, have since been regularly trotted out in his live shows, which are part-music, part-comedy. In fact, who can possibly have attended a festival in the UK in the late '80s and early '90s without seeing his name in the listings for the comedy tent?
A particular treat was when he was next to Attila the Stockbroker on the bill - the changeovers between the two were the stuff of legend. I'm not sure if he's still performing these days, but his autobiography, 'Cor Baby That's Really Me', is well worth a read.
I was privileged to catch Otway on tour with Wild Willy Barrett. They played my local, and Wild Willy played a guitar that looked like a tree branch (complete with bark) and had a wonderful device called a thunderbox, which was basically all his effect pedals in a big box which had many levers and dials.
But in 2002, sick of being ignored for his significant contribution to popular (and not-so popular) entertainment, John Otway set up a campaign to get him into the chart for a second time. Encouraged by various radio stations across the British Isles (and a little emotional blackmail, as the single's release coincided with his birthday), Otway managed to get to No 9 with a song called 'Bunsen Burner'.
Sadly, some one-hit purists have dismissed his claim that he no longer qualifies. As his first release was part of a duo, and his second a solo effort, it meant he has become a double one-hit wonder.
Never mind, John. Maybe next time...
So Finally - Bona Fide One-hit Wonders
So, having decided what a one-hit wonder isn't, we can now get down to the serious business of looking at some of the artists who most definitely are in this category... well, until such time as they decide to copy John Otway in the hope that it'll disqualify them...
'Heeeyyy Macarena!'
In the summer of 1996, a novelty record by two middle-aged Spanish men took the world by storm. Los Del Rio were a double act who had been performing together since 1962. Their song 'The Macarena', however, was their first hit in their 34-year careers. That's surprising in itself, but it also took the record for longest stint at No 1 in the Billboard chart - it remained in the chart for a staggering 60 weeks, raking up over 4 million in sales in the process.
This wasn't an isolated event - in the UK and the rest of Europe, people were learning the dance, which was a reworking of the old 'Apache' dance that had originated in the 1950s, and had recently been revived for Whigfield's 'Saturday Night'.
'The Urban Spaceman'
A personal favourite of many a Researcher is 'The Urban Spaceman' (Neil Innes, 1968), which was the only chart hit (at No 5) for 1960s novelty band 'The Bonzo Dog (Doo Dah) Band'. The record was produced by Paul McCartney under the pseudonym Apollo C Vermouth. Viv Stanshall, the other constant member of the band (which had an ever-changing line-up) hated the song, and would have been devastated to know that, immediately after his death, he was often referred to in newspaper reports and suchlike as 'The Urban Spaceman'.
After the Bonzos broke up, Neil Innes went on to work with the Monty Python team, who themselves had just the one hit wonder with 'Always Look on the Bright Side of Life', which was released as a single in 1991 and made Number 3 in the charts. Main vocalist on that record was, of course, Eric Idle, who completes the links by reaching No 50 in 1994 with his theme to the sitcom One Foot in the Grave.
Iron Butterfly
Iron Butterfly's awesome 'Inna Gadda Da Vida' is possibly the only major chart hit to be named because the lead singer was too stoned to pronounce the words properly - it should have been called 'In the Garden of Eden'. Perhaps it became a one-hit wonder simply because it was so lengthy everyone was terrified their follow-up might last even longer.
Though the radio version was long for the day, well over 4 minutes, the album version was even longer - 17 minutes and 5 seconds!
They came through our town (Louisville, KY) and did a live concert... The whole band started playing and during the course of it they began leaving one at a time until only the drummer was left on stage in a mad solo. The band eventually came back, loaded down with beer and poured some into the drummer while he continued to play. Then they joined him in the song again and finished up with a loud finale.
Famously, the song featured in a Simpsons episode as 'In the Garden of Eden' by 'I. Ron Butterfly', after Bart swaps the hymn sheets over at church. Reverend Lovejoy eventually realises (accompanied by a caption 'Seventeen Minutes Later'), commenting: 'Hang on... this sounds like rock and/or roll'.
Seasons in the Sun
Canadian singer Terry Jacks topped the charts in both Britain and America with the tragic ode to (permanently) lost love 'Seasons in the Sun'. The song was recently covered by the current holders of the most number of consecutive number ones on the British chart, Westlife. Unfortunately, no-one told the grinning boys that the song was about death, which made their performance deeply inappropriate. Oh, how we laughed...
Fire!
An act known as 'The Crazy World of Arthur Brown' astounded audiences when he got to No 1 in the summer of 1968 with a rather demonic track called simply 'Fire'. What was so startling was not so much the song itself, more his costume for his performance on Top of the Pops, which included a steel helmet thing which really was on fire.
Apparently he did have a follow up record about how nice cows were, or something similar, but it didn't chart so I guess he qualifies.
'I've Been To Paradise...'
A classic one-hit wonder, this particular song topped the UK chart in 1982, and the artist concerned never reached the top 75 again. It was described by one Researcher as 'unspeakable, seriously offensive' - it's 'I've Never Been To Me' by Charlene.
Musically, it was a syrupy ballad that sounded like a show tune, and actually became one years later when it was used in the soundtrack for the hit film The Adventures Of Priscilla, Queen Of The Desert. But it was the lyric that raised it to spectacular heights of offensiveness.
It was a woman-to-woman song - although, interestingly, it was actually written by two men. Charlene began by pleading, rather intrusively: 'Hey lady, you lady cursing at your life/ You're a discontented mother and a regimented wife/ I've no doubt you dream about the things you'll never do...'
So, as a listener, you're set up for a display of sisterly solidarity. Surely Charlene is going to tell this 'lady' to cast off her shackles and do it for herself?
'Fraid not. Quite the opposite, in fact. 'I've Never Been To Me' is an anthem of self-loathing, Charlene bitterly regretting what sounds to have been a highly entertaining life and wishing she could swap places with the unhappy woman she's addressing.
'I've been to Nice and the isles of Greece/And sipped champagne on a yacht', she confesses. And there's more: 'I've been undressed by kings/And I've seen some things/That a woman ain't supposed to see'. To which, surely, the right response would be: 'Hey, well done for penetrating those exclusively male bastions.
But no! Charlene is regretting everything, as her sobbing delivery makes clear. It all comes to a hideous climax with a spoken section, in which Charlene breathlessly informs her victim: 'You know what truth is? It's that little baby you're holding. It's that man you fought with this morning - the same one you're going to make love with tonight'.
This part of the song caused some controversy, since it sounded unpleasantly as though it was urging women to stay with violent men, and was sometimes edited out for radio play. The song also seemed to imply that the singer might be regretting having abortions: 'Sometimes I've been to crying for unborn children that might have made me complete'. In short, the whole thing seemed like an attempt to set feminism back 20 years...
'Stay With Me Till Dawn'
Judie Tzuke only ever charted with 'Stay With Me Till Dawn' (a song recently covered by Lucid), which got to No 16 in 1979 . Her chart career may have dived, but she became a cult album artist, doing rather well though self-promotion and online sales (notably through her own website tzuke.com).
'More, More, More' (...or maybe not)
The Andrea True Connection's breathy 1970s disco hit 'More, More, More' might have made some prudish listeners blush with its clearly sexual overtones, but they might have increasingly hot around the collar if they'd known that Ms True had enjoyed a successful career in the adult films industry in the early part of the decade. After her singing career took a dive, she returned to porn for a time, before ill health forced her to consider a more holistic lifestyle as an astrologer.
Though Andrea herself never managed to get another song into the charts, the backing track for 'More, More, More' was used by Canadian group Len for their sole chart entry, 'Steal My Sunshine' in 1999/2000.
Advertising
A great source of one hit wonders in the past few years has been TV commercials, with one brand in particular, Levis, whose mid '80s policy to use old soul classics to promote their wares gave the late Percy Sledge the chance to enjoy a second bite of the cherry with 'When a man Loves a Woman'. The company's ad campaigns also gave a first chance for newer artistes who, for whatever reason, didn't manage to survive without the help of a 30-second plug every ad-break.
Invariably, the song gets picked out as unknown and quite distinctive and then, thanks to repeat rates of ads, becomes ingrained in the mind for a few months. Always out to make money, those responsible for the band get the single out as quickly as possible, which promptly climbs to the number one spot and sits there for a week or two until people get sick of it. Then the band, totally unprepared, are shoved into the limelight and produce a terrible album that bombs and they disappear (hopefully for good). In the meantime the advertising agency start looking for another band in the same position.
Cynical, maybe, but it happens fairly regularly enough for us to believe it to be true.
Babylon Zoo's 'Spaceman' was originally the music for a jeans ad. Except the version in the ad featured squeaky, alien-sounding vocals that sadly only appeared on the intro and outro of the single before the lyrics (sung by frontman Jaz Mann) returned to their proper speed and somehow lost their mystery. Most club DJs tended to speed up the whole song anyway. The band's follow-up, 'Animal Army' didn't feature any squeaky voices, and so bombed.
Another prime example is the band Stiltskin, who rushed out an ill-advised album - The Mind's Eye - to follow up the ad, but to no avail. The band's lead singer ended up as the replacement for Phil Collins in Genesis, but as the saying goes, once a one-hit-wonder, always a one-hit-wonder. He lasted just one album with Genesis.
The less said about that yellow, annoying puppet Flat Eric (who, thanks to DJ Mr Oizo, got to No 1 with 'Flat Beat') the better...
Eurovision
Europe's most baffling competition (well, at least to people from outside of Europe) is also rife with people who manage to chart with their winning Eurovision entry, but fail to build on that initial success, for whatever reason. With regard to the UK chart, we need only look to Bardo (featuring the divine Sally Ann Triplet), whose energetic 'One Step Further' didn't quite live up to the longevity of the previous year's winners, Bucks Fizz. Or their 1990s equivalent, Love City Groove, who sang, um, 'Love City Groove'. Still, Eurovision isn't a complete career cul-de-sac, as Katrina and the Waves can testify. 12 years after inviting us to go 'Walking on Sunshine' ('woah-oh!'), they won the contest - and grabbed them a top 3 hit in the process - with 'Love Shine a Light'.
All this is little comfort for German winner Nicole Hohloch who sang the optimistic 'A Little Peace' in both German, French and English versions, yet never managed to come up with anything else quite so likely to make your mum go 'Awww'. Which is a shame.
A 'Good' Sport?
'19', which spelled out the horrors of the Vietnam War to a catchy beat, is often mistakenly considered Paul Hardcastle's only chart success (the presence of his other top 20 hits 'Don't Waste My Time' and 'The Wizard'6 prove otherwise). But it did inspire a song that does qualify - 'N-n-n-n-n-nineteen Not Out' by The Commentators. The single featured impressions from Rory Bremner and was a pastiche that refocused the original's subject matter to the altogether more serious topic of the England cricket team, who, it was alleged, had an average score of (you're probably way ahead already) - yes! - 19.
While we're talking of one-hit wonder comedy/sports records, what could be more appropriate than 'Chalk Dust' by The Brat? Another English comedian (Roger Kitter) did his finest John McEnroe impersonation, to a rather basic backing track.
The most common form of novelty sporting tie-in is the football record, which usually appears in the lead-up to major events like the annual FA or League Cups. In among the usual jostling performed by the major players like Liverpool FC or Manchester United, we find Brighton and Hove Albion, who managed to chart when they got to the final of the FA Cup in 1983. Comedians David Baddiel and Frank Skinner, with the aid of Ian Broudie from the Lightning Seeds, actually managed to get to the No 1 spot twice with essentially the same record, the bittersweet pub favourite, 'Three Lions'.
Such terrace chants are, of course, excusable as they're not entirely intended to be serious contenders for 'Song of the year'. One slight deviation form the formula, however, came in the form of Hoddle and Waddle's glitzy pop tune 'Diamond Lights'. Two English footballers crooning along to a rather formulaic song might not be that embarrassing - even if one of them did end up becoming the manager of the England team. But boys, did you really have to wear those ghastly jumpers for your Top of the Pops appearance? Shame on you!
More Novelty and Comedy Efforts
Such chart invasions are, sadly, all too common in the UK, whose population seem to lose all critical ability as soon as the weather gets a little hot, or when Santa season is just around the corner. Why else would children's TV favourites like Mr Blobby, Roland Rat or Bob the Builder be able to boast of as much chart success as - can you believe it? - Led Zeppelin (yes, chart-fans, The Zeps are amazingly also one-hit wonders!)?

UK-based Researchers might remember the slightly absurd single 'John Kettley is a Weather Man' by The Tribe of Toffs, which namechecked and rhymed minor sporting and TV personalities with abandon - 'Ayrton Senna has the voice of a tenor, Peter Snow sings very low...' before chanting the inevitable chorus:
John Kettley is a weather man
A weather man
A weather man
John Kettley is a weather man
And so is Michael Fish
A follow-up single, 'Terry Wogan's On TV (Again)' (a tribute to one of Britain's most ubiquitous presenters during the 1980s) failed to live up to the promise of the band's first release. Much to the relief of minor celebrities everywhere, no doubt.
Celebrities themselves aren't completely innocent though. Remember how, after both Kylie and Jason jumped from the Australian soap Neighbours to pop stardom, their Neighbours stablemate tried to do the same with 'Don't It Make You Feel Good'?... only to find the public's response was 'Well, no, Stefan, it doesn't'?
Meanwhile, back in the UK, EastEnders started jumping on an increasingly top-heavy bandwagon. Wendy Richard (aka Pauline Fowler from the soap) had, with Mike Sarne, already enjoyed a flirtation with pop way back in 1962 with the No 1 'Come Outside'. And Mike Reid (aka Frank Butcher) bagged a rather tasty top ten with a comic version of 'The Ugly Duckling' in 1975. But 11 years later, fellow Albert Square resident Anita Dobson got to No 4 with 'Anyone Can Fall in Love', a version of the EastEnders theme with lyrics. Letitia Dean and Paul Medford meanwhile managed to turn a plotline from an episode (where the Albert Square teens formed a band called - geddit? - The Banned) into a minor hit with the woefully '80s-synth travesty 'Something Outta Nothing'. And in 1991, young Sophie Lawrence managed a fairly respecatble No 21 with a cover of Donna Summer's disco hit 'Love's Unkind'. Only the soap's Nick Berry seemed to have had any success in getting that difficult second chart hit...
Often, celebs can be lured behind a microphone so long as it's all for a good cause. Which is why, in 1986, we were treated to the cast of British children's drama Grange Hill urging us all to 'Just Say No' to drugs. Bless them! Or why Cliff Richard was tempted to rerecord his classic 'Living Doll' alongside the anarchic funsters The Young Ones in aid of Comic Relief. But that doesn't really explain why certain Young Ones didn't just leave it at that - Alexie Sayle reached No 10 hit with 'Hullo John, Got a New Motor' and Nigel Planer, in character as Neil Pye, narrowly missing the top of the charts with his version of Traffic's 'Hole In My Shoe'. And charity or not, it doesn't justify Hale and Pace inflicting 'The Stonk' upon anybody. We might just be able to forgive Bananarama for giving Lananeeneenoonoo their sole appearance in the charts with a - frankly - hilarious version of the Beatles' classic, 'Help!'
The problem seems to be that celebrities just can't resist the temptation to show off. Take a look at this list:
Baz Luhrman, 'Sunscreen'. Obviously making Romeo and Juliet and Strictly Ballroom wasn't keeping him busy enough.

Morris Minor and the Majors, 'The Stutter Rap' - in reality the work of comedian Tony Hawks, who also wrote a book about his one-time experience as a pop-star called One Hit Wonderland.

Jasper Carrott, 'Funky Moped'.

Timmy Mallet (as Bomballurina), 'Itsy-Bitsy-Teeny-Weeny-Yellow Polka-Dot Bikini'.

Clive Dunn (of 'Dad's Army' fame), with the sickly 'Grandad'.

Bennie Hill, 'Ernie (The Fastest Milkman in the West)'.

Windsor Davies and Don Estelle (both as their characters from It Ain't Half Hot, Mum), 'Whispering Grass'.

Arthur Mullard and Hilda Baker, 'You're The One That I Want' (yes, the very same one originally sung by John Travolta and Olivia Newton John).

Dennis Waterman and George Cole, playing off their characters in the popular TV show Minder, also charted once as a duet with 'What Are We Gonna Get 'er Indoors'. Waterman also managed a solo hit with the theme to their show, 'I Could be So Good For You'.
And, just in case you thought we'd forgot, what about Marvin the Paranoid Android (voiced, as with the radio series and TV show of Hitchhiker's Guide to the Galaxy, by Stephen Moore) who managed to chart just the once. He reached No 53 in 1981 with 'Marvin'. The follow-up, 'Marvin, I Love You' failed to recapture the 'success' of the original.
It was 'ghastly'.
1Although Band Aid's song 'Feed The World' topped the charts twice in the same decade, very few of the same artists appeared on both versions.
2Though the SOS Band can lay claim to eight entries in the top 75, only two of them broke the top 20, and most people would be hard-pushed to remember what the other one was called without looking it up.
3After Burrows left the band, the group would become Eurovision winners with 'Save Your Kisses For Me'.
4The youngest member of the choir, Sally Lindsay, would grow up to play Shelley Unwin in Northern soap opera Coronation Street.
5Falco was, however, huge in Europe. A former member of the European band After the Fire, who sang 'Der Kommissar', Falco also had 'Vienna Calling ' to his credit.
6A track which was used as the theme tune for Top of the Pops for many years.