Right then...

I thought it was about time I got round to saying a bit more here, rather than just:
...which it has said since the day I arrived here.
And..?
OK, so this is where it gets tricky. What do I say about myself? Maybe it's easier to say it with Smileys?





There. That just about sums me up. Easy.
Some things
Somewhat disconcertingly, I appear to have become a SExpert... If you have a question about anything scientific, pop over to Science EXplained where my fellow SExperts and I will attempt to help.
I am a guru (see shiny-silver badge over to the right somewhere). This means I hang about the site, trying to answer awkward questions about H2G2, and also helping old ladies across the road1.
If you're new to h2g2 and would like contribute something to the Edited Guide, why not Hitchhike into the Guide with a mentor?
---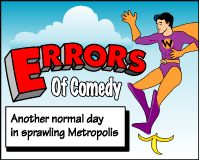 My weekly serial Errors of Comedy appeared in The Post between 23 October, 2003 and 15 July 2004
And a big thank-you to Lentilla for providing the logo
---
I have worked on four University projects:
H2G2 Queen Fan Club

Entries What I Wrote
In a bid to streamline this page a little, I have moved my Edited Entries to a separate page: A4003363. Although there are nearly 90 of them, only 60 are solo Entries, which means that I have a nice golden '50+' badge
Entries I Am Writing
Nothing at the moment...
Useful Places
A useless place
So there you go
And that's it. For anyone interested in demographics2 (although why you should be I can't imagine), I was born in Sheffield, am 38, possess a Y chromosome3 and live in Bicester.
Oh, and...
18 * 2 + 6 + 3 - 3 = 42
----BEGIN H2G2 CODE BLOCK----
Version: 1.1
RGB Y++ N+ SBA A+ P-:- L M s V++ E+ PR p+ a B++ TV+@ r+@ D !T nh C+(-) m t
-----END H2G2 CODE BLOCK-----
Subscriptions
Title
Status

Created

This user has no Entry subscriptions