Back After Prolonged Hiatus
---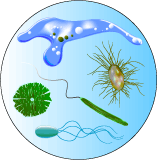 UPDATE: NOVEMBER 2017
Farlander* is a disgruntled boffin who, in this long and indefinite hiatus, has gone from spending weekends playing the trombone in the state orchestra to playing the French horn* in the state orchestra, much to the dismay of musical ears, while keeping weekdays occupied corrupting younglings in the ways of Science. A gaming freak who loves single-player and co-op action games, especially those that involve a lot of (1) guns, (2) explosions, and (3) zombies, Farlander is also a bibliophile and speed-reader, and has a disgusting collection of books resting upon groaning, sagging shelves, some of which now suffer the indignity of having to share space with a disordered pile of Star Wars - and other movie/game - collectibles.
Farlander has also been exploring the artistic side of life at Deviant Art and Tumblr. While Farlander makes no guarantees that viewing all artwork produced during the hiatus will not cause semi-permanent retinal damage or insanity, you are nevertheless welcome to explore these pages at your own risk. Farlander is also currently accepting commission work.


Farlander can be contacted at darthfar [at] gmail [dot] com. Those who are not up to stringing electrons may visit Farlander at The Tomato Garden, Farlander's Tumblr blog, where Farlander reblogs stuff, grouses about two furry little monsters, and intermittently posts art.
It is highly improbable that Farlander will ever reveal Farlander's whereabouts, but it should be safe to say that it is nowhere near BBC base, and that the official language of Farlander's country is not English1.

Farlander used to have a campaign page for Microbe Rights and Respect at H2G2. While this page has undoubtedly been overwhelmed by dust and cobwebs (and the ghosts of spiders) in the last decade, you may still pay a visit to the Campaign Headquarters to learn more about the cause and to find out more about how you and microbes can live together peacefully.
Bats in the Belfry
A rather long time ago, Farlander was part of the three-headed entity Bartok the Bat, who came into being for the purpose of writing a Guide Entry about the composer Bela Bartok. Alas, it has been about a year since Farlander last heard from Jen and Arwen. Perhaps there is some other way to bring closure to this abandoned project?
Useful H2G2 Links
Browse I The Post I Clubs I Classified Ads I House Rules I H2G2 FAQ I Technical Questions FAQ I Gurus I Ask H2G2 I Write I Guidelines I Hitch-hiking Your Way Into The Edited Guide I Editorial Feedback I GuideML I Font Colour I Gadgets
Farlander's H2G2 Code ----BEGIN H2G2 CODE BLOCK----
Version 1.1
RO Y+ N++ SB+ A++ P L++ M+ s++ V>++ E++
*
PR++ p+ a++ B+++ TV++ r+ D T++ nh+
*
C++ m t++
-----END H2G2 CODE BLOCK-----
Write your own H2G2 researcher code! Click here!
Farlander's Geek Code ----BEGIN GEEK CODE BLOCK----
Version 3.12
GMU/S d- s: a- C++++ U-- P+ L E- W+++>$ N o? K w+ O-
[email protected]
V? PS+ PE Y PGP- t+ 5++ X++ R !tv b++++ DI+++ D G++ e++>++++ h r++ z-
-----END GEEK CODE BLOCK-----
If you want to know what that means, click here.
Spurts of Hypergraphia
---
Solo Efforts (well, mostly)
1. Edited Articles (43)
Please choose oneSleep ParalysisA Brief History of PoisoningInfamous Historical Poisoners†The Legend and History of the Song 'Danny Boy'†Classic Poisons†Ichthyosis Foetalis and Harlequin BabiesHypergraphiaArtificial Preservation of Human Remains Pt 3Artificial Preservation of Human Remains Pt 1†Operation Mincemeat - The Man Who Never Was†Poker - Dead Man's HandSpontaneous Human Combustion†Plants, Fungi and the Underground Internet†Glenn Miller (1904-1944)†The Mysterious Disappearance of Glenn Miller3D StereogramsThe Processes of Death and Decomposition†Egg-Balancing and the Vernal Equinox†Yankee Doodle†B-17 Flying Fortress†Hitman - The Games†Mozart's Death - Murder, Accident or Disease?†Abortion*The Memphis Belle†Chinese Foot Binding†The Hippocratic OathMicrobes: Good or Bad?Microbes: The Harm They DoMicrobes: The Good They Do†Small Talk in the Microbial WorldHamburgers in HistoryThe Difference between a Cold and the 'FluWhy People LieThe Evolution of Hot DogsThe Darwin Awards†Pen SpinningHomeopathy - A Skeptical View*†Tetris - the Game†Streptococcus pyogenes -   Killer Flesh Eating Bacteria†Sweeney Todd - the Demon BarberBlood, Bandages and Barber Poles    A History of BarbersLegionnaires' Disease:    A History of its DiscoveryLegionnaires' Disease: FAQ
2. Recommended Articles
Work in progress.
3. Articles in Peer Review
Nothing here for the moment.
4. What's become of these?
† Editor's Choice Item
* with input from other researchers
Collaborative Efforts
1. Edited Articles
2. In Peer Review/Recommended Articles
3. Articles in limbo
Edited Articles that Farlander managed to get a word in edgewise
Please choose onePlanning a Surprise Party†Guitar-Related InjuriesStar Wars: The FilmsStories from World War II†Great Dates in History†Great International Breakfast Dishes†Fears and Phobias and How to    Deal with Them†The IgNobel Prizes (by Caveman)
Sporks!
Club, society and campaign badges.
Don't you find the names of the days of the week mind-numbingly dull? Why not call them Sodit, Wimpy, Wibble, Thing, Poets, Doobry and Dontbry instead? They certainly have more character.

Feel the urge to blow your horn? Come join the Musicians' Guild and let rrrrip. Musicians' Guild founded by Fragilis, maintained by Danny B and Farlander.

The Royal H2G2 Historians' Society. And no, we're not just a bunch of doddering old gits lurking in cobwebby attics, drinking Lapsang Souchong tea. Founded by Jodan.

And just what's wrong with reading a dictionary? It keeps the gears in your head grinding, you learn new things - and people think you're a Space Cadet. Founded by Viojen.

Microbes may be tiny, but they're the ones who got here first! Show our ancestors a little more respect. Founded by Farlander.

Know the difference between fact and fad? Don't believe in alternative medicine or magnet therapies? Then the Association of Researcher Skeptics is for you. Founded by Naita.

Defenders of Skepticism - a supporter of the Association of Researcher Skeptics movement. Founded by R. Daneel Olivaw.
---
Previous guises:
detached from reality/diagnosed with hypergraphia/the severely distracted/Hitman III: Contracts hits stores in April!/now has two wheels!/never let a disgruntled boffin play Hitman!/disgruntled boffin/campaigning for microbes at A1001854/mired in mediocrity/1/3 bat, 2/3s batty/scientist, and quackspert of things that go blastedly missing on Sodit mornings
Farlander joined H2G2 on Wimpy, 15th October 2002.




1In fact, if you really wanted to get technical and sort Farlander's spoken languages by country, ethnicity and then fluency, then English would be neither Farlander's first nor second language.
Subscriptions
Title
Status

Created

This user has no Entry subscriptions