Welcom to Miztres's Space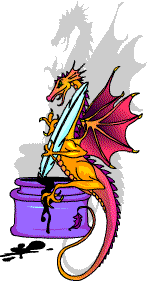 Draco Dormiens Numquam Tittilandus
Welcome to my space. If you wish to know a little more about me (or have trouble sleeping at night) please click here.
Other than that, feel free to surf through the links I've collected below or some of the entries I've been able to put down this far.
Favourite Authors
One day I'll have to extend this list to include a small annotation and book list, but for now I'll settle for alphabethical order.
Douglas AdamsPiers AnthonyMichael CrichtonUmberto EcoRaymond FeistJack Higgins (on occasion)John MarsdenJullian MayC.S.LewisGarth NixTerry PratchettRobert RankinJ.K.RowlingCecilia Dart-ThorntonJ.R.R.Tolkien
Wilde Thoughts
"When one has weighted the sun in the balance, and measured the steps of the moon, and mapped out the seven heavens, star by star, there still remains oneself. Who can calculate the orbit of his own soul." Oscar Wilde
Pets Online
I guess having animals around is just part of me, so I'll keep a few online pets here for when I need a friendly face
Links
(19+9)+(2x4)+6=42
(1x9)x(9-2)x(4/6)=42
Subscriptions
Title
Status

Created

This user has no Entry subscriptions