The Cathedral of Terry Pratchett
Created | Updated Mar 15, 2004
PLEASE HELP ME WITH THIS, ITS DAMN HUGE!
Getcha OWN TEMPLE
Terry Pratchett is a great author, you only have to type Terry Pratchett into the search engine of H2G2 and you'll come up with a hell of a lot of entries...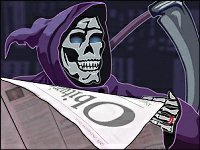 Why am I making yet another one? Because I think it's time we had a forum to discuss his books, tapes and other related stuff.


So, Welcome to the cathedral of Terry Pratchett
Discworld
The colour of magic
The Light Fantastic
Equal Rites
Mort
Sourcery
Wyrd Sisters
Pyramids
Guards Guards
Faust crossed out) Eric
Moving Pictures
Reaper Man
Witches Abroad
Small Gods
Lords and Ladies
Men at Arms
Soul Music
Interesting Times
Maskerade
Feet of Clay
Hogfather
Jingo
The Last Continent
Carpe Jugulum
The Fifth Elephant
The Truth
The Thief Of Time
The Last Hero
Nightwatch
The Wee Free Men
The Amazing Maurice and his Educated Rodents
Strata
The Science of The Discworld
The Discworld Characters
The City of Ankh-Morpork

Citizens
The Patrician (Vetinari)

William de Worde

Cut me own throat Dibbler
The Watch
Commander Vimes
Captain Carrot
Angua

Cheery Littlebottom
Unseen University

Witches

Granny Weatherwax

Nanny Ogg

Magrat

Perdita X

Agnes Nitt

Greebo

Supernatural Figures

Gods
Om
Anthromorphic Personifications
Death
The Death of Rats
(the grim squeaker)
Other
Great Atuin

Miscellaneous

Susan
Quoth the raven

King Verence

Brutha

Tea Time

Twoflower

Mad ~(the dwarf)

Eric
The Games
The First Game
Missing, presumed...
Discworld Noir
Discwold Stuff


Dragons
Gods
Dibbler Doppelgangers
The Laughs of the Disc


Any more suggestions? The stuff in red is stuff I'd like but can't do. Any help on them would be great.




Terry Pratchett - esque Stories by the Discworlds Pythonist
I: Apocalypse Now
II: The Madness of King's Gorge
III: #In The Brownie's
IV: Blade Runner
V: Die Another Way
VI: The Prosprutarian Job
VII: The Cit. Sense
The Johny Series

Only You Can Save Mankind

Johny and the Dead


Johny and the Bomb




The Bromeliad


Truckers


Diggers


Wings



Non - Series Books


Good Omens


The Dark Side of the Sun


The Unadulterated Cat


The Carpet People


No-one could stand a chance at explaining this as well as this guy here
But here's a forum if you want to discuss it.