Great Film Locations
Created | Updated Feb 12, 2013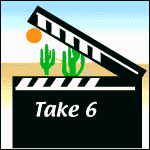 As most of the Western World remembered the events of 11 September, 2001, it's fitting that we asked you then to tell us all about Great Film Locations. New York is, after all, one of the most instantly recognisable cities in the world thanks to its appearance in so many great films like Manhattan, North by Northwest and King Kong.
But you don't need sky-scrapers and world-famous monuments to see your home on the big screen. Many small towns and villages have provided backdrops to some of the most memorable pictures ever put to Celluloid. This is what you, our A-List Community came up with...
London, England, UK
London is one of the busiest cities in the world right? Well, surprisingly, some parts of inner London, such as the 'square mile' of the City of London, and areas around Shoreditch/Liverpool Street can be extremely quiet at the weekends, when all the workers are at home. This makes them ideal for filming in.
I used to live in a flat near Liverpool Street, and there was filming being done at the weekends quite often. We saw car chases (though not very exciting when being filmed), huge lights and cranes, and even a whole artificial rain, lightning and thunder rig! We'd quite often hang around, and even bring out cups of tea for the crew.
Walthamstow, England UK
London's genteel and fashionable E17 is surely the obvious location for a film - indeed, it already has been used quite extensively, being the setting of that massive hit of 2000, It Was An Accident. (Quite a decent film, even if you haven't heard of it). Even the ready-for-demolition arcade was nicked for Sophie Ellis Bextor's last video, 'Get Over You'.
Walthamstow Stadium (the dog track), an art deco masterpiece, is especially fantastic and is used in two currently-running television advertising campaigns (at the time of writing). Hooray! Walthamstow - it's ace.
If you're ever strolling around zones two and three of South-east London, you might well find yourself standing on a street corner that has featured in the long-running British police show The Bill, which records location footage around the Brockley, Lewisham and Forest Hill regions on a regular basis.
They dub those sirens on afterwards, you know...
Lacock, Wiltshire, UK
I grew up near the village of Lacock in Wiltshire. The village has starred in many films including Pride and Prejudice, Emma and Harry Potter. It's quite fitting really seeing as Fox Talbot invented the photographic process at Lacock.
More Harry Potter
Alnwick Castle, Northumberland, UK, has featured in both of the Harry Potter films made so far as well as being a backdrop in Elizabeth
I go to school literally opposite the castle so it's kind of hard to concentrate as you see a seemingly endless stream of traffic moving in and out with lights sticking out of the castle and at some angles you can see inside and see the film crews!
About the Harry Potters; I was in the first one and my sister was in the second (extras). There's nothing quite like being on a movie set. Its all rushing around being shuttled from place to place and then back to your original place because they got it wrong. It's chaos but an amazing experience seeing people such as Robbie Coltrane walking past you looking like Hagrid. Getting dressed up in costume, having your hair and make up done and swooshing your capes around!
Malacca, Malaysia
While on a weekend break from Singapore some years ago, I came across a film crew blocking the street to my hotel in Malacca's Chinese district. Obviously big budget, I paused to observe the proceedings and witnessed Catherine Zeta Jones repeatedly walking down the street with chrome briefcase and enter a temple. Further scenes for the movie 'Entrapment' were shot along the river.
When finally watching the film years later, it transpired that the charms of Malacca had been superimposed onto the grandiose backdrop of Kuala Lumpur to give it an old Chinese town appeal that was presumably not available for filming in the Capital. This has become a matter of some pride to local residents.
Portmeirion, Wales, UK
Aside from being used as the location for the TV series The Prisoner, Portmeirion has been used as a location by many different filming crews, mostly because it's privately-owned (including the streets) and because it looks so unusual. There are courtyards, a beach, a gardens, and lots of funny pink buildings which don't actually do anything. In fact, the whole place is a bit like a film set.
It was used as the location in the Doctor Who story 'The Masque of Mandragora'. Beautiful place, full of quirks and unusual bits and pieces.
Went there once while a 'Six of One' meeting was taking place. 'Six of One' being a Prisoner fan club. I was so strange to see people dressed in blazers, boaters, capes etc and carrying umbrellas, wandering about the place. Of course everyone was at the 'Be seeing you' routine !
Helsinki, Finland
The capital of Finland has repeatedly, especially during the Cold War, been used for films that are supposedly set in the former Soviet Union, usually Moscow or Leningrad/St Petersburg - here are some examples:
Dr Zjivago1 1965
Reds 1981
Gorky Park 1983
White Nights 1985
Curracloe Beach, County Wexford, Ireland
Also known as Omaha Beach. This is where the first thirty minutes of Saving Private Ryan were filmed. The location scouters evidently felt that it was the closest thing to the beaches of Normandy that they'd find outside, well, Normandy. Curracloe is actually a lot smaller than the Normandy beaches, with no large area of swampland before the bluffs, but it did a passable imitation on film.
I found out about the filming by accident, before the publicity machine started. The producers had laid a helpful trail of little pointy signs with DW on them all the way from the main Wexford-Dublin road, to help crew. On a lonely impulse of delight, we followed the signs one day to a small caravan park just off the beach, where there were all lots of locked caravans with exciting and provocative signs like 'Special Effects' and 'Film Editing' in the windows. So DW stood for DreamWorks, I suppose.
There was great excitement in Wexford and Curracloe at having Hollywood bigshots like Spielberg and Hanks in town - not that they were physically in town, they were staying at the most expensive hotel within a helicopter's range. Apparently they brought obscene amounts of money to the town though, so that's okay.
We saw the beach transformed. They put up huge wooden Xs, the type used to stop the boats from coming in to shore, and cut away a section of cliff to build one of the bunkers in. This was a wooden constructions aged to look like concrete, and is sadly no longer there. Only the steps up to it remain. During filming one whole end of the beach was cordoned off, but there was no obstacle to stop us from gathering and gawping at all the nice explosions and maimings. One of the landing craft was given to the caravan park next to the beach; it stands in pride of place next to the tennis courts.
I've swam in the sea at Curracloe since I was a nipper, so it was a strange experience to see it run red with the blood of American soldiers. With the jerky, hand-held quality of the beach scene, it's difficult to make out familiar features of the beach. But there's one scene, after the invasion has been successful, when Tom Hanks is standing on the bluffs looking down at the boats, soldiers and balloons saying something like 'That's quite a view' and I can say: 'That's my beach!'
One of my friends, son of an FCA2 soldier (oh yes, those were Irish soldiers dying messily for your Celluloid pleasure) was on a landing craft with all the haggard-looking soldiers, mugging unashamedly at the camera. Strangely, his film debut seems to have ended up on the cutting-room floor...
The Endicott Estate in Dedham, Massachusetts
The Endicott Estate in Dedham, Massachusetts has been used as a filming site for a Spencer For Hire (a TV series starring Robert Urich) episode. It was also used for a scene in The Perfect Storm.
Built around 1900 for use by a prominent local family (the Endicotts), the estate sat (and still sits) on a large chunk of land surrounded by some large, elegant trees. In the late 1960s, the estate became vacant as the last family member to reside there passed away, and it was deeded to the town of Dedham for educational and recreational- nal uses. There are many local organisations that currently use it for classes, Christmas parties, bazaars, and meeting space. The carriage house behind the estate was successfully converted into a branch of the town library system.
Bristol, England, UK
It seems that anyone living in Bristol can hardly escape being an 'extra' on some film or TV programme - the streets are not so much paved with gold as coated with the silvery sheen of gaffer-tape.
Pretty much everyone in the UK must know that the city of 'Holby', site of the most disaster-prone hospital in the universe, is actually Bristol - and the BBC makes no effort to disguise the fact, regularly treating us to glimpses of the Suspension Bridge, the Harbourside, Clifton Downs, Bedminster Down and the interiors of many local hostelries and restaurants. Indeed, Bristol is very popular with TV and film companies - possibly because its Victorian streets and Georgian squares look very much like London's, only easier to close off for filming.
When I lived in a flat in one such square, we were regularly asked to move our cars and hide indoors while filming went on. Although it was sometimes inconvenient to have to ask permission to walk in and out of our own front doors, we were generally good-humoured about it. After all, it's great fun watching a programme and saying, 'Hey! That's my house!' Or, as is more often the case, 'Crikey! Our windows need washing...'.
The Casualty cast and crews are familiar faces hereabouts, because filming seems to go on all year. Other notable series filmed here include The House of Elliott, Berkeley Square, The Young Ones (which once featured my local pub), Only Fools and Horses (yes, Bristol is Peckham's stunt-double too!), Teachers, Shoestring (which in the 1970s did for Bristol what Inspector Morse later did for Oxford) and Z-Cars (and you thought the mythical Newtown was on Merseyside, didn't you!).
Film companies also find Bristol a useful location: Paper Mask (Paul McGann and Amanda Donahoe) used one of Bristol's more Gothic hospital buildings to provide the necessarily spooky atmosphere, and scenes from Truly, Madly, Deeply (Alan Rickman and Juliet Stevenson) were filmed in Clifton - one of them in the alleyway that ran down beside one Researcher's garden:
I wondered what a double-decker London bus was doing blocking our street - usually it's a coach-and-four or a Holby City ambulance...
The BBC's presence in Bristol probably has a lot to do with the plethora of O.B. units on our streets. And wildlife. Johnny Morris's Animal Magic was filmed here - and the easiest way to get an elephant from Clifton Zoo to the BBC studios was obviously to walk her there!
My friend remembers seeing Johnny Morris driving around Bristol with assorted animal companions quite regularly when she was a child - she also saw the Beatles at Colston Hall, but that's quite another story!) More recently, Bristol has hosted the 'Vets In Practice' crew, filming the Viking Vets and following Trude Mostue around the city as she went about her house-hunting, kitten-rescuing and other extramural adventures.
Finally, you cannot talk about Bristol as a filming location without mentioning the internationally famous Aardman Animation Studios - home to Wallace and Grommit and countless other charming characters, some of whom play out their scenes against an undeniably Bristolian backdrop.
So, if you want be seen on TV (and even if you don't), Bristol is the place be!
Coventry, England, UK
The sewers under Coventry were used for the mini chase scene in The Italian Job. Severn Trent opened them up recently and an urban myth was destroyed when the minis weren't still down there. The local rumour was that one of them was still down there stuffed with goodies.
Florence, Italy
Quid pro quo... quid pro quo...
I stumbled upon the filming of Hannibal (that's Hannibal as in Hannibal Lecter, folks!) in Florence, Italy, when I went shopping with some friends. The Piazza Signoria was filled with all kinds of trucks and cranes and people running around hollering and waving papers and pulling wires (which were constantly stumbled upon by gawking tourists). A strong spot was directed towards a window high up on the Palazzo Vecchio.
Luxembourg
Patrick Swayze had just finished filming George and the Dragon here in Luxembourg. I visited the castle at Vianden the day after they'd finished shooting there, and saw where some of the old wall had been extended to look as if the castle was intact. There was still bales of straw lying around what had been used as the stables, and fake scenery doors. By the rubbish bins there was a box labelled dragon snot' - apparently there's a bit in the film where a baby dragon sneezes over some knights....
A few friends of mine recently went for a casting in another movie to be filmed here in Lux (it's quite popular as a location!). The role was that of a dead body. A naked dead body. Some of the guys naturally found the rejection of their, er, physique rather traumatic.
I was in the New Adventures of Pinocchio. I can be spotted throwing fish at a German film-star near the end. That was quite fun! I got paid 13,000 LUF and got two and a half days of school. I was also in a TV film about some people who find a golden paradise under the desert near Dubai.
Southwold, Suffolk, UK
This town on the Suffolk coast (where I lived for over 10 years) has many well-preserved 17th Century buildings. It was used as the principal location for the 60's film version of David Copperfield. (When the coach is being loaded, look for a small child in costume in the background eating from a packet of crisps).
In the TV era, it was regularly used to provide location footage for Upstairs, Downstairs and Nanny. (The film crews' painting out of the yellow lines on the road were a cause of local celebration). More recently, it was the setting for Michael Palin's film East of Ipswich, recalling his childhood in the area.
Slightly off the topic of films ... it's very popular with postcard photographers, being the only place in the UK where you can conveniently get a pub and a lighthouse in the same frame.
Venice, Italy
It's hard to go to Venice without being an inadvertent extra. James Bond, Blame It On The Bellboy (Dudley Moore, Patsy Kensit), Comfort of Strangers (the excellent Christopher Walken) immediately spring to mind.
Hong Kong's Escalator
The post-office at Central is humming. The Hong Kong Chinese are inveterate philatelists and this particular day was a red-letter day in the world of stamp-collecting. Let this intrepid Researcher pick up the tale...
Nevertheless, I join the throng and queue for about an hour until I get to the vending machine, where I struggle to scramble together enough shrapnel for my stamps. Then, I scrounge a pen to write the addresses and eventually get around to dispatching my 'Hong Kong Handover 1997' orientated post-cards, one to myself just up the road on Elgin Street.
It is a ten-minute hike back home, and I opt for the easy ride up Cochrane Street, taking escalator, a motorised staircase which extends from the Central Market on Queen's Road at the bottom to Conduit Road at the top. The escalator (together with an adjacent apartment) is one of the main sets for Wong Kar-wai's Chungking Express, Hong Kong's breakthrough movie in the international art houses, and I fantasize about bumping into the charmingly feisty Faye Wong who starred therein.
At Lyndhurst Terrace, I disembark to find my perambulation partially impeded by various tripods, cables and bulky electronic equipment. It is the work of one Wayne Wang, who is busy filming Chinese Box. Momentarily taken aback at nearly bowling over a contemplatory Jeremy Irons, I snap back into predator mode and immediately go on the alert for a glimpse of the wonderful Gong Li. But alas she is not to be seen.
Thailand
A beach too far...
My companion, Old Spice, and I are taking a break from the rigours of working by sojourning on Thailand's Ko Phi Phi Don, truly an island paradise in the Andaman Sea.
After several days dossing around Charlie's Beach Bungalows, we hitch a ride on a sailing yacht for an excursion to Phi Phi Ley, an uninhabited island about 4 km. away. Our trip is uneventful and we soon arrive at the mouth of Ao Maya (Maya Bay).
We drop anchor with the intention of rowing the dinghy across the crystal clear blue water to land. Unfortunately, the anchor jams and the automatic lifting motor isn't man enough to lift it up. We spend the next two hours trying to ameliorate our situation manually. Once the anchor problem is fixed, we picnic on the boat and then too exhausted by our exertions to bother with Ao Maya, we sail back to Phi Phi Don.
About a year later, a 20th Century Fox film crew arrive fronted up by teen-idol Leonardo Di Caprio to make a film out of Alex Garland's novel, The Beach. We had seen Utopia and couldn't be bothered!
Harrisburg, Pennsylvania
I know, I can't believe it either...
The state capital building is generally considered to be one of the most beautiful in the US and it was used as the backdrop for Eddie Murphy's film The Distinguished Gentleman. The city's Riverside Park is also very photogenic and served as the backdrop for a John Travolta/Lisa Kudrow film Lucky Numbers. The Harrisburg State Hospital was used in Girl Interrupted.
The baseball stadium on City Island was used in the film Major League II though it was supposed to be a spring training ballpark. To make it more 'Florida', the producers brought in palm trees and told all the extras to look 'hot'.
Scenes from Harrisburg were also used on the soap opera One Life to Live which is based in the fictional town of 'Lanview, Pennsylvania'.
Washington, DC... No, Really
I work in this city that seems to be the location for the occasional movie, but it is often interesting to note how often it is used incorrectly.
You will often see a TV or movie supposedly set in DC, with even DC license plates on the cars, but usually there are palm trees or mountains in the background when there isn't a recognisable landmark in the foreground. Some movies will show a person going into a Metro station all right, but once underground the movie company has to use some other subway system trains and stations because Metro policy does not allow filming in its system.
The city is very used to disruptions due to this or that protest or demonstration so the occasional movie company is handled surprisingly well. If you want to see the real Washington, even though its getting pretty old now, watch the sci-fi classic, The Day The Earth Stood Still. It uses the area in a very real way, and the street scenes are completely authentic.
Brent Cross Shopping Centre, England, UK
The Brent Cross Shopping Centre multi-storey car park in London, UK was the setting for a car-chase sequence in the Bond film Tomorrow Never Dies.
Very nicely done, I thought....
James Bond movies are great ones for locations. In Goldfinger for instance, they actually shot most of the Fort Knox scenes in Kentucky and the area near the Gold Depository. In one scene the American agents helping Bond eat at a Kentucky Fried Chicken restaurant on Dixie Highway.
At the time this movie was filmed this was a fairly new name in fast food, and I am sure it was used to assure viewers the agents were really in Kentucky. The scenes inside the vault however were shot on a soundstage as the military didn't want filming inside the facility. The model of the Gold Vault and surrounding countryside used as prop for the movie is on display in the Patton Armor Museum on the grounds of the army base.
Thamesmead, England, UK
When Kubrick's A Clockwork Orange was re-released a couple of years ago, I heard an American critic on Radio 4 talking about the movie. She remembered how impressed she'd been with the stark, depressing sets Kubrick had constructed to show the area where Alex lived - the brutal architecture of the housing, the hideous colours and textures which created an oppressive atmosphere totally in tune with the rest of the movie.
She also remembered how she'd mentioned this to a British critic, and he'd gone 'What sets? Oh, you mean Thamesmead'. She found it incredible that these were not some science fiction vision of a near future dystopia - they were real life housing areas with real people living in them. A number of reactions to that suggest themselves.
County Wicklow and other Irish Locations
Ardmore Studios in Bray, County Wicklow, have been used in film-making since 1958. Some of the films made there were specifically Irish, others (for tax breaks and other reasons) used Irish locations to stand in for other places. One advantage in more recent years was the chance of getting large numbers of extras from the Irish Army and FCA (the English equivalent is Territorials). That seems to have been what attracted both Braveheart and Saving Private Ryan to Irish locations.
Braveheart 1994 (dir. Mel Gibson). The castle in this was Trim Castle in County Meath. This castle once belonged to the Plunkett family of Dunsany.

Saving Private Ryan 1998 (dir. Steven Spielberg, starring Tom Hanks). Curracloe beach in County Wexford was used instead of the Normandy beaches.

In the Name of the Father 1994 (dir. Jim Sheridan, starring Daniel Day Lewis). Kilmainham Gaol in Dublin, is one of the largest unoccupied gaols in Europe and was used for parts of this film.
Some notable films using Wicklow locations:
1944, Henry V (dir. Laurence Olivier) - Powerscourt and Enniskerry.

1973, Zardoz (dir. John Boorman) Areas around Lough Dan and Lough Tay.

1975, Barry Lyndon (dir. Stanley Kubrick) Glencree and Powerscourt.

1981 , Excalibur (dir. John Boorman) Wicklow Head, Sally Gap, Powerscourt Waterfall, Glencree.

1989, My Left Foot (dir. Jim Sheridan) Kilruddery House and Bray town.

1991, The Miracle (dir. Neil Jordan) - this was mostly filmed in Bray town, especially using the Victorian seaside promenade.

1992, Into the West (dir. Mike Newell) - this had a lot of Wicklow countryside, standing in for much of the rest of the country.

1992, Far and Away (dir. Ron Howard, starring Tom Cruise and Nicole Kidman)

1996, Michael Collins (dir. Neil Jordan, starring Liam Neeson) The rather run-down football grounds of Bray Wanderers were used to film the famous 1920 Bloody Sunday shootings at Croke Park in Dublin. Since Croke Park is now a huge modern stadium, they needed somewhere with an old-fashioned look! The market square in Rathdrum was used for some crowd scenes.
Two big films made in the Ardmore studios in 2001 (for release in 2002) were The Count of Monte Cristo and Reign of Fire. The Count of Monte Cristo didn't use much in the line of outside locations, but Reign of Fire used a lot of the open ground in the Wicklow mountains.
St Louis, Missouri
St Louis has served as a backdrop for a few 'travelling' movies, including Canonball Run, Planes, Trains, And Automobiles, and National Lampoon's Vacation.
I know parts of several movies have been filmed here and there around town, but specifically 'white palace' sticks out as a major motion picture shot primarily in St. Louis. I forget how long ago it was, ten years or so I guess. It starred Susan Sarandon and James Spader.
I remember reports in the newspaper and on evening news about extras being needed, but I never went to check it out.
Sarandon's character worked at the counter of 'white palace', a greasy hamburger joint not entirely unlike a white castle (for those few of you who may be familiar). The production company actually took over a white castle restaurant and remodelled it for the set in the movie. When production wrapped the local customers were given the choice of whether they wanted their restaurant restored to pre-production design or left the way they remodelled it. In the end they had it restored to pre-production state.
Gaddesden Place, Hertfordshire, UK
Personal recollections of Gaddesden Place, Hertfordshire, UK...
My first job was working for a company called Computer Concepts, whose headquarters was a mansion in the Hertfordshire countryside called Gaddesden Place.. It's had loads of things filmed there. A good list can be found here. Anyway, here are a few of my personal recollections...
Ken Russell filming Gothic. They mostly used interiors, and no exteriors (so in the film it doesn't really look like the house we know) the weirdest set being an octagonal set of doors which Natasha Richardson (playing Mary Shelley) would run between, trying to open them all, while the camera span round in the centre of the small set. Because of the size, only the actress and the director were able to be inside the set. The door through which they entered the set had to be nailed shut so that it wouldn't open when Richardson pulled at the handle. As a stagehand nailed it shut, with actress and director inside, another member of the crew said, in mock-Blofeld tones, 'It's a pity you won't be joining us for dinner, Mr Russell'.
There was also the night-shoot, where they had to film a tree being struck by lightning. It took all evening, attaching tubes feeding kerosene onto an old, dead tree, placing a number of smoke machines throughout the area, and waiting until no traffic was visible on a road in the distance. It was a lot of work for a shot which lasted no more than two seconds in the film.
Another Ken Russell film, Lair of the White Worm, was more fun, not least (from our point of view) that the exterior of the house was heavily featured, as well as interiors of Amanda Donohoe's house. Coincidentally, one of the technicians supplying TV equipment and playback systems looked familiar to me, and I realised it was someone who had been in my year at school.
I have a fondness for LotWW, although it's a pretty bad film, not least because I can say I met Hugh Grant before he was famous (although I didn't strictly meet him, but that's just quibbling).
Jeeves & Wooster was fun, because I got to meet Stephen Fry, who was very, very nice. We started talking about computers (he had a powerbook and a Psion Series 3). I told him that the company who owned the building developed software, and that our first big product had been Wordwise, and he said that he'd written his first book on Wordwise. I then offered to give him a demo of our latest software (this was when developing ArtWorks on the Acorn Archimedes) whenever he had some free time, expecting him to plead pressure of filming to extract himself from this relentlessly geeky conversation, but instead he said 'How about now?' So I took him up to my incredibly untidy office (Me: 'I would apologise for the state of the office... but that would imply I was in some way unhappy with it') and gave him a demo of the fine points of our program. He said some nice things, and was generally extremely pleasant, even when practically every single programmer on the staff turned up in my office to gawk (not really being able to think of anything interesting to ask) which was slightly embarrassing.
In the event, I sent him a free copy of the software, and he replied with a really nice letter (which I'm sure I still have somewhere), but basically, it was one of those ideal 'meet a hero and really like him' situations, especially when he didn't have to be nice to anyone, because he wasn't doing publicity or anything.
I won't go on too much longer, but I should mention another event (to which, sadly, I was not a witness). Andrew Lloyd Webber filmed a video for one of the songs from Aspects of Love at the house. One of the ground rules the owners of the house (who also lived in the middle floors, which were the nice ones) usually laid down is that nobody was allowed in the library (which they used as their living room) if they weren't actually using it to film. At one point in the shooting of this video, Lloyd-Webber arrived in his helicopter, and his people brought him into the house - into the library. Shortly after this, Mrs Moir (the mother of our MD and therefore head of the household) came into the library, saw a group of the film people where they shouldn't be, and promptly threw them all out. Which I thought was funny.
They did give the family free tickets for the show, and a backstage invitation, but that hardly made up for the fact that they were cleaning leaves out of corners of their house for months.
The house still pops up unexpectedly. The most recent one I noticed was the Christmas special of Jonathan Creek, which made a lot of use of the house, and also, coincidentally, featured Julia Sawalha (off of Press Gang) who had long been the 'object of affection' of another of our number, but I fear he had moved to a distant office by that time, so I doubt he got to meet her.
Hawkinge, Kent, UK
The film The Battle of Britain was filmed on the derelict site of Hawkinge Aerodrome (which was RAF Hawkinge until 1961) some time in the late 1960s. Hawkinge is a village approximately three miles north of Folkestone in south-east Kent. The film also features a pub called The Jackdaw, which is located in Denton a tiny village about 10 mins up the A260 from Hawkinge. From the outside the pub looks almost identical to how it did in the film and inside you can find photographs taken when the film was being shot.
Living in Hawkinge and working at The Jackdaw I am bias when I say that it's really interesting! But never mind! It's always exciting to see a place you know so well on the telly.
Ridgecrest, California, USA
My hometown, Ridgecrest, California, has served as a location for films as varied as Star Trek V and Zombie Chicks in Chopper Town. Friends of mine have appeared as extras in both movies. A guy I worked with actually openly took sick days to be in Star Trek V. Nobody cracked down on him for it. The town is great because there are a number of odd desert locations quite close. They now have a Web site promoting filming in the area at filmdeserts.com. I don't live there anymore, but I understand it is still very active.
Memphis, Tennessee, USA
Several movies have been filmed here in my native Memphis Tennessee, most notably Mystery Train, and The Firm. I was once an extra on a small Memphis film called The Old Forest. I got to wear a long dress and big hat, and walk around a garden party sipping ginger ale.
The place that I've been that I love to see the most in films is Venice. It's such a beautiful city, and seeing it in movies always reminds me of my trip there. Wings Of The Dove used Venice to great advantage.
Liverpool, England, UK
We've had quite a few films here, but back in 1982 I was an extra in Yentl. Liverpool's Pier Head stood in for Ellis Island, New York. We had to dress up in Hasidic garb, black hat, black suit etc, with your trousers at half-mast, and then we spent our time getting on and off a ship which was moored by the jetty. Barbra Streisand was directing and she looked very nice, but someone who had read the book worked out what was going on. When he told me that the 42-year-old Ms Streisand was trying to play a 14-year-old I almost fell in th river laughing. Mind you we did get paid cash in hand and when Babs threw a moody a big load of us went to the pub with all our outfits and ringlets on. The sight of fifty Hasidim in full garb crowded into a dockside pub is something everyone should see once in their life.
The recent blockbuster The 51st State (aka Formula 51 in the States) used many familiar Liverpool landmarks ... though not necessarily in the right order. Certain geographical liberties are taken throughout the picture, though it does feature the world famous river Mersey prominently.
Port Talbot, Cymru (Wales)
I am often surprised when people from around the UK have heard of my small home town. It often features in geography textbooks because of a range of features within a small area. It sits on a narrow strip of land some 3 miles long on the side of a bay opposite Swansea, south Wales. The land is flat for about a mile and a half and then rises sharply to over 200m. Much of the land behind these hills is covered by pines planted by the Forestry Commission. The flat land contains the town, its motorway (carried on stilts above the town centre), and two large plants - a chemical works and a steel works. This range of features both rural and urban has always made it seem to me like an ideal place for filming.
The film Twin Town (1997) is credited as having been filmed in Swansea but almost half of it seems to have been in Port Talbot. The steel works has been used for film clips including scenes from A Kiss Before Dying (1991). Darklands (1997) was partly filmed there. Terry Gilliam also apparently got the inspiration for his film Brazil while watching a beautiful sunset from the beach next to the steel works! The town has also appeared in TV commercials. The most recent is the Nescafe advert with the man with the afro that just keeps growing, even when he's in his car. Part of it is filmed in Llywelyn Street which sits almost beneath the towering stilts of the M4 motorway. This same street features at the start of Twin Town.
Port Talbot also has two other links to film - the actors Richard Burton and Anthony Hopkins are from the town.
Isla de La Palma
Isla de La Palma, Canary Islands has been used several times by the BBC for documentaries including:
Earth Story (1998)
Land of the Giant Dinosaurs (2002)
Walking with Dinosaurs (2002)
Why La Palma? because of the very wide range of locations in a small area. Volcanoes, lava flows, mountains (2426 meters), deep gorges, tropical rainforest, rugged coastline, black sand beaches, pine and chestnut forests, tree-heather up to four meters high and the biggest erosion crater in the world. Oh yes, and not many tourists.
I live on the island and a friend was the local 'fixer' for the film crews.
Bradford, West Yorkshire, UK
Bradford may not be the first place to spring to mind when you think of glamorous film locations, but it has had its moments in cinematic history. The following movies all feature scenes shot in the Bradford metropolitan area:
A Boy, A Girl And A Bike (1947)
Room At The Top (1958)
Billy Liar (1963)
Life At The Top (1965)
The Railway Children (1970)
The Water Babies (1978)
Yanks (1979)
Monty Python's The Meaning Of Life (1979)
Pink Floyd: The Wall (1980)
The Dresser (1983)
A Private Function (1984)
Rita, Sue And Bob Too (1987)
Brothers In Trouble (1995)
Fairytale - A True Story (1997)
Amy Foster (1997)
Room At The Top and Life At The Top both used Bradford City Hall as a location - which was rather appropriate, since they were based on books by the Bradford-born author John Braine. 'The Railway Children', 'Yanks' and 'Pink Floyd: The Wall' all include scenes filmed at the picturesque Keighley and Worth Valley Railway.
Near the Cineworld multiplex in Bradford city centre, there's 'The Bradford Film Clip' - a tribute to Bradford's contribution to cinema carved into stone slabs set into the pavement, listing all the above films and illustrating one or two of the most famous ones. It's not quite Hollywood Boulevard, but it's still pretty impressive!
Movie fans are very well catered for in Bradford. The city centre is home to The National Museum of Photography, Film and Television. The museum has a permanent free-to-enter exhibition, much of which deals with cinema history and techniques. The museum also houses the world's only regularly-used Cinerama theatre, an IMAX giant-screen cinema, and two excellent conventional cinemas that show a really broad range of films from all over the world.
New Zealand
I was just thinking that the spectacular pictures of New Zealand masquerading as Middle Earth in last year's Fellowship of the Ring deserved a mention in this discussion. Wonderful soaring aerial shots of some magnificent and greatly varied landscapes. Ahh! I'm getting misty-eyed just thinking about it!
Paris, France
I quite often travel from eastern France to the UK and back again, including a change of trains in Paris. Coming into the Gare de l'Est terminal, I have to get over to the nearby Gare du Nord to catch the Eurostar.
You could take the metro, but it's only one stop so I rarely bother, especially since I always enjoy seeing that seedy little half a sq mile between these two major rail terminals in central Paris. I have come to know it rather well, and feel that I am in 'my' territory there.
The best bit of this short walk is the steep stone staircase next to the Gare de l'Est. From the top you can see out over the arched rooves of the platform part of the station and the granite wall on the other side, topped with teetering Parisian apartment buildings, looking for all the world as if they had been left cut a swathe through an unbroken sea of these buildings with a giant carving knife to make way for the snaking iron roads that changed the face of all major European cities in the 19thC.
Back to the topic, I hear you cry! Well the final scene (is it the final scene, now I'm not so sure) takes place in the Gare de l'Est, when she finds the mystery photo man, and the camera follows the guy out of the side exit (I'm less and less sure of what I'm saying here) to leave the audience looking up from the foot of MY stone staircase! As I was watching, I literally sat up and said to myself, 'Bloody hell, it's my staircase!'.
I guess I'm mentioning this here, coz it's not really a noted landmark, but nonetheless meant a lot to me when I saw such familiar surroundings as the setting for a scene in a major film.
Seeing action happening in front of the (cue Marseillaise) Eiffel Tower or the Arc de Triomphe does not give this sense of 'hey, that's a real place that i know well'; perhaps because millions of people who have *never* been to Paris will recognise them. And most people who have been to Paris only once have specifically been to these two spots.
Schloss Hohenwerfen, Austria
My favourite film of all time is Where Eagles Dare, partly set in the spectacular mountain-top medieval fortress of Schloss Hohenwerfen. It is actually in the Austrian Alps - just south of Salzburg.
For anyone who hasn't seen the film, the castle is perched high up on the top of a large mountain outcrop, making it accessible only by cable-car. Makes for a great Nazi stronghold, but no match for Richard Burton and Clint Eastwood, as they manage to get in and out again, rescuing a prisoner and taking on seemingly endless streams of Wehrmacht troops in a rollercoaster ride of an action thriller. A terrific location for a classic movie! Find out more here!
Baltimore, USA
Baltimore, of course, is the home of every John Waters film. And since they are filmed entirely in Baltimore, it's great fun for natives to see all the places they know. The town has popped up in a few other movies, but Waters' film are actually about Baltimore.