H2G2 Waterworks: The River
Created | Updated Aug 10, 2012

Running through the heart of h2g2 is a wide, deep river. It starts off at the Pond, flows through the Moxonwood forest before reaching the Municipal Park and goes out to sea by the Beach. There is a small, pleasant bridge that is is a popular footpath and cycleway. This is a traditional spot for Poohsticks
The river has a small tributary that leads to the village of Vavoom.

You can hire out a splashcat, canoe, or other boats, at the Boat Yard. Or simply surf down.
Over the river at its deepest point is the impressive stone Dent Viaduct, part of the National H2G2 Railway. There is a station nearby where you can catch the train. The bridge is also regularly used for bungee jumping and the annual Birdman event.
If you are stuck on the wrong side of the river, and need to get across, we have a ferry service run by Inkwash. He takes passengers across, but the small fee, includes the telling of a story, which is well worth it.
Or, if you are bored, and there are no other people about, why not try skimming stones across? Just make sure you don't hit anyone!
The river's patrolled by the Lifeguards, too, in case anyone falls in and watching over anyone taking a dip. The water is even used by the Fountain in the square, so it's a handy river, really. It is perfectly Fish safe, although despite everything done to the contrary, the river always attracts a collection of shopping trolleys under the bridge. We assume they've been used in a game of Poohsticks.
2012 Water Games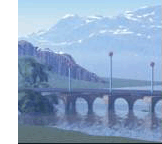 The River is a venue used in the 2012 Water Games. Events held so far include:
Other places to go in the Waterworks:
Or look at the Map.