h2g2's Funky (and rather seedy) Disco
Created | Updated Dec 18, 2006
























Hello, and welcome to h2g2's Funky (and rather seedy) Disco!























Please note: Though we're a group of people who met through Sportdaq and Celebdaq, this is not meant to be either of those groups in a different setting - due to moderation differences we have to take extra care not to post anything that may be libellous or defamatory. For guidance, the h2g2 House Rules are here.
Basically, idle chit chat only please! So hit the dancefloor or grab yourself a drink and take a seat. Mind the seats though, they're a bit sticky. Probably Morty's fault.
In the disco, you're more than likely to find:
Visit these people at your own risk!DeakiePink Fluffy DuckSpitChromeyNaughtyNikFerretMortyEloisaErmintrudeAgentDeep Doo DooTeriBedmechanic
Join us at h2g2's Longest Running1Game of Thunderbirds are Go!
You might be a bit behind, but everyone likes a challenge Over four thousand posts strong!
The Disco Quiz
Click here to see how smart you really are!
Or just join us for a chat in Theme Now over 20,000 posts strong!
Other Places to Visit
You can check out the h2g2 Calendar here
Take a moment to find out why we're here
om mani padme hum
The Pythonists

The Manifesto for the Campaign to rename Thursday, "Thing"

Join The Royal h2g2 Procrastinators Society
2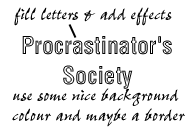 Our founder
Douglas Noel Adams

1952 - 2001
'Not sleeping, just dead'
If you get confused all sorts of helpful information can be found here

The h2g2 Derby, watch that pony go!