h2g2 Friends of Tibet
Created | Updated Apr 12, 2008
An Appeal

I would like to express my appreciation and gratitude to the world leaders, Parliamentarians, NGOs and members of the public who have expressed their concern over the recent deeply saddening and tragic events in Tibet. I am also grateful for their efforts to persuade the Chinese authorities to exercise restraint in dealing with the peaceful protesters, while at the same time calling for meaningful dialogue to resolve the issue.

I believe the recent demonstrations and protests are a manifestation of the deep-rooted resentment not only of the Tibetan people in the so-called Tibet Autonomous Region (TAR), but also in the outlying traditional Tibetan areas now incorporated into Qinghai, Gansu, Sichuan and Yunnan provinces, where there exist substantial communities of ethnic Tibetans.

According to reliable sources, the Chinese authorities have deployed large contingents of troops in these traditional Tibetan regions and have not only started to crack down heavily on the Tibetans allegedly involved in the unrest, but also sealed off the areas where protests have taken place.

I therefore appeal for your continued support in calling for an immediate end to the current crackdown, the release of all those who have been arrested and detained, and the provision of proper medical treatment to the injured. We are particularly concerned about the lack of adequate medical facilities, as there are reports of many injured Tibetans being afraid to go to Chinese-run hospitals and clinics.

I would also request you to encourage the sending of an independent international body, to investigate the unrest and its underlying causes, as well as allowing the media and international medical teams to visit the affected areas. Their presence will not only instill a sense of reassurance in the Tibetan people, but will also exercise a restraining influence on the Chinese authorities.




THE DALAI LAMA

Dated: 2 April, 2008

Today, the freedom struggle of the Tibetan people is at a crucial stage... I appeal to the international community for urgent intervention on behalf of my people.



- His Holiness the Dalai Lama

Welcome to h2g2 friends of Tibet - Updated 12 April, 2008

om mani padme hum
Hey!
What is going on in Tibet is a fundamentally human crisis that transcends the usual political heartache, heartburn and haemorrhoids, and confronts us with what it actually means to be a human being, wherever we happen to live!
Galleries    

About us    
Charter    
Current Projects    
Tool Kit    
Tibet News    

Quick Facts    
Chronology    

China's Claim Refuted    
Tibet Tourism    
Library    
Tibet Links    

Fun and Games    

Barkhor, where Friends of Tibet meet    

Guestbook    



Friends List
Our Friends links
Who are the h2g2 Friends of Tibet?

h2g2 is a meeting ground for people of diverse backgrounds, representing humanity in all its varied forms and functions, all united by our love of Douglas Adams, spirited chatter and our ability to type with at least one finger or finger-like appendage.


Many members of the h2g2 community have expressed their concern for the state of human rights in the world in general and in Tibet in particular.


Thus was born h2g2 Friends of Tibet, a common ground, a place of news and views, where Researchers can share their concern for Tibet and the Tibetan people and whence their common concern and positive energy can flow back into the h2g2 community to promote a better understanding of Tibet and its relevance to our daily lives as representatives of humanity in all its wonderful diversity.

h2g2 Friends of Tibet is an utterly complete1 and completely friendly meeting place and resource centre, with nearly up-to-the-minute news and practical ways to help Tibet.
There.
Friends of Tibet Charter

In a nutshell, then, this is what we're about:

To promote awareness and understanding of the Tibetan issue through friendly discussion.
To support His Holiness the Dalai Lama's, and the Tibetan Government-in-Exile's, initiatives in promoting free, open and constructive dialogue as a realistic, non-violent means of resolving the Tibetan issue.
To examine His Holiness the Dalai Lama's message of constructive dialogue as a practical alternative to armed conflict.
To examine ways in which governments and international bodies, such as the UN and the EU, should promote negotiations without pre-conditions beween the Chinese Government and the Tibetan Government-in-Exile.
Current Projects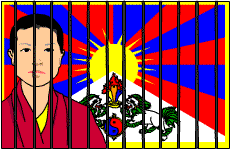 The first, easiest and most important way to get involved and help Tibet is simply by talking about Tibet with others. This doesn't mean preaching or trying to convert anyone. It simply means sharing your concern about Tibet and human rights, just as you would with any other important topic. Share what you know, find out more, then share that too.
Get involved now!
Events in Tibet are taking place at an alarming rate. h2g2 Friends of Tibet suggests that the best way to keep up is to subscribe to information bulletins from the Tibetan Centre for Human Rightts and Democracy.
For ways to get involved and help Tibet visit Students for a Free Tibet


Be a Team Tibet Supporter:
Support Team Tibet
On August 8, 2008, the opening ceremonies will take place at the Beijing 2008 Olympic Games. Where will Tibet be?
Like other nations, the Tibetan people want to be represented at the Olympics. Yet Tibet remains occupied and Tibetans as a nation remain barred from participating in the Games.
The members of Team Tibet, all passionate sports people, are forced to live as refugees around the world. Their dream is to fly their flag alongside athletes from other nations as they walk into the Olympic Stadium at the opening of the Beijing Games on August 8, 2008. But this will not happen until the occupation of Tibet is resolved. It is this greater vision of freedom that gives these athletes the strength to believe in their audacious mission.
Team Tibet is also made up of honorary members - individuals everywhere who believe in a political solution to Tibet's occupation and who want to be counted in support of that goal.
We ask you to join Team Tibet as a supporter, and help us "Bring Tibet to the 2008 Games".



Save Tenzin Delek Rinpoche Project:
The respected Tibetan religious and community leader Tenzin Delek Rinpoche was tried by a kangaroo court and sentenced to death with a two year suspension. His trial was a mockery of due legal process and was protested by many governments and by human rights groups around the world. Rinpoche's arrest is part of a political campaign of intimidation aimed at suppressing dissent.
' 
I have always carried out my work within one country, meaning the People's Republic of China. The work I have undertaken has been to unite people, to develop their welfare, to protect the environment, to promote economic development for the people, and to promote education... Everything I did, they considered a crime. Recently, I was called to the Religious Affairs Bureau and the United Front Work Department. They told me, 'You cannot have photos of the 14th Dalai Lama, the young Panchen Lama, or pictures of yourself.' And they said, 'The pictures are getting bigger, and bigger, and bigger, and you cannot do that. And you cannot have a lama's title.' I told them…that I did not need the title of lama; I did not need the title of monk, but I did need the rights of a human being. Unexpectedly, I received a call from Public Security officials who ordered me to go to the police station in Dartsedo alone without telling anyone…but I don't want to go there quietly by myself without telling anyone. They can just come and arrest me. My arrest can be announced publicly from loudspeakers on top of a car. They can come with chains. If I have committed crimes, they should come and arrest me this way. I would not let anyone protest.
  '


- Tenzin Delek Rinpoche


Watch the Tenzin Delek Rinpoche online movie by Students for a Free Tibet and take action to save his life.


Human Rights Watch Report

- Please write to or call your representative in government about this case. Only by insisting that our governments continue to press China about Tenzin Delek Rinpoche can we hope to save his life.
- Please send a copy of the following letter, or one written in your own words, to your nearest Chinese embassy or consulate (See Address Book):



Your Excellency,



I am writing to protest the continued detention of Buddhist leader Tenzin Delek Rinpoche, who was sentenced to death following a trial that lacked minimum standards of due process.

Tenzin Delek Rinpoche was arrested in April 2002 and charged with 'inciting separatism' and 'conspiring to cause a series of explosions'. He was sentenced to death, with a 2-year suspension, in a December 2002 closed trial, and his appeal was denied in January 2003. In January 2005, his sentence was commuted to life imprisonment.

I call on the Chinese authorities to release Tenzin Delek Rinpoche immediately and without preconditions. I urge that he be given access to any medical treatment that may be required and be allowed regular family visits according to Chinese law and international standards governing the treatment of prisoners.

Finally and urgently, I ask the authorities to launch a full and impartial investigation into all allegations of torture and ill-treatment of Tenzin Delek Rinpoche with a view to bringing the perpetrators to justice.

Thank you for your immediate attention to this matter.

Yours respectfully,

(NAME)

(POSTAL ADDRESS)






Free the Panchen Lama:
Background: Tibet's Stolen Child, the 11th Panchen Lama, was born on 25 April, 1989. On 17 May, 1995, the Panchen Lama was kidnapped by Chinese authorities. Despite pressure from human rights groups and requests from various countries, China still refuses to reveal his whereabouts or prove that he is alive and well.
Please see the official Website of Tashi Lhunpo Monastery for more information.


The 2008 Olympic Games should not be allowed to take place against a backdrop of oppression and tyranny. That's not what the Olympics are about!
Please see the 2008 - Free Tibet Website for more information.



For Instant Bliss, take
Urgent Action! with Students for a Free Tibet


Please join us in supporting

International Campaign for Tibet


by subscribing to

Online Network



Please join us in supporting

Free Tibet Campaign


by subscribing to

Urgent Campaigns



Please spread the word about Tibet and about h2g2 Friends of Tibet. This is the simplest and most important way to help Tibet.
Remember: 'Preaching is out but explanation is in.'
Get involved! Make some noise! do something!
Hey! This is your planet. Don't let others turn it into somewhere you won't like!
Tool Kit
People often say,


Tibet? Yes, isn't it awful? But then there are so many awful things going on.


... or something of the sort, as if the sheer quantity and variety of awful stuff taking place in the world somehow cancels itself out.

There are, however, very few of us who have absolutely reached the limits of our capacity as human beings to care.

What we're asking here is for you to care just a little bit more, enough to participate in just one of our current projects, or at least to learn a little more about Tibet. You may find that just allowing yourself to care that little bit more will show that you have a capacity to care far more than you ever thought you could. Try it. Please.



International Campaign for Tibet has produced some very good tips on how to get your letters published:
Tips for creating Letters to the Editor
ICT also has some advice on how to write longer articles for publication:
Tips for creating an Op-Ed piece


Wear a badge for Tibet!


A selection of very beautiful banners and badges (as well as the original old wooden button) are now available absolutely free. And all of them link directly to h2g2 Friends of Tibet.
Click here to pick up the GuideML for your own h2g2 Friends of Tibet badge, banner or (should you prefer) an old-fashioned wooden button.
Click here to see the entire collection.
Tibet News
The h2g2 Friends of Tibet Tibet News page has the latest (or nearly so) news, Tibet-related headlines, and helpful suggestions about how you can find out more.
You can also have Tibet news delivered free to your Personal Space by subscribing to the Tibet News bulletin.

As we honor the brave and heroic prisoners of conscience, we must heed the guidance of His Holiness the Dalai Lama. He is a constant reminder that the crisis in Tibet is a challenge to the conscience of the world. We have not forgotten the people of Tibet in their struggle. We must and will continue our efforts.

- US House Democratic Leader Nancy Pelosi's statement entered into the Congressional Record on February 04, 2004 in strong support of the House Resolution 157, which later passed by a vote of 398 to 0.
Complete text of Nancy Pelosi's statement.
Full text of
H. Res. 157, pdf version.
Quick Facts
Quick Facts about Tibet are to be found here in a convenient and easy-to-read list.
Tibetan Flag
   
Tibetan National Anthem
Tibetan History, A Brief Chronology
Tibetan History, A Brief Chronology will give you a quick insight and provide a useful resource.
China's Claim Refuted
Tibet - China's Claim to Rule is an explanation written by HNM Chaiwallah
of the way China has misrepresented history in order to justify the invasion of its neighbour.
Tibet - Why the Chinese are there explains what motivation China has to occupy Tibet, another contribution to clarity and reason by HNM Chaiwallah.
Tibet Tourism
Tibet Tourism offers some handy advice to would-be visitors to Tibet, and explains how tourists may play an unwitting role in the Chinese destruction of Tibetan culture or, with a little care, help the Tibetan people by spending wisely, observing closely, and bearing witness to what they have seen.
Library
h2g2 Friends of Tibet Library presents a fine collection of Entries about Tibet and Tibet-related human rights issues, complete with a short desciption of each.
This section also contains a review of a selection of books written about Tibet.
Tibet Links
Tibet Links is where you will find links to many very interesting and informative web sites devoted to creating awareness of Tibetan culture, Tibet in exile, and the plight of the Tibetan people under the Chinese occupation.

Fun and Games

The h2g2 Friends of Tibet Challenge

h2g2 Friends of Tibet challenges you to play a more creative role in
the h2g2 community by taking up the call to Challengeh2g2.
New challenging topics for Guide Entries will be chosen by mysterious means and posted here and in the Barkhor at mysterious and irregular intervals.
Challenge Number 5: Potala
We challenge you to research and write an Entry on this topic!


The Tibetan Greenhouse Dugout - Creative writing
The Tibetan Greenhouse Dugout is a shelter for our most treasured produce. It doesn't occupy any physical space, but that's only a problem when you're looking for a place to sit. Anything too tender, precious, or vulnerable to be grown outside can be nurtured here in perfect security. Anything trampled, bullied, or crushed in the harsh outdoors has a safe place on these benches, which grow as our plants do... as big as we want 'em!
Barkhor
Barkhor is a place for friends to meet.
Barkhor is the name of the market district in Tibet's capital, Lhasa. As such, it has always been a popular gathering place, a place to exchange news, gossip, and ideas.
h2g2 Friends of Tibet cordially invites you to linger for a while in our modest version of the Barkhor, where you are welcome to add your own comments or suggestions, or merely hum a tune until a friend comes by.
Guestbook
Galleries
They say that one picture is worth a thousand words. The pictures listed below speak volumes.
Tibetan Photo Project... Really Special!
Tibetan Centre for Human Rights and Democracy
Central Tibetan Administration
Yamdrok Tso, views of a sacred lake
We look the other way as Tibetan is beaten out and Chinese is beaten in. If we don't care, who will? Take a look.
Friends List
The essence of friendship is sharing. While there is no h2g2 Friends of Tibet membership list, as such, the following provides a convenient way for Researchers to get to know one another.

Friends ListMartian_Mikelaconiandonlope01LeppardStalkerGaliganpinkwrath aka Pink StormFather d586poetpaulÐiscõ StuB'Elana-Minister of Abbr.The_Admiral(aka Avatar)indigostripyExistential ElevatorJCKazAndrew SJust another numberJimi XAsteroid LilLilac-WineXavier the Magic PenguinPuffypantsyangdolMudhooksItzcotlRed DogEpitome_of_StrangeAlexAshmansusannepheloxi*GradientJoe_Mickeydavy_boyZarquon's Singing Fish!opti strong handsSeamus... the forbiddensproutPimms LettuceThe Return of The Unmentionable Marauding Pillowcase!!!The greatest "Sho" on earthcreachyPeta HaighRecumbentmanGoshoJodanSiren Of The BlackNo O2ArielGoens001MistadrongPostive ThinkerHNM ChaiwallahJohn-the-gardener

To add your name to the list, just click
here.
Our Friends
Please visit some of these fine pages: