Great Ways to Spend a Sunday
Created | Updated Feb 23, 2005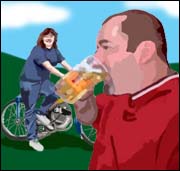 Ah, Sundays. A day so lazy even God himself used it for a well-earned rest. Perfect for sleeping off that Saturday-night hangover, slobbing about in your sweatpants, reading a book or watching an old film. But for the more active-minded among us it's also a day for doing things and going places, making sure you don't waste a second of valuable leisure time on something that can easily be done on a week-day.
But what kind of activities make for a great Sunday (well, other than that activity - we're talking about stuff all the family can do!)?
A Practical Approach
Sundays are as individual as the people who want to enjoy them. One person's relaxation is another's tedium. And likewise, one person's sound advice is another's waste of breath. But the following are suggestions that work for different Researchers, so see which one works best for you:
My suggestion is to get up as early as possible, walk the dog, get the papers - whatever. Then get home, put the oven/grill on and get breakfast/lunch underway... [in other words] make sure you get all the things done that you hate doing through the week; washing, ironing, packed lunch/sandwich making (make and freeze your sandwiches for the days ahead) and by the time you've got your work done, your cooked breakfast will be ready. Then you can relax, watch some telly, read, sleep... and you will have a great day knowing that some of next week's work is done.
Or there's the 'regression' route:
I would take my kids to church on Sunday morning, then, spend the afternoon finishing homework, projects, papers, or studying for school. Or go out shopping (but nothing huge and insane) or go to the park or the pool or visit a friend. Maybe clean up the yard and play with a pet. In short, just do kid things.
As the weather gets worse, it's pretty much PlayStation 2 all day. Sometimes I even let my little one have a go... And there's always the Internet to keep him busy while I cook the Sunday roast.
And then there's the 'Sod it' approach:
Even if you have twenty things you have to accomplish on Monday, just relax on Sunday. 'Tomorrow,' as they say, 'will take care of itself.'
Sofa Sundays
It's the obvious one. Staying in your peejams with a hot drink, the Sunday papers and a view of the outside world from the comfort of your own sofa.
In the Autumn and Winter, when the air is growing crisp and my allergy to cold weather starts acting up again, I like to throw on some baggy sweat clothes and curl up on the sofa with a warm cup of cream tea, biscuits, and a good book - preferably by Jane Austen or something by the Brontë sisters. I play classical music on the radio and burn scented candles. As the sky outside darkens, I allow the candles (aided only slightly by a string or two of holiday twinkle lights) to provide the room's illumination. I have been known on occasion to bake or make soup while reading, so that the entire apartment is filled with warm cooking smells. It's just so relaxed and comfortable and homey, and taking that time goes a long way toward reviving me before heading back to 'the real world' on Monday.
For the Couch Potatoes among us (and we know there are many out there), Sunday is also the perfect time to veg out in front of the telly and catch up on some classic repeats, as these Researchers can testify:
For UK-based Researchers, there's a good three hours of quality TV on a Sunday on Channel 4. Stargate SG1 followed by Scrapheep Challange and then Enterprise. I record all of those and watch them for the rest of the week over and over...
Walks
Now, for those of us for whom climbing onto the sofa is too exhausting, be warned that this entry is about to become much more... well, active. Going on a long walk is a great way to spend a Sunday afternoon, especially if you're working off an indulgent Sunday lunch or a hangover from the night before (you know, not the 'I just want to die in peace' variety, more of the 'slightly woozy but at peace with the world and quite likely to watch a Hugh Grant movie at some point this evening' sort). It doesn't have to be planned; if you live in a city you can wander around there. Planning a walk can get complicated, but you'll often get the best results. If you live near a forest or woodlands, children can have great fun collecting sticks and hiding behind trees.
The London Loop
If you're lucky enough to live close to Britain's Capital City, there's a fully signposted walking route all the way around London called the London loop. The walk totally circles London, it's fully within the boundaries of the M25 and each part is accessible by public transport (and there was you thinking the footpath around the outskirts of London was the M25).
Each part of the route is broken up into individual walks of between 8-12 miles, so they can be done in an afternoon as long as you get up reasonably early. Each walk is clearly signposted, and takes you through the prettiest areas that it can, so you walk through local parks and woods and along public footpaths along through the fields.
At the end of the walk, most guidebooks book suggests pubs that you might like to stop at for a refreshing beer or snack; after a ten-mile hike you definitely deserve it too!
The loop goes through the most wonderful countryside, which is quite unexpected so close to London. I went on one a couple of Sundays ago - I was completely exhausted afterwards though. I'm obviously not as fit as I thought!
Sport!
Few people would argue against the benefits of a nice lie in - in fact many would deem it essential for a Sunday. But spare a thought for those poor people who find themselves kicked out of bed for a day of extreme activities - such as ...
Mountain Biking
Fettle - this is the start of the Mountain Biking day of worship. It gives time for your breakfast to digest and focuses the would-be biker on the adventure ahead. Around noon it'll be time to meet up with your fellow bikers.

Ride - glory in nature! Who needs a church when there's 'them thar hills'? Blustery Autumn days, crisp Winter rides then the squally showers of Spring followed by those long, hot days in the saddle for Summer. Don't spend all the time riding though; take some time to chill out, take in the splendour and pass the time of day.

And finally, Wash - first the bike, then yourself with a long, hot soak in the bath. Mmm, lovely!
But maybe this is too tame for you. Maybe you prefer leathers and crash helmets. Maybe you prefer...
Motorcycling
One Researcher insisted: 'Sundays are meant for riding motorcycles!' Those of us who are dedicated members of the 'sofa brigade' might instinctively disagree, but it's a convincing argument:
Rise at an appropriate time after the night before, dress up for the trip and ride about two hours away - remember that the destination is the excuse, the ride is the reason! Stop, have a good breakfast (pie and gravy, a real English fry-up, or bran, yoghurt and nuts if you're a health-nut) followed by good strong tea or coffee. Return in the reverse order.
If you are a religious person, when you get home, remember to thank God for making the people who make motorcycles!
Messing About in Boats
For those of us who like to actually make something of their Sundays, it can be a rewarding day if you are willing to get out of bed before 11.00am and keep your butt away from the sofa.
My ideal Sunday is a trip to the coast with some of my friends, and getting some surfing in. That way I get some sport in, build friendships and have the opportunity to go somewhere new all in one day.
Sports Round-up
A lot of people would say watching cricket is about as interesting as watching paint dry. However, there is something wonderful about spending the day playing a game which is so... dignified. A great way of spending a Sunday on a lazy, hot summer day is to sit on the sidelines of the pitch with a few friends and a few pints of excellent real ale and just watch the local village team... No stress, no worries and after five pints, who cares who wins!
Of course, cricket is one of those games that hasn't really made it in America (where they play a similarly confusing game called 'baseball'). In fact, in America, Sunday is sports day. All but a very few games are played on Sundays in the US (notable exceptions are Monday Night Football and Thursday Night Football, but they're only one game each).
The ultimate Sunday activity is Super Bowl Sunday! Pre-game broadcasts for the Super Bowl begin at noon (Eastern time) with the game finally getting underway around eight hours later. A wonderful day of drinking, hanging out with friends, eating junk food and eventually even watching the championship game for the NFL.
Oh yes, Sundays from September to January make up the football season. Some people dress up in their team costumes ranging from just hats, coats and gloves in the team colours all the way up to Viking helmets, dawg masks, pirate costumes and Native American head-dresses. In stadiums in each host city, thousands gather in the parking lots, often as early as 5.00am for a 1.00pm game and set up ovens, propane-fuelled grills, kegs, coolers, folding chairs and tables, have breakfasts, lunches just before the game, and some stay on, cooking a post-game dinner while watching the game on television, since as much as a day-and-a half's wages are required for a ticket into the stadium. These are called 'tailgate parties,' and thousands of pubs and taverns miles away from the host stadium have taken to the concept, offering complementary food to their patrons, even a slight price break on selected brands of adult beverages and other giveaways.
In individual homes, friends gather, each bringing food and beverage to enjoy around big-screen televisions (often with smaller ones in the kitchen/dining area) all to watch about 20 minutes of action within a three-and-a-half time frame while VERY LARGE men physically assault each other attempting to advance a semi-ovoid, pointy-tipped football across the goal line, thus scoring points.
... which might sound to some as if we've managed to combine two apparently polar opposites - sports and sofa. What better way to bring people together, combining interests in a comfortable atmosphere. Well, comfortable if you can cope with the noise of some sports...
I used to get up and watch the Japanese and Aussie Formula 1 events, but I haven't bothered this year.
If you want to see lots of lunatics doing pointless things at ridiculous speeds, may I turn your attention to world rallying? Almost non-stop from January to November every year, too. One of the things I love doing on a Sunday is plonking myself on the sofa, a tape of the last rally playing on the telly, a bacon-and-fried-egg butty in one hand and a steaming cup of tea in the other... sheer bliss!
Not to mention the vicarious amusement that can be derived from watching Colin McRae total his car yet again...
Would you need a reason to drive one around the track - even just one lap? The race is just the excuse - two hours of having more adrenalin than haemoglobin in the blood is their reason - even dreaming of it is enough to cure your depression!
And with that said, time to turn our attention to spiritual matters...
Church
(We can already hear some of you groaning, but don't give up just yet....)
As a Christian, going to the church service is a great way to end/start the week. You spend quality time with a community who support you when you are down, allow you to relax, who don't judge you for your failings yet admit that none of us are perfect, sing with great gusto and get home after a morning that is refreshing while the rest of the world is only just creeping out from under the covers.
In fairness, some churches aren't quite like that - sometimes the singing can be more like a limp dishrag. But our Researchers' advice would be: if your church isn't like that, go out and find one that is.
Spending time with the Creator of the universe (and other people who share your passion for Him) does seem like a pretty good way to spend a Sunday. And the other six days of the week as well.
Of course, some people take the fervour of praise and... well, are a bit creative with the definitions:
A perfect Sunday for me involves an early start and a train ticket to Kings Cross in London. Upon arrival, I then meet up with a few mates and grab a burger to line the stomach. Then we all go to Church. The Church in Kings Cross is a wonderful old warehouse that every Sunday gets ram packed with Aussies, Kiwis, Safas1 and a few Brits for what can only be described as a drinking session of biblical proportions.
For days like this, it's always wise to book the following Monday off work...Mondays are not very nice at the best of times and after a day out at 'The Church', you may wish your head was dead.
Seasonal Sundays
What you decide to do with your own 'day of rest' can often be influenced by the time of year. Here are just a few 'seasonal sighs', no doubt with fond memories attached to them all:
In Summer, you might find yourself sitting in the back yard with the kids, both big and little, playing on the hill, the beach, in the lake... Barbecues, cold refreshing beverages in the cooler and fine company... Frisbees or kites on the green, a long day of Tennis, Pimms, Grass stained knees and insect bites...
Autumn is for strolling hand in hand through piles of leaves, wrapped up snug and returning to the warmth of the house.
Winter - bundled up, boots, gloves, scarves, sweaters, going across the street and crunching through the snow in the woods, or marvelling at the ice sculpture on the beach... late rises (thank you, whoever invented Daylight Saving Time - the extra hour is much appreciated), mornings with the newspapers and a brunch followed by perhaps a kick of football, a run around or a game of golf followed by a late lunch... and then further indulgence in front of a roaring fire.
Spring is definitely a walk in the woods on that one special sunny day when it's finally warm enough, you still need boots, there's still some snowmelt, but the briars and brambles are only just starting to grow and that massive old tree you used to have a tree fort in has lost that big limb the tire swing used to be on.
Spring calls for something similar but returning to the house preceded by a jar down the local which following the fresh air of spring and the natural spring time urges leaves you hot, flustered and gagging for it!
...a gesture, a look, a simple touch, not even a caress, just a touch... being able to set your own rhythm, with accent beats and multi-layered harmony. Ah, Sundays...
The Good, the Mad and the Snuggly
While you're flicking through the Sunday papers, you can still do something useful, as these Researchers note:
I like to look for jobs. Everyone is in a good mood because they are not at work. No one answers the phones and I get to go another week of not being able to tell if it is Sunday or not...
If you're a student, at least one Sunday a month is used for the completion of homework/coursework/essays. It may not make Sundays great, but it's what happens... sob...
I enjoy doing crafts or cooking something special (rather than your run-of-the-mill everyday cooking). This weekend, I plan to do both - cook a special pasta dish (trying out my new pasta machine) and doing some marbling on material (to make fancy Christmas wrapping.) Perfect Sunday.
The basic concept is doing something that I enjoy and that is different from what I do during the rest of the week.
May I suggest that you try some Stoep-sitting? I think you'll find it to your liking - especially on Sundays...
A Unique Sunday
One Researcher gave such a detailed outline of a perfect Sunday, it would have been a shame not to share it here. Picture the scene - it's the final day of the weekend in a district of Exeter, UK, and you need to make the absolute most of it:
Get up early, don sporting apparel and attempt an eight-mile run ... up through Heavitree, branching left at Magdalen Street, and then coast down towards town, negotiating the spaghetti junction of the inner by-pass. Get onto the flood berms of the River Exe, cross over the river, running downstream. Branch off onto the canal tow-path, and stay on this until you reach the outer by-pass. Turn left up towards the Topsham Road roundabout, which you cross with caution. Then up the outer bypass towards Middlemoor staying left at the Roundabout and heading back down into Heavitree.
Take the money out of your sock, and pop into the newsagents to get Sunday papers and an Economist. Perambulate gently home. That's an hour gone.
BBC Radio 4 now supplies the omnibus edition of The Archers, after which you mount your trusty bicycle and pedal down to the Double Locks (you've already run past it once today so you know where it is). Enjoy several pints of ale to accompany your chilli-potato or your Stilton ploughman's lunch.
Cycle home (gingerly, and staying off the public road in the interests of road safety and the safe custody of your cycling proficiency badge) and settle down to a Sunday afternoon match on the box. Feet up.
Enjoy a sun-downer (even if there isn't any sun) in the back yard before preparing supper - poached eggs, sauté potatoes, some baked beans maybe, washed down with a cheap bottle of South African pinotage. Wander back into Heavitree for a pint or two in the Royal Oak, playing cribbage for the imagined hand in marriage of a local lovely...
Sunday Best
In this speedy world, we often forget to allow time for ourselves time to catch our breath. Time to catch up with sleep, to relax, to think things over and to maybe empty our minds and let go of all those things we worry about. What better way to achieve all of this essential rest and recuperation than to - do nothing?
Some of my friends have forgotten how to do nothing - they can't sit still for more than a few minutes before they have to get up and *do* something! No wonder that people are suffering from stress, feeling burnt out - they have forgotten how to relax!
It's very difficult, trying to do nothing. You usually end up doing something, like eating, drinking, logging on to the Internet - but try to avoid making plans, and leave your watch on the bedside table. Most people have such busy lives, and everyone seems to think it's a terrible waste to spend time with your feet up staring into space, or whatever. Some people feel obligated to do, do, do, so they can look back on the weekend and check off a mental 'things to do' list. But staring into space is, we're reminded, no less valid than, say, doing the ironing, clearing out the garage or playing tennis.
Of course, if you're a naturally very active person, the idea of spending an hour or two drifting with your thoughts is probably horrifying!
I suppose what I really think is that Sundays should be spent doing exactly what you feel like on the day. You've got to do something - make the most of the short time you have before Monday comes barging in with all the grace of an arthritic water buffalo, demanding attention and generally making a nuisance of itself.
I only worry about Monday mornings on a Monday morning, and by then it's too late as it is already here. After all, you only have two days to yourself each week and it would be dumb to waste half of them!
So, as we contemplate what we're going to do next Sunday, we'll leave the last word to Van Morrisson, whose 'Coney Island' just about sums a perfect Sunday:
Why can't it be like this all the time?