Number Six
Hello, .
Welcome to my Virtual Home from Home!
"People from the rest of Britain, people from around the world will arrive in London to become Londoners and to fulfil their dreams and achieve their potential. They choose to come to London, as so many have come before because they come to be free, they come to live the life they choose, they come to be able to be themselves."
-Ken Livingstone, 7/7/2005
Well, this is me, then. Before I say anything else, I'll stick in a gratuitous plug for The Royal h2g2 Geographical Entry Society page... It's a place we set up to encourage people to write on h2g2 about places, pubs, restaurants, anything like that. Which for me is the primary reason why this place exists, although I spend a lot of time doing other things these days.
A. B. and C.
I used to have a section (snappily entitled 'Edited Guide Entries What I Have Written') that I've converted to a separate page for the sake of tidiness. It's to keep track of entries in the Edited Guide that I'd been involved in writing, because entries that I Sub-Edited also appear in the 'My Guide Entries' section. I suppose you can work out a certain amount about me from what I've elected to write about. Mind you, I wouldn't recommend it... Something I've started doing recently is following the trend set by the likes of Otto Fisch, Gosho and Edward the Bonobo and putting song lyrics in the Bit in Brackets after my name - I've been keeping track of them for the hell of it, so if you're curious (or you've worked my current one out) you can check out A1020141.
Arrival
How did I get here? Well, I first signed up to h2g2 in March 2000, back when I lived in Walthamstow about halfway between the tube station and the dog-track. I didn't do much apart from read stuff occasionally until November 2002, when I decided to write an entry on Harringay, which seemed to go down quite well and got into the Edited Guide. And after that I just kept coming back, really... I got heavily involved in the production of the Edited Guide for a time, until I had to cut down through pressure of work. I was an h2g2 Scout for quite a while, which means I got to pick two entries from Peer Review every month to go into the Edited Guide1, and I was also a Sub-Editor for a few months, but that was the first thing I had to knock on the head.
It's Your Funeral
A bit more about me, for those that are daft enough to be interested. Did I mention Harringay? It's in North London, England, and I've lived there on and off for over seven years2. It's the bit between Manor House and Turnpike Lane tube stations. My mate Ed's mate Ed says that if you're going to live in London, you ought to live IN it, not beside it, on top of it or underneath it. And I take his point entirely, but Harringay doesn't really qualify under those criteria - but it's definitely SOMEWHERE rather than an anonymous London suburb and I quite like it so there. Besides, you try living IN London on less than the average national wage. I tell you, it ain't easy.
What else? Twenty-nine years old now3. Degree in Media Arts. Sometime Mod, occasional park footballer, ex-minibus driver, would-be film scriptwriter and sports journalist. Huge fan of Plymouth Argyle, despite coming from Staffordshire. I had ambitions to become a sort of renaissance man, but I seem to stay in too much these days. The trouble seems to be that by the time you've finished work, fed yourself and tidied your nest, there doesn't seem to be much left in the tank to go on to other things...

In fact, as of now4, I've finally got the confidence to go that little bit further and say that since I first signed up here I've actually *become* a sports journalist. I work for the Sport arm of BBC News in a relatively menial capacity during the week and occasionally infest the airwaves of BBC Radio London doing match reports on the weekend5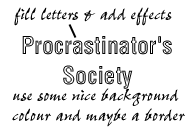 On t'other hand, my film script remains unfinished and I worry from time to time that sport is taking over my life and making me a far less interesting person. Mind you, I've played the bass half my life and have plans to actually get a band together with one of my housemates some time soon. Last year I discovered I could play and vocalise at the same time6 and have finally cracked the guitar in the meantime. Well, I say cracked, what I've actually done is learn to use the one chord I can play well (that's an E bar chord, musos) and move it around with a modicum of efficacy.
The Schizoid Man
Why Number Six? Well, The nickname comes from the 1960s TV series 'The Prisoner', starring Patrick McGoohan as a secret agent who tried to quit and got kidnapped and relocated to 'The Village', a remote location containing various people who all knew too much spent which he then spent two series trying to escape from. All people in The Village were known by a number rather than a name - McGoohan's character was Number Six. Number Six, having been of a mind to quit the secret service, wasn't into all this cloak and dagger caper and adopted the slogan "I am not a number - I am a free man!", And seeing as the whole point of having nicknames in the H2G2 seems to be to avoid being known as a number, I thought Number Six would be quite a smart-arse nickname to adopt. Doesn't mean I'm a fanatical anorak about the TV series though7 - I just sort of like it, OK? Mostly because of the great architecture of Portmeirion where's it's set, coupled with McGoohan's anti-establishment stance, and the fact that he looked really cool in a black blazer which had white piping around all the seams and cuffs, which you don't seem to be able to get anywhere.
I'm also one of those strange people that likes it when the Shipping Forecast on Radio 4. Although I only seem to come across it every six months or so...
Free For All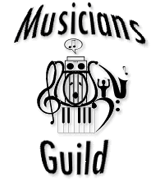 These are some of the places where I hang out from time to time. A tip for anyone new to h2g2 - if you join a club, click on the bit at the bottom of their homepage that says 'Click here to be notified of new Conversations about this Guide Entry'. It took me ages to work out that was how you got involved with stuff...
The Royal h2g2 Geographical Entry Society
The Virtual Supporters' Club - that's Football supporters, of course.
h2g2 Punk Society
The h2g2 Jukebox
The League of Obsessive Nitpickers
The H2G2 Cycling Club



Once Upon A Time
Inspired by the BBC's 'The Big Read' weekend, and also Emily's Top 10 CDs page (which is where I stole the technical know-how to be able to do it), I've set up a page for researchers to vote for their Favourite 10 books they have ever read.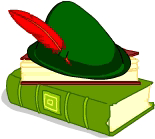 Nothing's set in stone, and you can change your selection later if you wish. But make them your ten favourite books, the ones you loved best, rather than the ones that you think sound most impressive!
1. Book Name, by Author
2. Book Name, by Author
3. Book Name, by Author
4. Book Name, by Author
5. Book Name, by Author
6. Book Name, by Author
7. Book Name, by Author
8. Book Name, by Author
9. Book Name, by Author
10. Book Name, by Author

You can see the results here (once i get around to adding them to the page, that is!
1Which is nice.
2Aside from my flirtation with Walthamstow, I spent three months living and working in Leeds last year.
3For the second time. Ahem.
420th April 2005.
5And on Saturday 16th July 2005, part of an interview I did with Arsene Wenger was linked to from the front page of the BBC football website. To say I was chuffed is something of an understatement.
6Wouldn't be fair to call it singing. But then Britney Spears is a singer, and Ian Curtis was a vocalist.
7I had to Google for a list of episode titles to come up with the Headers on this page, for example.
Subscriptions
Title
Status

Created

This user has no Entry subscriptions