The View at h2g2
Created | Updated Jul 11, 2003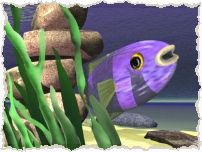 This week, the View explores the new Smileys (!), advertises the new project on intelligence, and writes a note to your Journal.
The State of Peer Review


Peer Review is chugging along like its usual self these days. The Coming Up page is up a tiny amount from 24 entries to 26. And the number of threads on the Peer Review page is down slightly from 239 to 233.



The Sin Bin went up a bit from 195 threads to 202 this week. And the Writing Workshop has also gone up a little from 317 entries to 325.



No thread in Peer Review has gone without a post for more than five weeks, compared to four weeks the last time I checked. We'll have to wait and see whether that statistic will continue to get less rosy. A still respectable 83 threads were created or have received comment within this past week, compared to over 100 previously.



It would be enough to make you yawn, except for the fact that I have something really fun to report...


Smileys! Smileys! Smileys!


Yes, the new Smileys are finally here. We've been debating which Smileys to add over the past month and a half. It just goes to show how responsive h2g2 is to its users that the decision was a consensus rather than the usual dictatorial change.



So which Smileys made it through? There are about 40 additions in all. Lots of emoticons made it, from the adorable Cheer Up smiley to the calm Zen smiley. Actions also made it well, from Cuddle to Cheers. And thank heavens, there is now a Tea smiley, as well as one for Cappuccino.



Senior users of h2g2 will appreciate the addition of several new Fish smileys. And science fiction lovers will appreciate the Alien and Martian smileys that have been added. I know the musicians and singers at h2g2 will be glad to finally have their precious Musical Note smiley. There is even a BLEEP! smiley so people can censor their own naughty words before h2g2's Moderators get the chance.



There are also new help pages for our Smileys, where you can view them one category at a time. The categories are:



Share and Enjoy!

Upcoming Site Update


No, a new h2g2 skin is not also slated to magically appear -- yet. Rather, an update is coming that will help h2g2's Sub-Editors and Scouts do their job better. While the new tools won't be visible to the average user, it's possible that writers at h2g2 will notice an improvement in the Peer Review experience if the volunteers can work more efficiently with the new tools.



While we wait to see what effect these tools may have on Peer Review, I have a word of caution. If you see a 'Recommend Entry' button or a 'Return to Editors' button anywhere, don't click on it! These buttons are only for use by the Sub-Editors and Scouts, and you're not supposed to play with them. Using them as an average Researcher could wreak havoc with our site.

Project Intelligence


I've written off and on about the controversy around Playboy Reporter's Peer Review submission of an entry on Intelligence. The researcher left h2g2 rather suddenly. And a little while later, another researcher heavily involved in the debate, LeKZ/Arpeggio, was banned from the site for a week. h2g2 tries so very hard to maintain its air of kindness and civility, but it seemed for a while that things might spiral out of control.



Luckily, this appears not to have happened. Playboy Reporter and LeKZ/Arpeggio are both with us again. Debate still rages on the he said / she said front of the argument. But it's still an improvement over a few weeks ago, when I couldn't even imagine a civil conversation around the subject.



Another researcher, xyroth, has taken the incredibly brave step of starting up a Project on Intelligence at the University of Life. This will allow the community as a whole to collaborate on a whole series of entries which will cover the topic fairly and from numerous different angles.



If you still have something to say about intelligence, channel your energies efficiently. Go contribute to xyroth's project.

A Note For Your Journal
Dear Journal,
I got you for free when I came to h2g2. I'm embarrassed to say that I didn't come here for you. I had other reasons.
But here you are, and here I am. I look at you every time I visit h2g2. So I look at you a lot.
Sometimes I feel guilty when I look at you. It's because I don't add to your contents the way I mean to. I really do have the best of intentions. But it always seems like there's something else I could be doing.
Okay! I admit it! When I look at you, I can't think of anything to say. I have no idea what other people visiting my page would want to see in you. And sometimes, it's just hard talking about myself.
Sure, there are things I could do. I could write a haiku about my life. Haiku are easy. I could try a limerick system too if I wanted. I could treat my online journal like a diary, only this one doesn't have a secret lock. I could print the scores of my favourite sports team, or gush about my favourite band. I could write about the fun things I do at h2g2, referencing the places I go and the people I meet. There are all sorts of things I could do!
But somehow, I always blank out when I look at you. It never fails.
Poor Journal. I wonder what you would say if you could write on me!
The Next View


Next week, we'll find out what h2g2's Sub-Editors and Scouts think of the site updates so far. Are they really going to make a difference? Will the writers notice any change? If you're one of these volunteers and would like to give me your opinion, please post below or visit my personal space to get my email address.



Written by Fragilis the Melodical.

Feel free to check out my past columns.