Roving Reporter: Quick Picks
Created | Updated Jun 21, 2003
Each week, The Roving Reporter profiles one of the many delightful meeting places that thrive in our community, from pubs and cafés, to churches and parks, or on occasion, presents a series of Quick Picks, pointing out some of the little gems and unique out-of-the-way locations.

If you have questions, comments, or suggestions for the Roving Reporter, leave them here.
This week: Quick Picks -- from interesting new establishments starting up, to older locations worth re-visiting, here are a few great places to check out. Look for a full feature again next week.
The Bruce Monument

A new addition to the h2g2 Municipal Park, the Bruce Monument is a beautiful tribute to Bruce, the h2g2 guru of GuideML.


This is a wonderful sculpture, and a relaxing place to visit. Sit on the rocks or relax on the grass under a tree, and admire the statue of Bruce helping a nubile newbie test the GuideML waters. The monument was commissioned by GOD - Almighty, and executed by Asteroid Lil in gold, natural stone, and water.

When you visit, make sure you leave a note in the Guest Book or read what others have written, which has included some interesting poetry.
l'Hotel Chrome

Looking for a classy place to stay? Try the new l'Hotel Chrome, run by Chrome101. While the hotel is not yet complete, it is already developing into an interesting place.
Don't be intimidated by Manuel Noriega (the doorman) when you arrive -- he's actually quite helpful. Kasia, the receptionist, greets you warmly when you enter, and House Detective Afgncaap5 will look after your valuables. If you need to send a telegram, Lintilla, the telegraph operator, will be happy to assist you. l'Hotel Chrome is also developing into a good place to hold a banquet or special party.


l'Hotel Chrome still has employment openings, so stop by and find a niche for yourself in a rapidly growing h2g2 establishment.



The Ice Cream Van

It's always summer somewhere at h2g2, so stop by the Ice Cream Van run by Dr E Vibenstein, and check out the amazing selection of ice creams and sorbets, hand created by Ændr, the Mad Hatter.



Ice cream flavors include: Pure Double Chocolate, Incredibly Sinful Pure Vanilla, Chocolate Fudge, Honey and Caramel, Chocolate Chip and Pecan, Green Pistachio, Strawberry, After Eight Mint, Crunchie and Vanilla, Blueberry, Treacle Toffee, Jelly Baby, Garlic, Mud Pie, Raspberry and Apple, Loganberry and Ginger, Whisky and Ginger, Poppy Seed, Triple Chocolate Swirl, and Jaffa Cake, plus Sorbets: Pure Strawberry, Loganberry and Raspberry, Lemon Sorbet served in a whole lemon rind, Orange Sorbet served in a whole orange rind, and Damson.




The Ice Cream Van also has regular stops at the Swimming Pool, the Beach, and the Theme Park.


h2g2 Parade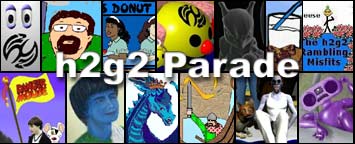 Veterans may wonder about the inclusion of an event which is over. However, many have joined h2g2 recently who may have missed this fantastic sight, and even those who were around at the time may enjoy re-visiting the 1st Annual h2g2 Parade. This parade celebrated the 1st birthday of h2g2 on April 28, 2000.

A birthday greeting from Douglas Adams starts off the parade, followed by links to a host of colorful and delightful parade floats sponsored by, and celebrating, some of the top h2g2 businesses and organizations, and all of this is accompanied by the h2g2 Parade Marching Band.
Celery's Fish Sanctuary and Playground

A new addition in places for h2g2 fish is Celery's h2g2 Fish Sanctuary and Playground1. This new spot has a large aquarium for h2g2 fish to swim safely (particularly useful for those created in classic goo) as well as encouraging visitors. Researchers are invited to adopt one of the fish or bring their own to the aquarium. Recently, one of the fish -- Princess Sugarfoot -- has emerged as a party organizer for the rest of the fish, and visitors sometimes stop by to play music for them. The sanctuary also welcomes fish who may have had a questionable past, but are interested in re-joining their fellow fish.





1In the interests of full disclosure, it should be noted that the author assisted in the creation of the Fish Sanctuary and Playground.