h2g2 Post 07.08.2000
Created | Updated Jun 21, 2003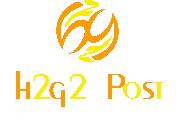 Posted: 7th August 2000

Welcome to yet another edition of the Post. If you thought that last weeks' edition was big, wait until you see this weeks'! Alongside most of the regulars, we have a bumper expose by Fragilis of what exactly happened to Demon Drawer in his race to become Virtual Prez of h2g2. Pseudemys takes us on a trip around the Wine Valleys of Germany, Swiv takes us on a Safari, and Down My Lane nears the completion of his Cambodian Oddessy.
There are two articles on recent h2g2 meets, and more news, in the announcements section, of the planned Dutch meet in September.
The Virtual Prez of h2g2 Campaign shifts up a gear as the opening of voting edges nearer. We have a society report on all the fashions to be seen at the Celery/Webjello party, a PPB from Bluebottle, and the latest campaign statements, one from The Big C and one from the newest candidate.
Also this week we have two film reviews and a DVD review, yet another new feature.
Baldrick is working on a HUGE guide to the London Underground which is both informative and amusing. Please do pop along and add your comments or anecdotes to this very considerable undertaking.
On the science front... roll up all star-gazers in the northern hemisphere! The annual Perseids display reaches its' climax for another year, and one of our researchers is very keen to receive information from fellow h2g2ers. Visit the Once-a-year Opportunity article to find out more!
Any copy, articles, suggestions should be sent to The Editor. Please use this same address if you are interested in volunteering to become a regular contributor.
Net News




In and Around The Net This Week.

Cambodia



This week: Bakong, Preah Ko, Lolei and Banteay Srei.