h2g2 Post 24.07.2000
Created | Updated Feb 7, 2004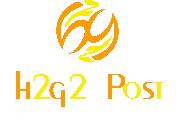 Posted: 24th July 2000

Welcome to another edition of the Post, the h2g2 online newspaper. I hope that you are all now becoming used to the new publishing time. We are considering one option for our regular readers, which is the introduction of an email service to let you know when the most recent edition of the Post is out!
Our new team of reporters/helpers have come up trumps this week. We hope that you enjoy the new features alongside the old favourites. As usual, any feedback you may wish to send in is most welcome.
shazzPRME
Net News




In and Around The Net This Week.

1-2-1




This Week We Interview Alicat.

Take5



It's Back! The Pick of This Week's Batch of New Guide Entries.

h2g2 Fiction


Short Stories Written by h2g2 Researchers.

'On a Wing and a Prayer' by Eeyore.

Cambodia



This week: Temples and other Places of Interest.

Recipes


This Week: Some Different Uses for Bread!