Hmmmm....
I landed on h2g2.com while searching for information about Douglas Adams. Having first read the HHGTTG in 1983, I couldn't resist joining h2g2. That first pre bbc account is long buried in the mists of forgotten passwords and changed email addresses. Account number two was locked out for a while during the bbc retro moderation process. This account has been active since 14th October 2001.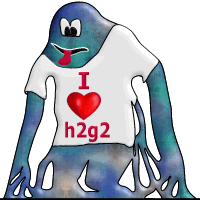 Useful Stuff...
Handy Pop Up Conversation Gadget

Writing
Some of my writing has been published in the h2g2 newsletter, The Post. Writing Notebook
Clubs and favorite hangouts...

The Campsite
Pitch 24 (My Tent at the Campsite)
Keeper of Half full bottles of Tabasco sauce
Click Here to become a keeper
TINA RAIIDTCSPLYWWGAOWTCFLOS
United Friends of H2G2
Subscriptions
Title
Status

Created

This user has no Entry subscriptions