My space...my time.
INFO
Hello there !! Yes, I see you sneaking in...well you can't out sneaker a sneaker. Anyway , welcome to my space and let me tell you about me
Me

? Well, I'm charming, sophisticated, debonair, loving, kind, sensitive, funny, generous and a natural born liar!! Mwuhahahahahaha!!
My mum loves me, as does Mrs LeviPuma

(we're not married, I just call her that)...although she's a bit strange

. Has this fascination with Footballers' Wives; apparently she has to watch it otherwise the Ladies That Lunch clique may shun her. Sinister group the Ladies That Lunch if you ask me...
Oh look, I'm rambling...anyhoo...nice to meet you. Yes you! and you over there, you, you and you at the back. Not you in the middle, you to the right and you slinking away.

This here is my thieving cat

This is my pet baby shark "Sharky"...I don't know why he just swims to the right only and then disappears...
Cheers!
LP
The Dante's Inferno Test has banished me to the Eigth Level of Hell - the Malebolge!
Here is how I matched up against all the levels:
Take the Dante's Inferno Hell Test
Your Birthdate: October 30
Your birthday on the 30th day of the month shows individual self-expression is necessary for your happiness. You tend to have a good way of expressing yourself with words, certainly in a manner that is clear and understandable. You have a good chance of success in fields requiring skill with words. You can be very dramatic in your presentation and you may be a good actor or a natural mimic. You have a vivid imagination that can assist you in becoming a good writer or story-teller. Strong in your opinions, you always tend to think you are on the right side of an issue. There may be a tendency to scatter your energies and have a lot of loose ends in your work. You may have significant artistic talent and be very creative.
What Does Your Birth Date Mean?
Clubs that have let me join or are about to let me join !!
The Dragon House
For those of you interested in

, please

ing drop by the Temple of BLEEP!

I'm the official Keeper of Annoyingly Catchy Mobile Phone Ring Tones and Ladies That Lunch!! To be a Keeper visit Emmily here
Also a member of The Assassin's Guild...so if you want some one knocked off, you know where to go. I'm more Internal Affairs but all sepecial requests will be considered
Worth a mention are the grumpy folk at P.U.D.D.I.N.G.. Just don't expect a warm welcome!


Feline Mercenary Army (FMA)
where you can now get your choice of a

or

.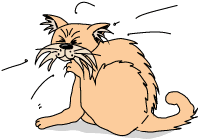 Join The Feline Mercenary Army Today
And Recieve Your Free

or

I'm now the Grand Inquisitor of Continuity for the
Masters of the Multi-Verse's
!!
A useful place to browse is
Club's etc etc
, hopefully you'll find one you like!
Acknowledgements
Thanks to Hati and Galaxy Babe for their help in showing me how to use the LINK function correctly!
to Ormondryod for the use of the PUDDING banner.
For my own reference Smileys
Conversations
| Conversation Title | Latest Post | Latest Reply |
| --- | --- | --- |
| Sign up | May 7, 2005 | Sep 16, 2017 |
| The red room | May 6, 2005 | Apr 30, 2011 |
| Become a Wizard | May 10, 2005 | Mar 24, 2010 |
| Become a Wizard | May 10, 2005 | Mar 24, 2010 |
| Sign up here | Sep 12, 2008 | Dec 4, 2009 |
Subscriptions
Title
Status

Created

This user has no Entry subscriptions