The H2G2 Great Outdoors Resort
Created | Updated Oct 20, 2003
For all you1 fans of outdoor life out there, this is hopefully just the place you'd want to go for taking time off, unwinding, exploring unknown frontiers, obeying the call to return to nature - or just to have a good time.
New path explored, discovered and described. Whoaaa
Look here...



A vast area of untouched land has been laid out as the H2G2 Outdoor Reserve - motorised traffic absolutely disallowed, noise plane flyovers restricted as much as possible, farming of the land disallowed and other human intervention kept to the absolute minimum in order to preserve the characteristics of the various landscape types. Wherever intervention is required, the gentlest possible methods are used, with preference to those used through all the ages - such as animal grazing or carefully used fires2.
The landscapes
There is all kinds of landscapes present for your enjoyment -
Northern forests, with fir and spruce aplenty
Typical Danish spring-green beech forests3
Rainforest - tropical as well as temperate
Coastal plains
Mountain ridges and peaks for the climbers
African savannas - just so that Mark Moxon can also visit...
Lots of lakes and streams for the Finns (and all the trout fishers)
...
Obviously, thanks to the wonders of H2G2 virtuality

you can add your own habitats, should your preferred type of nature be missing...
Flora and Fauna
What do you particularily like to see on your trips? Rest assured - it's here
Do you want to study


? Do you dream of seeing lions resting under the noon sun before the night's hunt - or would you rather quietly sit contemplating a particular type of small blue orchids? The Great Outdoors has a place for you! The only problem may be finding it - but have a talk with the friendly guides in the Information Cottage or get a map in the Outdoor Supply Store - you'll soon be on your way to just the right place.
Getting the best out of it
Whether you are relatively new to hiking, climbing, tenting and all the other outdoor activities, the best results always come with planning and preparing your trip. Here is a list of the most important starting points - more will undoubtedly follow as more of the Great Outdoors becomes charted and paths to the various parts become known and mapped.
The Outdoor Supply Store carries the entire virtual world's greatest stock of all things outdoor related. From fancy and expensive backpacks to packages of lyophilised water to help you ensure adequate drinking supplies - it's all there. And you can pay with DNAs from The h2g2 Virtual Bank as well as with any other currency known in the universe4. If you're completely out of all sorts of monetary instruments, a warm friendly
may get you a credit - or you may want to check for vacancies in any of the Great Outdoor service facilities to help you get on a suitable economical footing.
In the Store's lower level you will find The Food Store with anything from tasty morcels of Italian Ham over
and
to freeze dried supplies for the lightest of backpacking. The Catering Desk down there will prepare the most luxurious picnic meals - and can also undertake deliveries in the wilderness. Just let them know, and they'll virtual-magically transform your supplies into sub-ethanet transportable items, sent by Hermes Messenger Service5.
In the Information Cottage, our friendly guides will help you with advice about the known paths and routes. They are avid outdoorers all of them - and might be travelling and exploring the ranges themselves to help getting more of the area mapped for your future visits. Please feel free to join as a guide if your outdoor adventures have made any of the land well known to you! Maps are available here - in the Map's Corner (you'd never have guessed, would you?)
The Great Outdoors Hotel and Hostel is where you can check in to any room you'd like at any time, with no need of advance notification and have a nice few days while you get ready for your Outdoor Adventure. All types of rooms available in all price categories. And surely, the Hotel has a great, well-stocked Bar (what would H2G2ers do without ample supply of virtually (!) all imaginable kinds of alcohol and

?)
The Square At The Edge Of Town. A nice little plaza - with sunny patches as well as groups of trees and palms offering shade. Groups of chairs and benches are scattered here and there - please rearrange them to suit your needs. Naturally, the Hotel Bar has a counter facing out towards the plaza so that you can enjoy your drinks out here as well. This is also where all the paths start - each heading off into various parts of the great nature and each pointing towards exciting adventure and breathtaking views. So gear up, tighten your bootlaces and off you go! Or drop in at The Stables and Wagons towards the side of the plaza to buy, borrow, rent or - no, NOT steal - return your favourite travel companion6.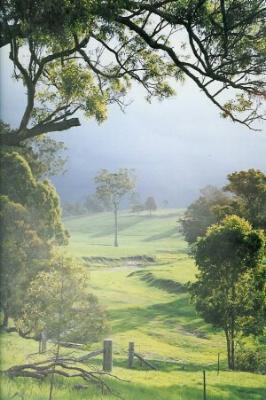 Paths discovered so far7 leads towards The Danish Beech Forest, The African Savannas, The Coastal Plains (and a little further on, the Beaches and the Seaside), and the Wonderfully High Mountain. Pick your preferred one - or get onto charting a new one, putting it on the map for other Outdoorers. Along each path, you will find shelters, cabins and camp sites for tents at suitable intervals - you'll never be far from somewhere to rest your travel weary body...
A slightly different path - actually more like a cosy, winding country road, leads off to the right. It's the only way going this way out of the Great Outdoors - all other traffical connections converge in the traffic center described just a wee bit further down. Where does this special road lead? To Hati's Summer cottage... (just for giving your Resort Manager an easy way of getting there...)
Recent archaeological explorations, which might have been performed by Outdoor Resort Regulars Hapi and/or Hati, have resulted in the finding of The Caves. Here, surprising messages from a distant past can be found in the form of the most astounding wall paintings.
The Small Airport, the Train Station and Bus Stop and The End Of The Motorway. These are - as you might have guessed - the ways of getting to and from this place of natural heavens. Isn't it remarkable how little of the incoming traffic noise you can hear? Just inside the small building over there you can go to the counter of whatever travel agent you prefer to arrange your trip back. At The Post Office and Telephone Exchange8 you can also opt to get in touch with "them" back there to tell them that you prolong your stay for a few aeons...
1Us fans, actually - I'm one myself...
2A small fire now and then clears out the deadwood building up and limits the damage from wildfires, should they occur...
3And it just doesn't get any better...
4We may only be able to give change back in trouser buttons or obsolete Italian phone tokens. Sorry for any inconveniences.
5It does have its advantages being a muse...
6Remember - no motorised transport is allowed!
7They'll appear linked as soon as the Map Corner Information System has the details uploaded. Please be patient with us...
8Better use it - there's absolutely no mobile phone coverage here. We told you it was for relaxation, didn't we?