AGG/GAG - 34
Created | Updated Jul 31, 2002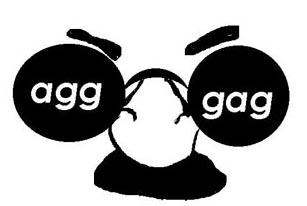 Open your mind and say,'AWW'
Fiction



Weird Science
First/Personals

Satire

Kitchen Syncronicities
The Agg/Gag Repository of GAMES
H2G2 Fiction
Pre-Dictatorial

The history of English Literature has many anecdotal references to great writers who had difficulty getting their early work published. Many works now considered 'Classics' came close to never seeing the light of day. There is something about the business of publishing that frightens otherwise wise men from daring to risk the promotion of works that venture from the status quo, the formula, the safe and predictable. We at AGG/GAG/CAC have no fixed costs, no assets, and we never see a profit so we have nothing to lose, not even our reputations.
We have been in long discussion with this writer who visited our Contributions page offering a wide variety of entries, some more 'finished' than others, some more penetrable than others.

In his own words,

'Perhaps the problem is not with the writer but with the reader. I am finding that persons are reading a bit too much between the lines. They search for some thing they think is almost there (or is there) yet their searches are fruitless. I would advise the reader to take this ditty at face value and no more. If it amuses you, wonderful. If na, then, don't read it.'
Three AggGag Editors were agreed that we didn't get it, but we were unwilling to make the mistake of so many publishers
by rejecting what they don't understand. In the end we decide to link to all his h2g2 writings, his 'compleat works'
and let you the readers decide if the world is ready.

And maybe we'll get to say we saw him first.
We are happy to report that Subcommander Deidzoeb's efforts have reached fruition

and his AGG/GAG Repository of Games for a Rainy Day is up and running.

Copy and paste this blob as a link button for your homepage if you like.

Much thanks to Greebo der Kat for the blobbing.
FEEDBACK REQUIRED
We are currently re-assessing the value of our regular weekly column.
There is a mighty philosophical discusssion going on
to decide our best course for the future.
Your input is requested.
NEXT WEEK:
Yes, we will be back.

At least until we reach the requisite 42 Issues.

Meanwhile, we are still accepting contributions and suggestions
The AGG/GAG/CAC School of Thought:
Our LYNX: