MAGIC AND SPELLS (BUFFY RESEARCH)
Created | Updated Jun 23, 2004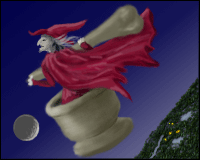 WITCHES AND MAGIC

However much history and legend would like us to believe that witches look like the one in the picture above and used their power for evil, this is just simply not the case. Not all witches are evil. There are a great many white witches out there practising carefully and sensibally with good magics in the bid to help others, unlike the witches we have all read about in certain literture that practise the black arts for evil and selfish purposes.

Willow Rosenburg is one of these such witches practising magics for good, using her powers to help her friends and save paople from danger along with her fellow white witch Tara Maclay. Together thses two witches have used their power to delinquish a great amount of evil from the world.

Listed below are many of the spells used in the Buffy series both good and dark.
TO MAKE A PERSON BLIND
Give me the power

Give me the dark

I call on you laughing gods

Let your blackness

Crawl beneath my skin

Except my sacrafice

Cordelia, feed on her!
TO TRAP A SOUL
I shall look upon my enemy

I shall look upon her

And the dark place

Shall have her soul

Corsha Taketka!
TO REVERSE DARK MAGIC
The center is dark

The center umesicscurist

The darkness breaths

Enaberae resperatis

Relisner hears

Hear me!

Unlock the gate

Let the darkness shine

Cover us with holy fear

Show me!

Crosheth angreleyo

The gate is closed

Recieve the dark

Release the unworthy

Take of my energy and besated!

Besated!

Besated release the unworthy

Release!

Release!

Release!
TO SUMMON AND TRAP A DEMON
By the power of the mind

By the essence of the word

I command you!

By the power of the circle of Kaylis

By the power of the circle of Kaylis

I command you demon come!

I command you come!

Come!

Come demon come!
TO TURN PEOPLE INTO THEIR COSTUMES
The world that denies thee

Thou inhabbit

The peace that ignores thee

Thou corrupt

Chaos!

I remain as ever

Thy faithful degenerate son

Ivocoe vestra boe

Exowadine mayem kowser

Kapa Noctkar proconcillio

Vestri vinae apperea ignobi

Monstra quadest infinitive

Potestus desonah trockobae

Mesanguin comar tandelist

Vestae sunctae prisentia

Concrisktite viscriar yemis

Suma knocktem!
A LOVE SPELL
Dianna, Godess of love and hurt

I pray to thee

Let my cries bind the heart

Of Xander's beloved

May she neither rest nor sleep

Until she admists

To his will only

Dianna bring back his love

And bless it!
TO REVERSE A LOVE SPELL
Dianna godess of love

Be gone

Hear no more

Thy siren's song
TO TURN SOMEONE INTO A RAT
Heckiti

Work thy will

Before thee

let the unclean thing crawl!
TO UNDO THE RAT SPELL
Godess of creatures great and small

I conjour thee to withdraw

Heckiti!

I hearby license thee

To depart!
RESTORATION OF A SOUL
Qui pardentium est

Infinator

Not dead nor of the living

Spirits of the interagnem

I call

Gods bind him

Cast his heart from the evil realm

Return I call it

Tae emplore do omnay

Nu egnora

Chesta rubamentae

Nechie mor nechie alfiendae

Lasah obi tedi a vas transportae

Sufliten larien

Asofia asofia

Ancorem Ancorem!
TO FIND SOMETHING THAT IS LOST
Aerishon

Coshelemon

Dupract dotadeti aerishon

A child to a mother

A river to the sea

Aerishon here my prayer
TO RETRIEVE A STOLEN SOUL
Here me elders of the upper reaches

Elders of the lower reaches

Elders of the dry land

Elders of the river flat

Oceans I beseach you

The soul obstructed

Let it revert to it's true seat

Let it be finished

Let the unatural vessel be emptied

Let the essence be returned

To it's original host
A HATING SPELL
I conjour thee by barabis

By satanis and the devil

As thou art burning

Let Oz and Veruca's

Deceitful hearts be broken

I conjour thee

By the sericin queen

In the name of hell

Let them find no love or sollis

Let them find no peace aswell

Let this image seal his fate

Not to love

Only hate!
SUMMONING CHUMASH SPIRITS
First people who dwell on Mechopachoop

Here me and decend

Walk with me among Atiashu again

Here me also Nunachosh

The spirits from below

Creatures of the night

Take human form and join the battle

Bring me my revenge
TO EXACT YOUR WILL
Awaken all ye elements

I summon thee now

Control the outside

Control within

Land and sea

Fire and wind

Out of my passions

A web be spun

From this eve forth

My will be done

Soumodibae!
TO REVERSE THE EXACTING WILL SPELL
Let the healing power begin

Let my will be safe again

As these words of peace are spoken

Let this harmful spell be broken
TO SEE A SOUL THAT IS LOST
Thesbia

We walk in shaddow

Walk in blindness

You are the protector of the night

Thesbia godess

Ruler of all darkness

We emplor you

Open a window

To the world of the underbeing

With your knowledge

May we go in safety

With your grace

May we speak of your benevelance!
SUMMONING SPIRITS OF THE PAST
Children of the past

Spirits of the loal

Be guided by our light

Come forth

And be known to us!
AN ENJOINING SPELL
The power of the slayer

And all whom weild it

Last ancient first

We envoke thee

Grant us thy domain

Of primal strength

Accept us and the powers we possess

Make us

Mind and heart and spirit join

Lat the hand encompass us

Do thy will

Spiridus - spirit

Animus - heart

Serphis - mind

Amenis the hand

We enjoin that we may

Inhabbit the vessel

The hand daughter of siniyah

First of the ones

We emplor thee

Admit us

Bring us to the vessel

Take us now!
TO MAKE DEMONS UNSEEN
Blind cadria

Desilate queen

Work my will upon them all

Your curse upon them

My demon unseen to you!
TO MAKE A BALL OF SUNSHINE OR A TROLL lol
Spirits of light I envoke thee

Let the gloom of darkness

Part before you

Let the moonlight

Be made pale by your presence

Spirits of light

Grant my wishes!
TO TURN A SERPENT INTO A DEMON
The form is vessel

Rendered new

The base uis stone

Bathed in blood

The gem is fire

And element rarefied

Soback grant the power

That it may mould this wretched creature

That it may be reborn

That it may serve

Arise!

Arise!

Arise!
TO TRAP SOMEONE IN FORCE FIELD
Ali areah

Kunus tonic

Air like necter

Thick as onix

Kasar by the second star

Hold my victim as in tar!
TO CALL A SNAKE ATTACK
Spirit of serpents

Now appear

Hissing

Thriving

Striking near!
RESERECTION
This spell requires a Ghora egg and an image of the soul lost.
Repaet three times
Ocyrus

Giver of darkness

Taker of life

God of gods

Accept my offerimg

Bone flesh breath

Yours eternally

Bone flesh breath

I beg of you

Return to me!
(To reverse this spell destroy the image)
PROTECTION BARRIER SPELL
Enemies behind bar

Circling arms

Raise a wall
TO TAKE A PROTECTION BARRIER DOWN
Hear!

Hear my plee

Circling arms

Protecting me!
TO MAKE A PHONE WORK
Discharge

And bring life!
TO BRING SOMEONE BACK TO LIFE
Ocyrus keeper of the gate

Master of all fate

Hear us!

Before time and after

Before knowing and nothing

Accept our offering

Know our prayer

Ocyrus!

Here lies the warrior of the poeple

Let her cross over

Ocyrus let her cross over

Ocyrus release her!
TO MAKE A NON-PHYSICAL BEING SOLID
Child of words hear thy makers

Child of words we entreat

With our actions did we make thee

To our voices wilt thou bend

With our potions thou took motive

With our motions come to pass

We resend no passed devotions

Give thee substance give thee mass

Child of words hear thy makers

Child of words we entreat

Solid!
FORGETTING SPELL
For Buffy and Tara

This I charr

Let this bramble do it's chore

Perge their minds of memories grim

Of pain from recent slates and sins

When the fire goes out

When the crystal turns black

The spell will be cast

Tabula Rasa!

Tabula Rasa!

Tabula Rasa!
SUMMONING D'HOFFREN
Bahr tomat

Sitin luminar

D'Hoffreness

Theortark spartiem

Portah amundum

Arashmahas
LOCATING A POTENTIAL SLAYER
To light the aura of the new

Skin of snake and cysilis too

To indicate the first reborn

Tumbleweed and rose bush thorn

An egg that means the life to come

Take this her spirit

And my spell is done
There may be numerous spelling mistakes on this page due to my lack of knowledge in Latin. So if anyone knows the correct spellings to some of the latin spells please let me know, it would be greatly appreciated. Thank You.
MORE PAGES
VAMPIRES

DEMONS

MONSTERS

VILLANS

SLAYER HANDBOOK

PROPHECIES

RITUALS

SPIRITS AND HIGER BEINGS

MYSTICAL ITEMS

THE HELLMOUTH EFFECT

TOP 20 BEST BUFFY SCENES