Ryan the Daemon Prince - Dealing Arms to Svalbard Since 1995
Greetings and welcome to my chamber...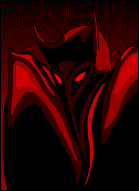 You have entered the chamber of Ryan the Daemon Prince. How did I know your name? I know all!
You are very welcome in here as long as you make an offering... either get me one soul or 8 pints of human blood...
Anyway, I shall be providing you with various articles from the various underworlds as long as I can get my portal spells finalised so I can start my field research.
Now I must return to the sweet embrace of the crypt... But I'll be back! Mwah ha ha ha ha ha ha haaa! *Disappears in a puff of smoke*...
And remember, never judge a man by his umbrella, it may not be his...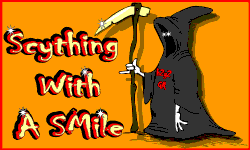 ---
A Brief History (only 3000 odd years) of Ryan the Daemon Prince
Born 3128 years ago on the summit of Mount Olympus, Ryan the Daemon Prince was brought onto the Earth to protect everything good and maybe bad. He was not always a Daemon Prince until something happened 15 years later.
When he was 15 years of age, he started dabbling in Chaos Magic (or Magik if you like). Although nothing bad happened to anyone else, a blood thirsty daemon (a Bloodthirster) slipped passed his mental barriers and took partial control.
Between then and the present day he has fought in may wars and great battles, with any wounds, no matter how grave, being magically healed. With his mighty sword, Fateweaver, he carved his way through the strongest defences, spilling many peoples' blood. In the height of combat he was said to have transformed into a 12 foot, towering monster that crushed man and vehicle alike, and who shot lightning from his hands and fire from his eyes. With this power of transformation under his control, he became a very high ranking officer who inspired the men under his command to insane feats of bravery, healing those who fell doing their duty.
On his 3127th birthday, Ryan the Daemon Prince started to feel that he was getting a little old (he may be immortal but he can age!). After praying to his Chaos shrine that he keeps in is loft (attic if you're American), he was rejuvenated. He now looks as he did 3113 years ago.
---
I am a member of the following h2g2 Factions/Guilds/Clubs/Cults...
Effective Military Solutions (EMS)
I am Assistant Manager.
We don't have a badge as of yet.
If you are intrested, here is a link to the Effective Military Solutions homepage.
Do join because we don't have many members and there is a lot of work that needs doing!
The Evil Army of h2g2
I am a member of the Evil Army of h2g2. Hurray!
Official Member of
The Evil Army of H2G2
This Membership Has Been Approved
By The Founding Four
EvilClaw
SuperMoo
Draco
Overmind
You may wonder why I have 3 badges. Well I thought they were all so cool I got one of each!
The h2g2 Assassins Guild
I am an Inquisitor in the h2g2 Assassins Guild.
The h2g2 Doctor Who Group

If you are a fan of Doctor Who, I recommend you join! A link is provided here to the h2g2 Doctor Who Group.
h2g2 Gods
I am now a God-in-training in the h2g2 Gods.
And here's the badge to prove it!
---
My 42ism
Seeing as practically everyone has one, here's mine:
U number: 8448197
(8 x 4) + 4 + (8 x 1) - 9 + 7 = 42
---
Prove Your Worth!
Click here, if you dare!
Subscriptions
Title
Status

Created

This user has no Entry subscriptions