Talking Point: Fantasy Resignations
Created | Updated May 28, 2003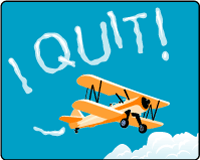 If you won the Lottery jackpot the next time you bought a ticket, how would you resign from your job? Would you just not bother to go into work or would you go in, tell the boss to make the coffee and then sit at your desk looking naughty websites, drinking lager and burping loudly?
This page is devoted to fantasy resignations, so the wilder and whackier the resignation the better. Remember, there is no requirement to actually go through with it!
If you suddenly came into a lot of money, how would you resign from your current job?

Would you resign in a witty, outrageous or spectacular manner?

Or would you wimp out and send a letter?

Have you resigned spectacularly in the past?

What did you do? How did the boss react?

Don't you think you ought to buy a lottery ticket just in case?
Graphic supplied by Community Artist Lentilla