The Spook Archive
Created | Updated Mar 14, 2003
Back Issues | Arts and Film | Campaigns, Puzzles and Competitions | Cartoons | News, Sport, Science and Information
| Regular Columns and Columnists | Serials and Stories - Fact and Fiction
| Travelogues and Previous Columns | Post Pages
Other Contributions
| | |
| --- | --- |
| Date | Subject |
| 18.10.01 | 24 Lies a Second |
| 14.02.02 | 15 Things You Probably Never Knew or Thought About |
| 08.03.03 | A Guide To Using Your Guide |
Main Stories
This is my first story:
Time Travelling - As Easy as Pie
These are the links for the story I am presently working on:
The End of Space - The Story So Far
Spook's Horror Stories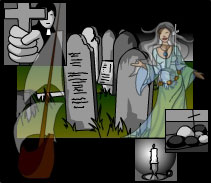 In my latest horror story I am revealing part of an investigation into a murder each work. Let me hear who you think the murder is.
The Obvious Crime
Story Reviews

Another new addition to Stories from Spook is a 'Story Review'. Each week I will be reviewing a different story.
Story Jokes
Since I am bringing in anything and everything to do with stories, I only thought it right to bring in Story Jokes. At least one new Story Joke will appear in each Stories from Spook.

There will be a regular story from CYBERHUMAN in Stories from Spook. The Story he is on at the minute is called 'Doctor Who: The Cyber-virus'.