Deathlist 2010
Created | Updated Dec 29, 2010
Disclaimer - Deathlist is not officially h2g2-endorsed
If you're easily offended, or of a sensitive nature, please click Here
Moderators please note: This Entry may be in bad taste to some people, but it does not break any h2g2 House Rules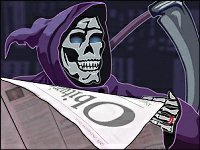 This is the home page for '2010 Deathlist'(conversation thread), which was introduced to h2g2, and is run by Mu Beta and assisted by Emmily.
The following list of rules are for reference only, the Deathlist 2010 is now closed.
Rules of Play
Choose 15 celebrities who you believe may die in the calendar year 2010.
Number 15 on your list must be aged under 50 in 2010 (born after 1960).
Email your list to daisylist(at)googlemail.com (Please include your hootoo username in your email 'Subject' box). Closing date for submissions is 31 December 2009.
If you discover before 1 January 2010, that you have erroneously included someone already dead, or one of your nominees dies in 2009, you may have a free substitute.
You will be awarded 10 points per correct prediction. If your prediction is unique, then you receive 15 points.
You will be awarded 5 bonus points by a death caused 'not by natural causes', in other words a suicide, murder or accident.
You will be awarded 5 bonus points for a celebrity who dies on the 13th of the month. 10 bonus points if it's Friday the 13th.
Assuming you have followed Rule 2 correctly, then you will be awarded double points for the correctly-predicted death of Number 15 on your list (all bonus points are also doubled). Only Number 15 is eligible for this bonus, no matter how many under-50s are on your list.
The definition of 'celebrity' is someone well-known enough to have their death reported on the websites of BBC News or any of the British Broadsheets. No report; no points.
Any complaints about the poor taste of this game should be addressed to Mu Beta, and then self-inserted, where the sun doesn't shine.
There are 30 players who have chosen a total of 302 celebrities or noteable-people
The Top Three
Margaret Thatcher is on the list of 12 players (Maggie's third year in a row at number one).
Fidel Castro is on the list of 10 players (Third year in the top three for Castro).
Sir Norman Wisdom is on the list of 7 players (Third time in the top three for this great comedian too)
Player's names and scores can be found on the Scoreboard
A
Bhumibol Adulyadej - predicted by C Hawke, Reddyfreddy
Caroline Aherne (*under 50) - predicted by *coelacanth
Mahmoud Ahmadinejad (Iranian President)- predicted by RadoxTheGreen, the_jon_m
Buzz Aldrin – predicted by toybox
Muhammed Ali – predicted by MazinMadFiddler, Beatrice
Woody Allen - predicted by Orcus
Julie Andrews - predicted by Vip
Allan Arbus - predicted by coelacanth
Neil Armstrong – predicted by magwitch, Nother
Mick Aston - - predicted by RadoxTheGreen
Rowan Atkinson - predicted by Vip
Sir David Attenborough - predicted by Dai the Death, Deakie
Sir Richard Attenborough – predicted by MazinMadFiddler, magwitch, Dai the Death, Deakie, loonycat
B
Tom Baker - predicted by Mol
Burt Bacharach - predicted by Mu Beta
Seve Ballesteros - predicted by Icy North, loonycat, Reddyfreddy
Roger Bannister - predicted by Mu Beta
Brigitte Bardot – predicted by Galaxy Babe
Michael Barrymore - predicted by Mol
Shirley Bassey - predicted by Mol
Stanley Baxter - predicted by Orcus, Dai the Death
Geoffrey Bayldon - predicted by Emmily
Aaron T Beck - predicted by The Groob
Dirk Benedict – predicted by Galaxy Babe
Pope Benedict XVI – predicted by toybox, Vip
Alan Bennett - predicted by Mol
Tony Bennett - predicted by Mu Beta

Elisabeth Beresford - predicted by Mol
Tim Berners-Lee - predicted by Croz
Chuck Berry - predicted by loonycat
Ronnie Biggs - predicted by swl, Icy North, C Hawke, coelacanth, Deakie, Reddyfreddy
Jackie Bird - predicted by minichessemouse
Honor Blackman - predicted by RadoxTheGreen
Tony Blair - predicted by TRiG
Quentin Blake - predicted by Croz
Ernest Borgnine - predicted by Dai the Death, pedro
Susan Boyle - predicted by minichessemouse
Ray Bradbury – predicted by toybox, Dai the Death
Russel Brand - predicted by minichessemouse
Walter Breuning - predicted by tzjin_anthony_ks, Reddyfreddy
June Brown - predicted by van-smeiter
Frank Bruno (*under 50) - predicted by *pedro
Barbara Bush - predicted by Mol
George H. W. Bush (senior) - predicted by TRiG
George W Bush (junior)- predicted by minichessemouse

Senator Robert Byrd - predicted by Mu Beta
C
Sid Caesar - predicted by Demon Drawer
Pierre Cardin – predicted by toybox
Peter Carington, 6th Baron Carrington - predicted by The Groob
Jim Carrey - predicted by Deadangel
Elliott Carter - predicted by Beatrice
Fidel Castro – predicted by MazinMadFiddler, swl, tzjin_anthony_ks, TRiG, Croz, C Hawke, Demon Drawer, Deakie, loonycat, Reddyfreddy
Vint Cerf - predicted by Croz
Richard Chamberlain – predicted by magwitch
Dominic Chianese - predicted by swl
Kama Chinen - predicted by tzjin_anthony_ks
Jacques Chirac - predicted by Beatrice
Claude Choules - predicted by Icy North, tzjin_anthony_ks
Tom Clancy - predicted by Croz
Roy Clarke OBE - predicted by Emmily
Jeremy Clarkson - predicted by Vip, minichessemouse
Ronald Coase - predicted by pedro
Cheryl Cole (*under 50)- predicted by *loonycat
George Cole - predicted by RadoxTheGreen
Jackie Collins - predicted by Deadangel
Billy Connoly - predicted by minichessemouse
Liam Cosgrave - predicted by Beatrice
Fearne Cotton - predicted by minichessemouse
Nicholas Courtney - predicted by van-smeiter
David Croft - predicted by Icy North

Graham Crowden - predicted by Emmily

Tony Curtis - predicted by Emmily, MazinMadFiddler, Mu Beta
D
Clair Danes - predicted by Deadangel
Ram Dass (Richard Alpert) - predicted by The Groob
Doris Day - predicted by Emmily
Liz Dawn – actress - predicted by Orcus, coelacanth, loonycat
John Demjanjuk - predicted by Orcus, C Hawke
Judy Dench - predicted by minichessemouse
Oleg Deripaska (*under 50) - predicted by The Groob
Dowager Duchess of Devonshire - predicted by van-smeiter
Colin Dexter - predicted by Emmily
Alfredo Di Stefano - predicted by van-smeiter
Ken Dodd - predicted by RadoxTheGreen
Pete Doherty (*under 50) – predicted by *MazinMadFiddler, *Mol, the_jon_m
Basil D'olivera - predicted by Beatrice
Antoine Dominique "Fats" Domino - predicted by Beatrice, Mu Beta, Deadangel
Val Doonican - predicted by Demon Drawer
Kirk Douglas – predicted by MazinMadFiddler, swl, tzjin_anthony_ks, Demon Drawer, pedro, Deakie
William Duell - predicted by The Groob
Deanna Durbin - predicted by Dai the Death
Dick van Dyke – predicted by magwitch, Deakie
Bob Dylan - predicted by TRiG
E

Blake Edwards - predicted by Orcus, Demon Drawer
F
Marianne Faithful – predicted by Galaxy Babe
Peter Falk – predicted by magwitch, Orcus
Garret FirzGerald - predicted by TRiG
Tom Finney - predicted by van-smeiter

Michael Foot – predicted by magwitch, swl, Dai the Death, C Hawke, loonycat
Betty Ford - predicted by tzjin_anthony_ks, pedro, Deakie

John Forsythe - predicted by Dai the Death, Deakie
Michael J Fox (*under 50) – predicted by MazinMadFiddler, tzjin_anthony_ks, *the_jon_m
Stephen Fry - predicted by Vip
G
Zsa Zsa Gabor – predicted by magwitch, Nother, tzjin_anthony_ks
Michael Gambon - predicted by Vip
James Garner - predicted by Beatrice
Benito Garrozzo - predicted by Mu Beta
Paul Gascoigne (*under 50) - predicted by *Beatrice, *Reddyfreddy
Bill Gates - predicted by TRiG
Murray Gell-Mann - predicted by pedro
Mel Gibson - predicted by the_jon_m

Miep Gies - predicted by The Groob
Yousaf Raza Gillani - predicted by Deadangel
Martin D Ginsburg - predicted by Icy North
Ruth Bader Ginsburg - predicted by Icy North
Len Goodman – predicted by Galaxy Babe
Berry Gordy - predicted by Nother
Billy Graham - predicted by tzjin_anthony_ks, RadoxTheGreen, Demon Drawer, Mu Beta
Rob Grant - predicted by Deadangel
Juliette Gréco – predicted by toybox
John Grimes (*under 50)- predicted by *TRiG
Alexander Grothendieck – predicted by toybox
H
Larry Hagman – predicted by MazinMadFiddler, loonycat
Johnny Hallyday – predicted by toybox, Demon Drawer
Peter F Hamilton - predicted by Deadangel
Richard Hammond - predicted by Vip, the_jon_m
Rolf Harris - predicted by Mol
John Hartson (*under 50)- predicted by *swl, *Icy North, *van-smeiter
Sheikh Hasina - predicted by Deadangel
David Hasselhoff – predicted by Galaxy Babe
Vaclav Havel - predicted by Beatrice
Joao Havelange - predicted by van-smeiter
Olivia de Havilland – predicted by Galaxy Babe, coelacanth, loonycat
Professor Stephen Hawking – predicted by MazinMadFiddler
Michael Heseltine - predicted by loonycat
Antony Hewish - predicted by The Groob
Paul David Hewson - predicted by TRiG

Alex 'Hurricane' Higgins - predicted by Nother
Mary Higgins Clark - predicted by Emmily
Robert Hirsch – predicted by toybox
Katie Holmes (*under 50) - predicted by *Croz

Dennis Hopper – predicted by Galaxy Babe, Icy North, Mu Beta
Russell Howard (*under 50) - predicted by minichessemouse
Chris Hoy - predicted by minichessemouse
Roy Hudd - predicted by RadoxTheGreen
John Hume - predicted by Beatrice
I
J
Peter Jackson (*Under 50) - predicted by *Deadangel
Derek Jacobi - predicted by Reddyfreddy
Clifton James - predicted by The Groob
P D James - predicted by Emmily
General Wojciech Jaruzelski – predicted by toybox, Beatrice
Grand Duke Jean of Luxembourg - predicted by Mu Beta, C Hawke

Lionel Jeffries - predicted by Dai the Death
Elton John - predicted by Nother
Holly Johnson – predicted by Galaxy Babe
Kim Jong-il - predicted by C Hawke
Kathryn Joosten - predicted by Icy North
K
Hamid Karzai - predicted by Icy North
Kerry Katona ( *under 50) - predicted by *Dai the Death
Bill Kaulitz (*under 50) – predicted by *toybox
Martin Kemp (*under 50) – predicted by *Galaxy Babe
Kenneth Kendall - predicted by Mol
Ayatollah Ali Khamenei - predicted by C Hawke
Jong Kim ll – predicted by MazinMadFiddler
BB King - predicted by the_jon_m
D King-Smith - predicted by Mol
Henry Kissinger - predicted by Orcus
Jack Klugman - predicted by Croz
Robbie Knievel (*under 50) - predicted by *Demon Drawer
Burt Kwouk - predicted by swl
L
Jake (Giacobbe) LaMotta - predicted by pedro
Tom Laughlin - predicted by swl
Christopher Lee – predicted by MazinMadFiddler, Deakie
Michel Legrand - predicted by coelacanth
Ursula LeGuin – predicted by magwitch
Tom Lehrer - predicted by Mu Beta
Rita Levi-Montalcini - predicted by tzjin_anthony_ks
Howard Lew Lewis - predicted by RadoxTheGreen
William Link – predicted by toybox
Lindsay Lohan (*under 50) - predicted by *Deakie
Herbert Lom - predicted by Dai the Death, coelacanth
Courtney Love (*under 50) - predicted by *C Hawke
William Lucas - predicted by The Groob
Vera Lynn - predicted by Nother, Orcus, loonycat
M
Hugh William Mackay - predicted by swl
Madonna - predicted by Vip, minichessemouse
Nelson Mandela - predicted by Nother
George Martin - predicted by Deakie
Roy Mason - predicted by Beatrice
James May - predicted by Vip
John McCain – predicted by toybox
David McCallum - predicted by Orcus

Kevin McCarthy - predicted by The Groob
Paul McCartney - predicted by TRiG
Roger McGough - predicted by Croz
Patrick McNee - predicted by van-smeiter
Abdel baset Ali al-Megrahi - predicted by swl, Icy North, tzjin_anthony_ks, Reddyfreddy
Jason Mewes (*under 50)- predicted by *Mu Beta
Amy Mickelson - predicted by Icy North
Liza Minnelli - predicted by coelacanth, Deakie
Warren Mitchell - predicted by van-smeiter
Sun Myung Moon- predicted by Demon Drawer
Gordon Moore - predicted by Croz
Patrick Moore - predicted by Nother, Icy North, pedro, coelacanth, Reddyfreddy, minichessemouse
Roger Moore - predicted by Nother, loonycat
Mir-Hossein Mousavi - predicted by Vip
Robert Mugabe - predicted by C Hawke
Pervez Musharraf - predicted by C Hawke
N
Doug Naylor - predicted by Deadangel

Ronald Neame - predicted by The Groob
Jack Nicholson - predicted by Reddyfreddy
Robert Novak - predicted by Beatrice
Ted Nugent – predicted by magwitch
O
Barack Obama (*Under 50) - predicted by *Nother, *Vip, minichessemouse
Boy George (George O'Dowd) - predicted by RadoxTheGreen
Michael O'Leary - predicted by TRiG
Alan Osmond - predicted by Nother
Peter O'Sullevan - predicted by The Groob
Gilbert O'Sullivan – predicted by magwitch
Richard O'Sullivan - predicted by coelacanth
Peter O'Toole - predicted by the_jon_m
P
Ian Paisley (snr) - predicted by C Hawke, Deakie
Nicholas Parsons - predicted by van-smeiter
Bill Pertwee - predicted by Icy North, Mol, van-smeiter
Rosamunde Pilcher - predicted by Emmily
Prince Michael of Kent – predicted by MazinMadFiddler
Prince Philip - predicted by Mol, loonycat, Reddyfreddy
Sidney Poitier - predicted by Mu Beta
Katie Price (Jordan) - predicted by the_jon_m
Q
Queen Elizabeth II - predicted by TRiG, Vip, minichessemouse
R
James Randi – predicted by Galaxy Babe

Claire Rayner - predicted by Orcus
Nancy Reagan – predicted by toybox, Mu Beta, coelacanth, Pedro
Douglas Reeman - predicted by Emmily
Debbie Reynolds - predicted by Orcus
Gary Rhodes - predicted by Deadangel
Keith Richards - predicted by the_jon_m
Robert Robinson - predicted by RadoxTheGreen, van-smeiter
Mickey Rooney - predicted by Orcus
Edmundo Ros - predicted by coelacanth
Marion Ross - predicted by loonycat
Shawn Ryder (*under 50) - predicted by *Orcus
S

JD (Jerome David) Salinger - predicted by Beatrice, Demon Drawer
Peter Sallis – predicted by MazinMadFiddler, van-smeiter
Frederick Sanger - predicted by tzjin_anthony_ks, The Groob
Sir Jimmy Savile - predicted by Mol
Helmut Schmidt – predicted by toybox, Dai the Death, Demon Drawer
Yitzhak Shamir - predicted by pedro
Ravi Shankar – predicted by Galaxy Babe, coelacanth
Ariel Sharon - predicted by swl, Croz, Demon Drawer, pedro, Reddyfreddy, the_jon_m
Norodom Sihanouk ( King-Father of Cambodia) - predicted by C Hawke
Donald Sinden - predicted by Emmily, Dai the Death
Delia Smith - predicted by Deadangel
Liz Smith - - predicted by Orcus, RadoxTheGreen
Suzanne Somers – predicted by Galaxy Babe
Britney Spears (*under 50)- predicted by *Emmily
Phil Spector - predicted by the_jon_m
Bruce Springsteen - predicted by TRiG
Ringo Starr - predicted by Croz
Rod Stewart - predicted by Nother

Gloria Stuart – predicted by Galaxy Babe, tzjin_anthony_ks, The Groob
John Surtees - predicted by Deadangel
Dave Swarbrick – predicted by MazinMadFiddler
Eric Sykes - predicted by the_jon_m
T
Jalal Talabani - predicted by Croz, Reddyfreddy
Charles Taylor - predicted by C Hawke
Elizabeth Taylor - predicted by Nother, Mol, coelacanth, Reddyfreddy
Shaw Taylor - predicted by van-smeiter
Norman Tebbit - predicted by pedro
Shirley Temple - predicted by Nother
Margaret Thatcher – predicted by MazinMadFiddler, magwitch, tzjin_anthony_ks, TRiG, Croz, Mol, C Hawke, pedro, Deakie, Reddyfreddy, minichessemouse, the_jon_m
Daley Thompson - predicted by Deadangel
Frank Thornton - predicted by Emmily, RadoxTheGreen, the_jon_m
Charles Hard Townes – predicted by toybox
Desmond Mpilo Tutu - predicted by TRiG
U
V
Gloria Vanderbilt - predicted by Mu Beta
Peter Vaughn - predicted by Dai the Death
Gore Vidal - predicted by swl
W
Janet Waldo - - predicted by RadoxTheGreen
Eli Wallach – predicted by magwitch
Charlie Watts - predicted by pedro
Sir Andrew Lloyd Webber – predicted by Galaxy Babe, Vip, Deadangel
Adam West - predicted by Croz
Betty White - predicted by Demon Drawer
June Whitfield - predicted by Emmily
Gough Whitlam - predicted by Beatrice
Alan Williams MP - predicted by swl
Robbie Williams - predicted by Vip
Robin Williams - predicted by Croz
Barbara Windsor – predicted by magwitch, Galaxy Babe
Amy Winehouse (*Under 50) – predicted by *magwitch, TRiG
Anna Wing - predicted by The Groob
Michael Winner - predicted by the_jon_m
Major Richard Winters - predicted by van-smeiter
Sir Nicholas Winton - predicted by Orcus

Sir Norman Wisdom – predicted by magwitch, Nother, swl, Dai the Death, Demon Drawer, coelacanth, loonycat
Professor Heinz Wolff - predicted by RadoxTheGreen
X
Y
Adam "MCA" Yauch - predicted by Icy North
Kim Yong Il - predicted by Demon Drawer
Sir Jimmy Young - predicted by Emmily
(Johnnie) Mae Young - predicted by RadoxTheGreen
Z
Franco Zeffirelli - predicted by Deakie
JD Salinger
Gough Whitlam
Elliott Carter
General Jaruzelski
Roy Mason
John Hune
Fats Domino
James Garner
Basil D'olivera
Robert Novak
Liam Cosgrave
Jacques Chirac
Vaclav Havel
Muhammed Ali
Paul Gascoigne (*under 50)

Allan Arbus
Ronald Biggs
Liz Dawn
Olivia De Havilland
Michel Legrand
Herbert Lom
Liza Minnelli
Patrick Moore
Richard O'Sullivan
Nancy Reagan
Edmundo Ros
Ravi Shankar
Elizabeth Taylor
Sir Norman Wisdom
Caroline Aherne (*under 50)

Ariel Sharon
Fidel Castro
Margaret Thatcher
Jalal Talabani
Jack Klugman
Adam West
Robin Williams
Tom Clancy
Roger McGough
Quentin Blake
Vint Cerf
Gordon Moore
Tim Berners-Lee
Ringo Starr
Katie Holmes (*under 50)

Ronnie Biggs
Robert Mugabe
Michael Foot
Ayatollah Ali Khamenei
Grand Duke Jean of Luxembourg
Pervez Musharraf
Charles Taylor
Baroness Thatcher
Fidel Castro
Bhumibol Adulyadej
Ian Paisley (snr)
Kim Jong-il
Norodom Sihanouk
John Demjanjuk
Courtney Love (*under 50)

Michael Foot
Donald Sinden
Lionel Jeffries
Ray Bradbury
Deanna Durbin
Herbert Lom
Helmut Schmidt
John Forsythe
Ernest Borgnine
Peter Vaughn
Richard Attenborough
David Attenborough
Sir Norman Wisdom
Stanley Baxter
Kerry Katona ( *under 50)

Jim Carrey
Jackie Collins
Clair Danes
Antoine Dominique
Yousaf Raza Gillani
Rob Grant
Peter F Hamilton
Sheikh Hasina
Sir Andrew Lloyd Webber
Doug Naylor
Gary Rhodes
Delia Smith
John Surtees
Daley Thompson
Peter Jackson (*under 50)

Christopher Lee
George Martin
Richard Attenborough
Sir David Attenborough
Franco Zeffirelli
Kirk Douglas
Margaret Thatcher
Ronnie Biggs
Dick Van Dyke
Rev Ian Paisley
Liza Minnelli
John Forsythe
Betty Ford
Fidel Castro
Lindsay Lohan (*under 50)

Jerome David Salinger
Fidel Castro
Helmut Schmidt
Sun Myung Moon
Sid Caesar
Betty White
Johnny Hallyday
Val Doonican
Blake Edwards
Kirk Douglas
Billy Graham
Sir Norman Wisdom
Kim Yong Il
Ariel Sharon
Robbie Knievel (*under 50)

Graham Crowden
Mary Higgins Clark
Sir Jimmy Young
June Whitfield
Frank Thornton
Tony Curtis
Doris day
Rosamunde Pilcher
Douglas Reeman
Roy Clarke OBE
Geoffrey Bayldon
Sir Donald Sinden CBE
Colin Dexter
P D James
Britney Spears(*under 50)

Brigitte Bardot
Dirk Benedict
Marianne Faithful
Len Goodman
David Hasselhoff
Olivia de Havilland
Dennis Hopper
Holly Johnson
James Randi
Ravi Shankar
Suzanne Somers
Gloria Stuart
Andrew Lloyd Webber
Barbara Windsor
Martin Kemp (*under 50)

Seve Ballesteros
Ronald Biggs
Claude Choules
Martin D Ginsburg
Ruth Bader Ginsburg
Dennis Hopper
Kathryn Joosten
Hamid Karzai
Abdel Baset al
Amy Mickelson
Patrick Moore
Bill Pertwee
David Croft
Adam "MCA" Yauch
John Hartson (*under 50)

Prince Phillip
Vera Lynn
Sir Norman Wisdom
Fidel Castro
Michael Heseltine
Seve Ballesteros
Michael Foot
Marion Ross
Roger Moore
Larry Hagman
Chuck Berry
Olivia de Havilland
Liz Dawn
Sir Richard Attenborough
Cheryl Cole (*under 50)

Ted Nugent
Ursula LeGuin
Neil Armstrong
Richard Chamberlain
Margaret Thatcher
Richard Attenborough
Sir Norman Wisdom
Dick van Dyke
Michael Foot
Eli Wallach
Zsa Zsa Gabor
Peter Falk
Gilbert O'Sullivan
Barbara Windsor
Amy Winehouse (*under 50)

Margaret Thatcher
Kirk Douglas
Larry Hagman
Fidel Castro
Jong Kim Il
Christopher Lee
Muhammed Ali
Prince Michael of Kent
Sir Richard Attenborough
Dave Swarbrick
Michael J Fox
Professor Stephen Hawking
Tony Curtis
Peter Sallis
Pete Doherty (*under 50)

HRH the Queen Elizabeth the II
Billy Connoly
Margret Thatcher
Barack Obama
Judy Dench
Patrick Moore
Susan Boyle
Jeremy Clarkson
George W Bush
Madonna
Chris Hoy
Russel Brand
Jackie Bird
Fearne Cotton
Russell Howard (*under 50)

Tom Baker
Michael Barrymore
Alan Bennett
Elisabeth Beresford
Barbara Bush
Rolf Harris
Shirley Bassey
D King-Smith
Bill Pertwee
Prince Philip
Sir Jimmy Savile
Elizabeth Taylor
Margaret Thatcher
Kenneth Kendall
Pete Doherty (*under 50)

Burt Bacharach
Roger Bannister
Tony Bennett
Senator Robert Byrd
Tony Curtis
Fats Domino
Benito Garrozzo
Billy Graham
Dennis Hopper
Grand Duke Jean of Luxembourg
Tom Lehrer
Sidney Poitier
Nancy Reagan
Gloria Vanderbilt
Jason Mewes (*under 50)

Neil Armstrong
Zsa Zsa Gabor
Berry Gordy
Alex Higgins
Elton John
Vera Lynn
Nelson Mandela
Patrick Moore
Roger Moore
Alan Osmond
Rod Stewart
Elizabeth Taylor
Shirley Temple
Sir Norman Wisdom
Barack Obama (*under 50)

John Demjanjuk
Sir Nicholas Winton
Peter Falk
Mickey Rooney
Debbie Reynolds
Henry Kissinger
Woody Allen
Liz Smith
David McCallum
Liz Dawn
Blake Edwards
Claire Rayner
Vera Lynn
Stanley Baxter
Shawn Ryder (*under 50)

Ernest Borgnine
Norman Tebbit
Yitzhak Shamir
Betty Ford
Ronald Coase
Nancy Reagan
Margaret Thatcher
Kirk Douglas
Patrick Moore
Murray Gell-Mann
Jake La Motta
Ariel Sharon
Charlie Watts
Frank Bruno (*under 50)

Mahmoud Ahmadinejad
Robert Robinson
(Johnnie) Mae Young
George Cole
Professor Heinz Wolff
Mick Aston
Janet Waldo
Honor Blackman
Howard Lew Lewis
Roy Hudd
Billy Graham
Liz Smith
Ken Dodd
Frank Thornton
Boy George (George O'Dowd) (*under 50)

Derek Jacobi
Jack Nicholson
Elizabeth Taylor
Abdelbaset Ali Mohmed Al Megrahi
Ronnie Biggs
Fidel Castro
Margaret Thatcher
Ariel Sharon
Bhumibol Adulyadej
Walter Breuning
Patrick Moore
Philip Mountbatten-Windsor
Jalal Talabani
Seve Ballesteros
Paul Gascoigne (*under 50 )

Ariel Sharon
Fidel Castro
Alan Williams MP
Sir Norman Wisdom
Hugh William Mackay
Michael Foot
Tom Laughlin
Kirk Douglas
Burt Kwouk
Abdel baset Ali al-Megrahi
Ronnie Biggs
Gore Vidal
Dominic Chianese
John Hartson (*under 50)

William Duell
Clifton James
Peter Carington
Ram Dass (Richard Alpert)
William Lucas
Kevin McCarthy
Antony Hewish
Miep Gies
Anna Wing
Frederick Sanger
Peter O'Sullevan
Ronald Neame
Aaron T Beck
Gloria Stuart
Oleg Deripaska (*under 50)

Ariel Sharon
Maggie Thatcher
Pete Docherty
Keith Richards
BB King
Peter O' Toole
Eric Sykes
Mahmoud Ahmadinejad
Phil Spector
Mel Gibson
Frank Thornton
Michael Winner
Katie Price Aka Jordan
Richard Hammond
Michael J Fox (*under 50)

Buzz Aldrin
Pope Benedict XVI
Ray Bradbury
Pierre Cardin
Johnny Hallyday
Juliette Gréco
Alexander Grothendieck
Robert Hirsch
Wojciech Jaruzelski
William Link
John McCain
Nancy Reagan
Helmut Schmidt
Charles Hard Townes
Bill Kaulitz (*under 50)

Elizabeth Windsor
George H. W. Bush (snr)
Margaret Thatcher
Bruce Springsteen
Paul David Hewson
Garret FirzGerald
Michael O'Leary
Paul McCartney
Bill Gates
Bob Dylan
Tony Blair
Fidel Castro
Amy Winehouse
Desmond Mpilo Tutu
John Grimes (*under 50)

Kama Chinen
Walter Breuning
Abdelbaset Ali Mohmed Al Megrahi
Vasily Aleksanyan
Betty Ford
Margaret Thatcher
Frederick Sanger
Claude Stanley Choules
Fidel Castro
Billy Graham
Zsa Zsa Gabor
Kirk Douglas
Gloria Stuart
Rita Levi-Montalcini
Michael J. Fox (*under 50)

June Brown
Nicholas Courtney
Dowager Duchess of Devonshire
Tom Finney
Joao Havelange
Patrick McNee
Warren Mitchell
Nicholas Parsons
Bill Pertwee
Robert Robinson
Peter Sallis
Alfredo Di Stefano
Shaw Taylor
Major Richard Winters
John Hartson (*under 50)

Pope Benedict XVI
Stephen Fry
Queen Elizabeth II
Andrew Lloyd Webber
Robbie Williams
Madonna
Julie Andrews
Michael Gambon
Rowan Atkinson
Mir-Hossein Mousavi
Jeremy Clarkson
James May
Richard Hammond
Barack Obama (*under 50)