Talking Point: Write Your Own Obituary
Created | Updated Sep 10, 2002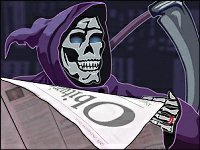 There are few certainties in life, but you can always be certain of one thing - it's not going to last forever and the Grim Reaper will come calling for you1. However, not many of us will have the chance to hear and read what will be said about us. Mark Twain was in London when he read of his death in the New York Journal. He cabled the Editor the now infamous line 'The report of my death was an exaggeration'2. Here on h2g2, we are going to give you the opportunity to write your own obituary. After all who knows what they will write about you? The dead can't sue!
So how do you want to be remembered? What do you want to achieve with your remaining allotted time? What have you achieved so far? Do you want to be remembered as the winner of the world's largest lottery jackpot? The most beautiful person to have graced the red carpet of the Academy Awards? A Booker winning author or top international footballer? Some one loved and missed by family and friends? Make it truthful or aspirational, funny or serious. Here is your chance to determine how you will be remembered. Get writing!
A568721
1Many thanks to Amy the Ant for bringing Death to life in picture form!
2This is normally misquoted as 'Reports of my death have been greatly exaggerated'.