h2g2 Post 09.10.2000
Created | Updated Jun 22, 2003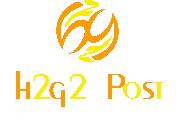 Posted: 9th October 2000

Welcome to this edition of the Post. The reports on the Dutch Meet, which took place last weekend, are now in! Read all about the fun and games and marvel at the photographs. To complement the Dutch theme, Pseudemys takes us to the Venlow Carnaval... yes, that's how it is spelt in Dutch! If a Meet sounds like a good idea, why not find out about other proposed venues by visiting The Announcements or the h2g2 Community Events Page?
Wowbagger muses on the effects of The Olympics in this week's h2g2Life, Tweetie reviews 'Three Kings' and Pastey lets off some more steam in the Vented Spleen
Redbeard, Fragilis and Greebo T Cat are all away this week, but should return for the next edition.
Positive Feedback is back with another poem, this time on a much more serious subject. Check out the h2g2 Poem, and please feel free to comment.
Any copy, articles, suggestions should be sent to The Editor. Please use this same address if you are interested in volunteering to become a regular contributor.
h2g2 Life




The cartoon series with style!

How was it for you?

The h2g2 Poem



This Week: Has Democracy won the day in the former Yugoslavia?