The Dutch Meet
Created | Updated Feb 24, 2003
A Good Time Had By All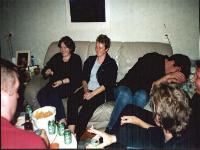 The event kicked off with the arrival of Mark, Peta and Abi at Schiphol Airport, Amsterdam. They were met by Kheldar and Arutha and introduced to the delights of double-decker trains.
We tried to abandon the Towers Trio at the Avifauna Hotel, thinking that they might need a few hours to recover from their journey, but they unanimously decided to plunge straight in! So, within a short while they arrived at TM and Shazz's place to start the Meet proper.
After the introduction to the '3 kisses' greeting usual in Holland, TM had to go to Schiphol, this time to pick up Ormondroyd, who had been subjected to a few hours delay in Bradford and was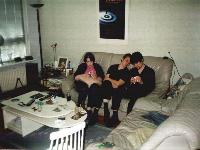 arriving later then scheduled. While he was away, the rest of us got down the the business of the day, a quick check on fun stuff on the web and then crack open the beer! By the time Ormy and TM returned we had been joined by Don Vito and Arutha again
The afternoon turned to the evening, and we were still sitting at home. Snacks were the order of the day; we must remember to feed everyone better next time! Mark, Peta and Abi found Shazz's collection of puzzles, well some of them anyway, and seemed to be fiddling with them for ages!
Finally we all took a brisk...ish... walk to Het Kasteel, and introduced the visitors to the delights of 'rondjes', the happy idea of purchasing 10 drinks and receiving 11! The Dutch members of the meet had cunningly saved a 'Moxon' from the previous Meet in London, printed out lots of new ones and had managed to instigate them as legal currency for the night.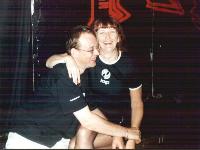 Kheldar then thought that it was time to make the announcement that TM had requested him to make earlier in the week. First he formally welcomed our guests, then said a few words about the assembled Dutch h2g2ers and, finally, informed everyone that TM had proposed to Shazz and been accepted. He went into detail as to how the happy event had happened on Shazz's birthday whilst most of the Dutch were at the Lowlands Festival, and described in detail the appearance of both TM and Shazz the next morningI am not entirely sure if I've forgiven him yet!
This, of course, led to a probably far too extended drinking bout than was good for any of us, as the celebrations extended well into the early hours! (I think!) LOL. Anyway, we managed to order taxis, or amble home. Ormy had a close encounter with the local water... he managed, just, not to fall in!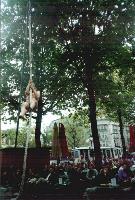 The next day dawned and , after a few problems getting everyone awake and assembled, and a few cups of strong coffee, the intrepid researchers and guests took the fairly slow bus to Amsterdam. At least we all saw plenty of flat countryside. We arrived in Amsterdam and thought it a good idea to have a late lunch in a convenient pub. Little did we expect a nearly naked man to start climbing a rope right outside! How he actually kept his one very small piece of clothing on with which to hide his decency is anyone's guess, as that, in itself, seemed to defy gravity!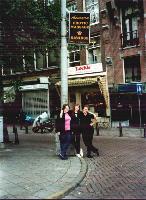 After finishing the repast and meeting up again with Kheldar and Arutha, who had opted for the Burger King around the corner, we took
a leisurely stroll towards the 'Red Light District' of Amsterdam.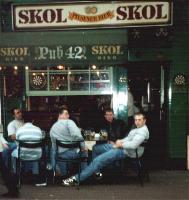 Along the way, we discovered an interesting sign
and couldn't resist posing for a picture (the girls in the party that is!)
We also found Pub which we were all sure that DNA must be aware of!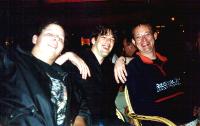 After wending our way through the aforementioned Red Light District, during which excursion we were subject to numerous offers,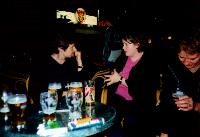 none of which should really be mentioned in this narrative, although I will say that the girls had probably heard it all before and didn't
believe it then either, and that our accompanying men were classed as bodyguards we eventually found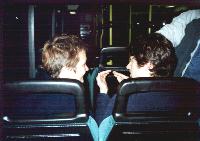 ourselves back where we started! Here, I must admit, we continued drinking, although some very serious discussion about h2g2 ensued, slightly dampened by Peta either falling asleep in her beer or discovering a foreign body, both of which are very valid excuses!
We journeyed home on another bus, probably not a good idea after such a good night! We took a brief detour to Kwatro, a bar in Alphen, but we were all pretty tired and needed some sleep; yet again the Dutch contingency failed to feed their visitors!
So... that was the Dutch Meet! All who partook thoroughly enjoyed themselves and we are all certainly looking forward to the next one!
If you really feel the urge, more photographs can be found Here!