h2g2 Post 14.08.2000
Created | Updated Jun 21, 2003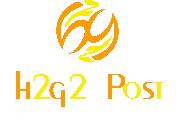 Posted: 14th August 2000

This week: Pseudemys takes us on a boat, Swiv takes us on another Safari, and Down My Lane ends his Cambodian Oddessy.
There is a fuller account of the 'ScotMeet 2000', and hot news, in the announcements section, of the planned Dutch meet in September.
The Virtual Prez of h2g2 newsletter gives important information about voting. Please remember that this is all just fun, and not in any way a reflection of the real one!

It is also rumoured that fresh light is to be shed on a previous occurance. Watch the Post for details.
Baldrick is still working on a HUGE guide to the London Underground which is both informative and amusing. Please do pop along and add your comments or anecdotes to this very considerable undertaking.
The annual Perseids display has now been and gone... we hope to have a full report for you in next weeks' edition
Any copy, articles, suggestions should be sent to The Editor. Please use this same address if you are interested in volunteering to become a regular contributor.
Cambodia



This week: A Double Feature to finish the series.

Part 1: Money, The Internet and Restaurants.