A little bit about me...
About Me...
I am tired of trying to figure out what to say about me. So... if you want to know something... ASK!!
Keepers
I am the Keeper of Blue Skies, Fluffy Clouds and Falling Objects.
And once you have tasted flight ,you will walk the earth with your eyes turned skywards...... For there you have been and there you long to return... - Unknown
If you want to be a Keeper, visit the Keepers page run by Galaxy Babe, who is the Keeper of Keepers.
Fish Adoption Scheme (F.A.S)
Meet Fsssssh, my pet fish adopted from the fish adoption scheme.
Fsssssh is a confused fish, he can only swim backwards!
Want to adopt a fish of your own? Visit Tummyfish'sFish Adoption Scheme.
The Alabaster House
As elected President of H2G2, Peregrin is setting up a cabinet at The Alabaster House.

I have been appointed as the Ambassador to Nowhere. After a long search Nowhere was eventually found somewhere and has recently been renamed 'The Land of Peace'.
The Land of Peace
Originally called The Land of Nowhere, The Land of Peace is a wonderful place to relax, read a book, plant some tree's or just do whatever it is you enjoy doing.
Infinity created Nowhere to satisfy her daughter's1 frustration in looking for Nowhere.
Since it's creation, Inkwash has built a treehouse2, the garden is growing slowly but surely, and an abundance of Frogs can always be found in and around the pond.
Myth of 42
Can you get your User number to equal the magical 42? Go to The Myth of 42. If you can't get it to work, Argon will be sure to help.
U163732 - 1+(6*3)+(7*3)+2 = 42

Favourite songs of all time
A local South African radio station in Johannesburg, South Africa recently held a TOP 1000 song survey. This made me wonder what the H2G2 favourite song would be, so...
...come to Favourite songs of all time and vote for your 3 favourite songs.
A Masterpiece by JAVAM!
One day on my travels aroung H2G2, I came across a very interesting looking page which turned out to be the personal space of a researcher by the name of JAVAM
JAVAM is rather fond of tables,3 amongst other things. So JAVAM designs wonderful works of art which you can commission if you so choose.
This is the beauty he designed especially for me to liven up my page.
Need some help...
or just someone friendly to chat with? The Aces are always ready and willing.
If I'm Not In
Here are other Aces,
who are willing to help you
Some Great People...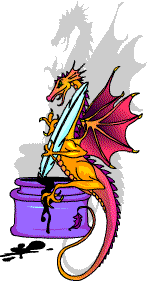 ...that have not yet been mentioned.
agent002
The Unmentionable Marauding Pillowcase
Shazz
Titania
Sad, Mad or Bad
Links for you, Links for me
The House of Relaxation
H2G2 Freeform Fantasy Roleplay
GuideML Clinic
Smileys
Picture Library
H2G2 Post
Subscriptions
Title
Status

Created

This user has no Entry subscriptions
Entries
Most Recent Edited Entries
Entries
Disclaimer
h2g2 is created by h2g2's users, who are members of the public. The views expressed are theirs and unless specifically stated are not those of Not Panicking Ltd. If you consider any Entry to be in breach of the site's House Rules, please register a complaint. For any other comments, please visit the Feedback page.
"The Hitchhiker's Guide to the Galaxy is a wholly remarkable book. It has been compiled and recompiled many times and under many different editorships. It contains contributions from countless numbers of travellers and researchers."
Friends
Eternity (Ace) has no Friends
Followers
Eternity (Ace) has no Followers
Bookmarks
This user has no Bookmarks