Deathlist 2017 Home Page
Created | Updated Dec 29, 2017
Disclaimer - This list is not officially h2g2-endorsed
If you're easily offended, or of a sensitive nature, please click here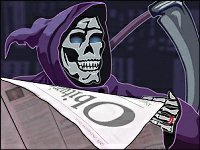 This is the home page for the '2017 Deathlist' game (convo thread) which is run by Icy North. The game was created by Mu Beta, and has previously been run by Galaxy Babe
The following list of rules are for the Deathlist 2017 game.
Rules of Play
Choose 15 celebrities who you believe may die in the calendar year 2017.
Number 15 on your list must be aged under 50 in 2017 (born after 1967).
Email your list, with your h2g2 user name and U-number in the title, to icyUNDERSCOREnorthAThotmailDOTcom replacing the capital letters with your best guess.
You will be awarded 10 points per correct prediction. If your prediction is unique, then you receive 15 points.
You will be awarded 5 bonus points by a death caused 'not by natural causes', in other words a suicide, murder or accident.
You will be awarded 5 bonus points for a celebrity who dies on the 13th of the month. 10 bonus points if it's Friday the 13th.
Assuming you have followed Rule 2 correctly, then you will be awarded double points for the correctly-predicted demise of Number 15 on your list (all bonus points are also doubled). Only Number 15 is eligible for this bonus, no matter how many under-50s are on your list.
The definition of 'celebrity' is someone well-known enough to have their death reported on the websites of BBC News or any of the British broadsheets. Other international quality broadsheets (e.g. The New York Times) will be considered, but the Organiser's decision will be final. No report; no points.
Any complaints about the poor taste of this game should be addressed to Mu Beta. He started it!
There are 12 players who have chosen a total of 147 celebrities or notable people
The Top Picks
Kirk Douglas and Prince Philip are each on the lists of 5 players
Bashar al_Assad, Olivia de Havilland, Stan Lee and Donald Trump are each on the lists of 3 players
Player's names and scores can be found on the Scoreboard
A
Buzz Aldrin - predicted by Galaxy Babe
Michael Aspel - predicted by Galaxy Babe
Bashar al-Assad - predicted by TC, Just Bob, the_jon_m
Diana Athill - predicted by coelacanth
David Attenborough - predicted by MMF
B
Joan Baez - predicted by the_jon_m
Abu Bakr al-Baghdadi - predicted by logicus tracticus philosophicus
Tom Baker - predicted by Mol
Roger Bannister - predicted by Galaxy Babe
Michael Barrymore - predicted by Mol
Shirley Bassey - predicted by Mol
Geoffrey Bayldon - predicted by The Groob
Harry Belafonte - predicted by Galaxy Babe
Alan Bennett - predicted by Mol, Pink Paisley
Tony Bennett - predicted by paulh
Liliane Bettencourt - predicted by coelacanth
Justin Bieber - predicted by Pink Paisley
Honor Blackman - predicted by MMF
Brian Blessed - predicted by the_jon_m
James Bolam - predicted by Pink Paisley
Ian Brady - predicted by Galaxy Babe, Just Bob
Frank Bruno - predicted by the_jon_m
Barbara Bush - predicted by Mol
George H W Bush - predicted by Bluebottle, logicus tracticus philosophicus
C
Glen Campbell - predicted by Galaxy Babe, paulh
Pierre Cardin - predicted by The Groob
Lord (Peter) Carrington - predicted by logicus tracticus philosophicus
Jimmy Carter - predicted by paulh, the_jon_m
Chubby Checker - predicted by logicus tracticus philosophicus
Dick Cheney - predicted by Just Bob
Hilary Clinton - predicted by the_jon_m
Christopher Coke - predicted by Just Bob
Michael Collins (astronaut) - predicted by The Groob
Sean Connery - predicted by Mol
George A Cooper - predicted by The Groob
Jilly Cooper - predicted by Mol
Bill Cosby - predicted by logicus tracticus philosophicus, TC
Joey Cramer - predicted by The Groob
Macaulay Culkin - predicted by TC
D
Roger Daltrey - predicted by Bluebottle
Liz Dawn - predicted by coelacanth
Doris Day - predicted by Bluebottle
Olivia de Havilland - predicted by coelacanth, paulh, Just Bob
Catherine Deneuve - predicted by TC
Janice Dickinson - predicted by coelacanth
Tommy Docherty - predicted by The Groob
Pete Doherty - predicted by Mol
Bob Dole - predicted by Just Bob
Jason Donovan - predicted by Bluebottle
Kirk Douglas - predicted by Bluebottle, logicus tracticus philosophicus, MMF, paulh, Just Bob
Michael Douglas - predicted by MMF
E
Clint Eastwood - predicted by Mol, paulh
Queen Elizabeth II - predicted by logicus tracticus philosophicus, the_jon_m
F
Trader Faulkner - predicted by The Groob
Leonard Fenton - predicted by coelacanth
Harrison Ford - predicted by Bluebottle
Bruce Forsyth - predicted by Pink Paisley, TC
Jane Freeman - predicted by The Groob
G
Sandy Gall - predicted by The Groob
Lewis Gilbert - predicted by coelacanth
Norman Gimbel - predicted by The Groob
Valery Giscard d'Estang - predicted by Pink Paisley
William Gladstone - predicted by coelacanth
Gary Glitter - predicted by Bluebottle
Mikhail Gorbachev - predicted by TC
Billy Graham - predicted by Bluebottle, logicus tracticus philosophicus
Robert Guillaume - predicted by The Groob
H
Valerie Harper - predicted by paulh
Rolf Harris - predicted by Mol
Wee Willie Harris - predicted by Pink Paisley
Stephen Hawking - predicted by MMF, paulh
Tippi Hedren - predicted by coelacanth
Hugh Hefner - predicted by The Groob
David Hockney - predicted by Pink Paisley
Hal Holbrook - predicted by paulh
Kate Humble - predicted by the_jon_m
John Hurt - predicted by Just Bob
I
Ray Illingworth - predicted by Pink Paisley
J
Clive James - predicted by Galaxy Babe
Glynis Johns - predicted by coelacanth
Angelina Jolie - predicted by paulh
K
Anna Karen - predicted by Pink Paisley
Gerald Kaufman - predicted by the_jon_m
Jean Kennedy Smith - predicted by paulh
Prince Michael of Kent - predicted by MMF
Helmut Kohl - predicted by TC
Larry Kramer - predicted by Galaxy Babe
L
Jake LaMotta - predicted by Just Bob
Angela Lansbury - predicted by Mol, paulh
Ian Lavender - predicted by the_jon_m
Nigel Lawson - predicted by MMF, logicus tracticus philosophicus
Stan Lee - predicted by logicus tracticus philosophicus, paulh, Just Bob
Bradley Lowery - predicted by MMF
Vera Lynn - predicted by Bluebottle, Just Bob
M
Shirley MacLaine - predicted by Mol
Andrew Marr - predicted by MMF
David McCullum - predicted by MMF
Ian McKellen - predicted by TC
Liza Minnelli - predicted by Pink Paisley
Hayao Miyazaki - predicted by Just Bob
Emma Morano - predicted by Bluebottle
Stirling Moss - predicted by the_jon_m
Rupert Murdoch - predicted by Mol
Jonathan Rhys Meyers - predicted by coelacanth
N
Willie Nelson - predicted by Pink Paisley
John Noakes - predicted by Galaxy Babe
O
P
Nicholas Parsons - predicted by TC
Pele - predicted by TC
Prince Philip - predicted by Bluebottle, logicus tracticus philosophicus, Mol, TC, the_jon_m
Leslie Phillips - predicted by Just Bob
Christopher Plummer - predicted by logicus tracticus philosophicus
Sidney Poitier - predicted by Galaxy Babe
Roman Polanski - predicted by TC, Just Bob
Brunhilde Pomsel - predicted by coelacanth
Q
R
James Randi - predicted by The Groob
Carl Reiner - predicted by Mol
Burt Reynolds - predicted by Galaxy Babe
Keith Richards - predicted by MMF
Linda Ronstadt - predicted by Galaxy Babe
S
Eva Marie Saint - predicted by paulh
Prunella Scales - predicted by Galaxy Babe
Michael Schumacher - predicted by Bluebottle, TC
William Shatner - predicted by TC
Jack Smethurst - predicted by Pink Paisley
Maggie Smith - predicted by MMF
Walter Smith - predicted by Pink Paisley
Jackie Stallone - predicted by The Groob
Nobby Stiles - predicted by logicus tracticus philosophicus
T
Norman Tebbit - predicted by Pink Paisley
Rip Torn - predicted by coelacanth
Bill Treacher - predicted by coelacanth
Donald Trump - predicted by Bluebottle, Galaxy Babe, the_jon_m
John Turner - predicted by Pink Paisley
Desmond Tutu - predicted by Just Bob
U
V
Joost Van Der Westhuizen - predicted by MMF
Dick Van Dyke - predicted by Bluebottle, logicus tracticus philosophicus
W
Charlie Watts - predicted by TC
Kanye West - predicted by the_jon_m
Betty White - predicted by paulh
Marco Pierre White Jr. - predicted by Galaxy Babe
June Whitfield - predicted by MMF
Frank Williams (actor) - predicted by the_jon_m
Brian Wilson - predicted by coelacanth
Frank Windsor - predicted by The Groob
Joanne Woodward - predicted by logicus tracticus philosophicus
Herman Wouk - predicted by MMF
XYZ
George H W Bush
Roger Daltrey
Doris Day
Kirk Douglas
Carrie Fisher (d. 2016)
Harrison Ford
Gary Glitter
Billy Graham
Vera Lynn
Emma Morano
Prince Philip
Michael Schumacher
Donald Trump
Dick Van Dyke
Jason Donovan (*under 50)

Diana Athill
Liliane Bettencourt
Liz Dawn
Janice Dickinson
Leonard Fenton
Lewis Gilbert
William Gladstone
Olivia de Havilland
Tippi Hedren
Glynis Johns
Brunhilde Pomsel
Rip Torn
Bill Treacher
Brian Wilson
Jonathan Rhys Meyers (*under 50)

Buzz Aldrin
Michael Aspel
Roger Bannister
Harry Belafonte
Ian Brady
Glen Campbell
Clive James
Larry Kramer
John Noakes
Sidney Poitier
Burt Reynolds
Linda Ronstadt
Prunella Scales
Donald Trump
Marco Pierre White Jr. (*under 50)

Bashar al-Assad
Ian Brady
Dick Cheney
Olivia de Havilland
Bob Dole
Kirk Douglas
John Hurt
Jake LaMotta
Stan Lee
Vera Lynn
Hayao Miyazaki
Leslie Phillips
Roman Polanski
Desmond Tutu
Christopher Coke (*under 50)

logicus tracticus philosophicus

George H W Bush
Lord (Peter) Carrington
Chubby Checker
Bill Cosby
Kirk Douglas
Queen Elizabeth II
Billy Graham
Nigel Lawson
Stan Lee
Prince Philip
Christopher Plummer
Nobby Stiles
Dick Van Dyke
Joanne Woodward
Abu Bakr al-Baghdadi (*under 50)

David Attenborough
Honor Blackman
Kirk Douglas
Michael Douglas
Stephen Hawking
Prince Michael of Kent
Nigel Lawson
Andrew Marr
David McCullum
Keith Richards
Maggie Smith
Joost Van Der Westhuizen
June Whitfield
Herman Wouk
Bradley Lowery (*under 50)

Tom Baker
Michael Barrymore
Shirley Bassey
Alan Bennett
Barbara Bush
Sean Connery
Jilly Cooper
Clint Eastwood
Rolf Harris
Angela Lansbury
Shirley MacLaine
Rupert Murdoch
Prince Philip
Carl Reiner
Pete Doherty (*under 50)

Tony Bennett
Glen Campbell
Jimmy Carter
Olivia de Havilland
Kirk Douglas
Clint Eastwood
Valerie Harper
Stephen Hawking
Hal Holbrook
Jean Kennedy Smith
Angela Lansbury
Stan Lee
Eva Marie Saint
Betty White
Angelina Jolie (*under 50)

Alan Bennett
James Bolam
Bruce Forsyth
Valery Giscard d'Estang
Wee Willie Harris
David Hockney
Ray Illingworth
Anna Karen
Liza Minnelli
Willie Nelson
Jack Smethurst
Walter Smith
Norman Tebbit
John Turner
Justin Bieber (*under 50)

Bashar al-Assad
Bill Cosby
Catherine Deneuve
Bruce Forsyth
Mikhail Gorbachev
Helmut Kohl
Ian McKellen
Nicholas Parsons
Pele
Prince Philip
Roman Polanski
Michael Schumacher
William Shatner
Charlie Watts
Macaulay Culkin (*under 50)

Geoffrey Bayldon
Pierre Cardin
Michael Collins
George A Cooper
Tommy Docherty
Trader Faulkner
Jane Freeman
Sandy Gall
Norman Gimbel
Robert Guillaume
Hugh Hefner
James Randi
Jackie Stallone
Frank Windsor
Joey Cramer (*under 50)

Bashar al-Assad
Joan Baez
Brian Blessed
Frank Bruno
Jimmy Carter
Hilary Clinton
Queen Elizabeth II
Kate Humble
Gerald Kaufman
Ian Lavender
Stirling Moss
Prince Philip
Donald Trump
Frank Williams
Kanye West (*under 50)
The Ones That Got Away
A list of the living celebrities not picked this year who were most picked in the past:
Not Picked This Year



1. Michael J Fox (22)

2. Roger Moore (21)

3. Paul Gascoigne (20)

4. Robert Mugabe (17)

5. Pope Benedict XVI (16)

6. Fats Domino (15)

7. Chuck Berry (14)

8. Lindsay Lohan (13)

9. Peter Sallis (12)

10. Jacques Chirac (11)