Deathlist 2015 Home Page
Created | Updated Dec 31, 2015
Disclaimer - This list is not officially h2g2-endorsed
If you're easily offended, or of a sensitive nature, please click here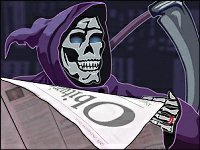 This is the home page for '2015 Deathlist' game (convo thread) which is run by Mu Beta assisted by Galaxy Babe.
The following list of rules are for the Deathlist 2015.
Rules of Play
Choose 15 celebrities who you believe may die in the calendar year 2015.
Number 15 on your list must be aged under 50 in 2015 (born after 1965).
Email your list, with your h2g2 user name and U-number in the title, to galaxybabeATgmailDOTcom replacing the capital letters with your best guess.
You will be awarded 10 points per correct prediction. If your prediction is unique, then you receive 15 points.
You will be awarded 5 bonus points by a death caused 'not by natural causes', in other words a suicide, murder or accident.
You will be awarded 5 bonus points for a celebrity who dies on the 13th of the month. 10 bonus points if it's Friday the 13th.
Assuming you have followed Rule 2 correctly, then you will be awarded double points for the correctly-predicted demise of Number 15 on your list (all bonus points are also doubled). Only Number 15 is eligible for this bonus, no matter how many under-50s are on your list.
The definition of 'celebrity' is someone well-known enough to have their death reported on the websites of BBC News or any of the British Broadsheets. No report; no points.
Any complaints about the poor taste of this game should be addressed to Mu Beta.
There are 17 players who have chosen a total of 186 celebrities or notable people
The Top Picks
Fidel Castro is on the list of 6 players
Prince Philip is on the list of 5 players
Olivia de Havilland is on the list of 5 players
Nancy Reagan is on the list of 5 players
Player's names and scores can be found on the Scoreboard
A
Richard Adams - predicted by Beatrice
Abu Bakr al-Baghdadi - predicted by C Hawke (*under 50)
Abu Muslim al-Turkmani - predicted by C Hawke
Brian Aldiss - predicted by Galaxy Babe
Buzz Aldrin - predicted by Mr. Dreadful
Muhammad Ali - predicted by Beatrice, logicus tracticus philosophicus, Mr. Dreadful, swl
Pamela Anderson - predicted by Pastey
Bob Appleyard (cricketer) - predicted by Icy North
Ed Asner - predicted by paulh
Michael Aspel - predicted by Galaxy Babe
Diana Athill - predicted by coelacanth
Ron Atkinson - predicted by Just Bob
Sir David Attenborough - predicted by Mr. Dreadful
B
Kenny Baker - predicted by Mol
Tom Baker - predicted by Mr. Dreadful, Mol
Michael Barrymore - predicted by Mol
Dame Shirley Bassey - predicted by Mol
Bill Beaumont - predicted by MMF
Richie Benaud - predicted by Galaxy Babe
Alan Bennett - predicted by Mol
Dave Benton (Illinois TV anchorman) - predicted by Icy North
Chuck Berry - predicted by loonycat, Pink Paisley
Liliane Bettencourt - predicted by coelacanth
Joy Beverley - predicted by logicus tracticus philosophicus
Jules Bianchi (F1 driver) - predicted by Icy North (*under 50)
Richard Nelson Bolles - predicted by The Groob
Pierre Boulez - predicted by Beatrice
Tony Britton - predicted by loonycat
Gordon Brown - predicted by Just Bob
Warren Buffett - predicted by Pastey
James Burke - predicted by Pink Paisley
Barbara Bush - predicted by Mol
George HW Bush - predicted by Demon Drawer, Mr. Dreadful, Pink Paisley
C
Glen Campbell - predicted by Galaxy Babe
Pierre Cardin - predicted by The Groob
Jimmy Carter - predicted by Pink Paisley
Fidel Castro - predicted by Icy North, logicus tracticus philosophicus, loonycat, MMF, Pink Paisley, swl
Bobby Charlton - predicted by Just Bob
Chubby Checker - predicted by logicus tracticus philosophicus
Dick Cheney - predicted by Just Bob, paulh
Cher - predicted by Demon Drawer
Jacques Chirac - predicted by Beatrice, Pink Paisley
Frankie Cocozza - predicted by Beatrice (*under 50)
Christopher Coke (Jamaican drug lord) - predicted by Just Bob (*under 50)
Chris Cooper (American actor) - predicted by paulh
Jilly Cooper - predicted by Mol
Kenneth Cope (actor) - predicted by Pastey
Liam Cosgrave - predicted by Beatrice
Perez de Cuellar - predicted by Beatrice, Demon Drawer
Pamela Cundell - predicted by The Groob
D
Jim Dale - predicted by Pink Paisley
Liz Dawn - predicted by coelacanth
Doris Day - predicted by swl
Olivia de Havilland - predicted by coelacanth, Demon Drawer, Icy North, loonycat, swl
Piet de Jong - predicted by Demon Drawer
Samuel R Delany - predicted by Just Bob
Gerard Depardieu - predicted by Galaxy Babe
Colin Dexter (writer) - predicted by Icy North
Douglas Dick - predicted by The Groob
Pete Doherty - predicted by Mol (*under 50)
Fats Domino - predicted by Beatrice
Kirk Douglas - predicted by C Hawke, loonycat, MMF, swl
Michael Douglas - predicted by MMF
Freeman Dyson - predicted by Galaxy Babe
E
Clint Eastwood - predicted by Mol, Pastey, swl
F
June Foray - predicted by paulh
Bruce Forsyth - predicted by loonycat
Michael J Fox - predicted by logicus tracticus philosophicus, MMF, Pastey
Morgan Freeman - predicted by Just Bob
G
Zsa Zsa Gabor - predicted by C Hawke, Icy North, loonycat
Michael Gambon - predicted by Mr. Dreadful
Paul Gascoigne - predicted by C Hawke, MMF
George Gaynes - predicted by The Groob
Valéry Giscard d'Estaing - predicted by Pink Paisley
John Goodman - predicted by paulh, swl
Mikhail Gorbachev - predicted by Mr. Dreadful
Berry Gordy Jr - predicted by Galaxy Babe
Billy Graham - predicted by C Hawke, Demon Drawer, logicus tracticus philosophicus, swl
Tom Graveney (cricketer) - predicted by Icy North
Arlo Guthrie - predicted by paulh
H
Stuart Hall - predicted by C Hawke
Johnny Hallyday - predicted by coelacanth
Valerie Harper - predicted by Pastey
Rolf Harris - predicted by C Hawke, coelacanth, Mol
João Havelange - predicted by Demon Drawer
Bob Hawke - predicted by Pink Paisley
Prof Stephen Hawking - predicted by MMF, Pink Paisley
Denis Healey - predicted by C Hawke, Demon Drawer, logicus tracticus philosophicus
Hugh Hefner - predicted by Galaxy Babe
Bernard Hepton - predicted by The Groob
Lauren Hill (Basketball player) - predicted by Icy North
David Hockney - predicted by Beatrice
John Hume - predicted by Beatrice
John Hurt - predicted by Just Bob
I
Frank Ifield - predicted by Pink Paisley
Miguel Indurain - predicted by Just Bob
J
Joe Jackson (father of The Jacksons) - predicted by Galaxy Babe, logicus tracticus philosophicus
Clive James - predicted by C Hawke, Pastey
Grand Duke Jean of Luxembourg - predicted by Beatrice
Glynis Johns - predicted by coelacanth
Shirley Jones - predicted by paulh
K
Graham Kerr (galloping gourmet) - predicted by Beatrice
Ian 'Lemmy' Kilmister - predicted by coelacanth, Mr. Dreadful
Kim Jong-un - predicted by Mr. Dreadful (*under 50), Pink Paisley (*under 50)
B B King - predicted by Beatrice
Henry Kissinger - predicted by C Hawke, Just Bob, logicus tracticus philosophicus
Larry Kramer (American author) - predicted by Galaxy Babe
L
Dame Angela Lansbury - predicted by logicus tracticus philosophicus, Mol
Nigel Lawson - predicted by MMF
Marine Le Pen - predicted by Just Bob
Cloris Leachman - predicted by paulh
Sir Christopher Lee - predicted by MMF, swl
Harper Lee - predicted by coelacanth
Jerry Lee Lewis - predicted by paulh
Karen Lewis (Chicago teachers union president) - predicted by Icy North
Stephen Lewis (actor) - predicted by Pink Paisley
Lindsay Lohan - predicted by MMF (*under 50), Pastey (*under 50)
Harry Lorayne - predicted by The Groob
Dame Vera Lynn - predicted by logicus tracticus philosophicus, loonycat, Pastey
M
Shirley MacLaine - predicted by Mol
Patrick Macnee - predicted by coelacanth
Mick Mars - predicted by Mr. Dreadful
Millicent Martin - predicted by Pink Paisley
Roy Mason - predicted by Beatrice
John McVie - predicted by Pastey
Michael Medwin - predicted by The Groob
Prince Michael, Duke of Kent - predicted by MMF
Warren Mitchell - predicted by The Groob
Cuttino Rashawn Mobley - predicted by logicus tracticus philosophicus (*under 50)
Al Molinaro - predicted by coelacanth, Demon Drawer
Sir Roger Moore - predicted by loonycat, swl
Mohamed Morsi - predicted by Icy North
Sir Stirling Moss - predicted by Pink Paisley
Hosni Mubarak - predicted by C Hawke, logicus tracticus philosophicus
Robert Mugabe - predicted by C Hawke, logicus tracticus philosophicus
Rupert Murdoch - predicted by Mol
Pete Murray (DJ) - predicted by The Groob
N
Nichelle Nichols - predicted by Just Bob
Leonard Nimoy - predicted by Mr. Dreadful, swl
O
Maureen O'Hara - predicted by Demon Drawer, MMF
Sir Peter O'Sullevan - predicted by Icy North
Richard O'Sullivan - predicted by loonycat
P
Nicholas Parsons - predicted by Galaxy Babe, The Groob
Lance Percival - predicted by coelacanth
Leslie Phillips - predicted by loonycat
Christopher Plummer - predicted by paulh
Roman Polanski - predicted by Just Bob
Olaf Pooley - predicted by The Groob
Pope Francis - predicted by paulh
Prince Philip - predicted by loonycat, Mol, Mr. Dreadful, Pastey, swl
Sir Terry Pratchett - predicted by Mr. Dreadful, Pastey
Q
Queen Elizabeth II - predicted by paulh
R
Nancy Reagan - predicted by coelacanth, Mr. Dreadful, loonycat, Pastey, swl
Sir Martin Rees - predicted by Galaxy Babe
Burt Reynolds - predicted by swl
Jonathan Rhys Meyers - predicted by coelacanth (*under 50)
Little Richard - predicted by C Hawke
Keith Richards - predicted by MMF
Glenn Roeder - predicted by Icy North
Sonny Rollins - predicted by paulh
Ken Rosewall MBE - predicted by Beatrice
William Russell (actor) - predicted by Demon Drawer
S
Peter Sallis - predicted by C Hawke
Michael Schumacher - predicted by swl (*under 50)
Conrad Shawcross - predicted by The Groob (*under 50)
Sam Simon - predicted by Demon Drawer
T
Rip Torn - predicted by coelacanth
V
Dick Van Dyke - predicted by logicus tracticus philosophicus, Mr. Dreadful, Pastey
Sebastian Vettel - predicted by Pastey
Abe Vigoda - predicted by The Groob
Jon Voigt - predicted by paulh
W
James Dewey Watson - predicted by Demon Drawer
Danniella Westbrook - predicted by Galaxy Babe (*under 50)
Joost van der Westhuizen - predicted by Demon Drawer(*under 50), MMF
Gene Wilder - predicted by MMF
Betty Williams (Nobel laureate) - predicted by Just Bob
Rex Williams (snooker player) - predicted by Icy North
Shirley Williams - predicted by loonycat
Owen Wilson - predicted by paulh (*under 50)
Y
Mike Yarwood - predicted by Demon Drawer
Alan Young - predicted by The Groob
Sir Jimmy Young - predicted by Icy North, Mol
Malcolm Young (AC/DC) - predicted by Galaxy Babe
Malala Yousafzai - predicted by Just Bob
Z
Bilawal Bhutto Zardari - predicted by loonycat (*under 50)
Jacob Zuma - predicted by Galaxy Babe
Richard Adams
Muhammad Ali
Pierre Boulez
Jacques Chirac
Liam Cosgrave
Perez de Cuellar
Fats Domino
David Hockney
John Hume
Grand Duke Jean of Luxembourg
Graham Kerr (galloping gourmet)
B B King
Roy Mason
Ken Rosewall MBE
Frankie Cocozza (*under 50)

Abu Muslim al-Turkmani
Kirk Douglas
Zsa Zsa Gabor
Paul Gascoigne
Billy Graham
Stuart Hall
Rolf Harris
Denis Healey
Clive James
Henry Kissinger
Hosni Mubarak
Robert Mugabe
Little Richard
Peter Sallis
Abu Bakr al-Baghdadi (*under 50)

Diana Athill
Liliane Bettencourt
Liz Dawn
Olivia de Havilland
Johnny Hallyday
Rolf Harris
Glynis Johns
Ian 'Lemmy' Kilmister
Harper Lee
Patrick Macnee
Al Molinaro
Lance Percival
Nancy Reagan
Rip Torn
Jonathan Rhys Meyers (*under 50)

George HW Bush
Cher
Perez de Cuellar
Olivia de Havilland
Piet de Jong
Billy Graham
João Havelange
Denis Healey
Al Molinaro
Maureen O'Hara
William Russell (actor)
Sam Simon
James Dewey Watson
Mike Yarwood
Joost van der Westhuizen (*under 50)

Brian Aldiss
Michael Aspel
Richie Benaud
Glen Campbell
Gerard Depardieu
Freeman Dyson
Berry Gordy Jr
Hugh Hefner
Joe Jackson (father of The Jacksons)
Larry Kramer (American author)
Nicholas Parsons
Sir Martin Rees
Malcolm Young (AC/DC)
Jacob Zuma
Danniella Westbrook (*under 50)

Bob Appleyard (cricketer)
Dave Benton (Illinois TV anchorman)
Fidel Castro
Olivia de Havilland
Colin Dexter (writer)
Zsa Zsa Gabor
Tom Graveney (cricketer)
Lauren Hill (Basketball player)
Karen Lewis (Chicago teachers union president)
Mohamed Morsi
Sir Peter O'Sullevan
Glenn Roeder
Rex Williams (snooker player)
Sir Jimmy Young
Jules Bianchi (F1 driver) (*under 50)

Ron Atkinson
Gordon Brown
Bobby Charlton
Dick Cheney
Samuel R Delany
Morgan Freeman
John Hurt
Miguel Indurain
Henry Kissinger
Marine Le Pen
Nichelle Nichols
Roman Polanski
Betty Williams (Nobel laureate)
Malala Yousafzai
Christopher Coke (Jamaican drug lord) (*under 50)

logicus tracticus philosophicus

Muhammad Ali
Joy Beverley
Fidel Castro
Chubby Checker
Michael J Fox
Billy Graham
Denis Healey
Joe Jackson (father of The Jacksons)
Henry Kissinger
Dame Angela Lansbury
Dame Vera Lynn
Hosni Mubarak
Robert Mugabe
Dick Van Dyke
Cuttino Rashawn Mobley (*under 50)

Chuck Berry
Tony Britton
Fidel Castro
Olivia de Havilland
Kirk Douglas
Bruce Forsyth
Zsa Zsa Gabor
Dame Vera Lynn
Sir Roger Moore
Richard O'Sullivan
Leslie Phillips
Prince Philip
Nancy Reagan
Shirley Williams
Bilawal Bhutto Zardari (*under 50)

Bill Beaumont
Fidel Castro
Kirk Douglas
Michael Douglas
Michael J Fox
Paul Gascoigne
Prof Stephen Hawking
Nigel Lawson
Sir Christopher Lee
Prince Michael, Duke of Kent
Maureen O'Hara
Keith Richards
Joost van der Westhuizen
Gene Wilder
Lindsay Lohan (*under 50)

Kenny Baker
Tom Baker
Michael Barrymore
Dame Shirley Bassey
Alan Bennett
Barbara Bush
Jilly Cooper
Clint Eastwood
Rolf Harris
Dame Angela Lansbury
Shirley MacLaine
Rupert Murdoch
Prince Philip
Sir Jimmy Young
Pete Doherty (*under 50)

Buzz Aldrin
Muhammad Ali
Sir David Attenborough
Tom Baker
George HW Bush
Michael Gambon
Mikhail Gorbachev
Ian 'Lemmy' Kilmister
Mick Mars
Leonard Nimoy
Prince Philip
Sir Terry Pratchett
Nancy Reagan
Dick Van Dyke
Kim Jong-un (*under 50)

Pamela Anderson
Warren Buffett
Kenneth Cope (actor)
Clint Eastwood
Michael J Fox
Valerie Harper
Clive James
Dame Vera Lynn
John McVie
Prince Philip
Sir Terry Pratchett
Nancy Regan
Dick Van Dyke
Sebastian Vettel
Lindsay Lohan (*under 50)

Ed Asner
Dick Cheney
Chris Cooper (American actor)
June Foray
John Goodman
Arlo Guthrie
Shirley Jones
Cloris Leachman
Jerry Lee Lewis
Christopher Plummer
Pope Francis
Queen Elizabeth II
Sonny Rollins
Jon Voigt
Owen Wilson (*under 50)

Chuck Berry
James Burke
George HW Bush
Jimmy Carter
Fidel Castro
Jacques Chirac
Jim Dale
Valéry Giscard d'Estaing
Bob Hawke
Prof Stephen Hawking
Frank Ifield
Stephen Lewis (actor)
Millicent Martin
Sir Stirling Moss
Kim Jong-un (*under 50)

Muhammad Ali
Fidel Castro
Doris Day
Olivia de Havilland
Kirk Douglas
Clint Eastwood
John Goodman
Billy Graham
Sir Christopher Lee
Sir Roger Moore
Leonard Nimoy
Prince Philip
Nancy Reagan
Burt Reynolds
Michael Schumacher (*under 50)

Richard Nelson Bolles
Pierre Cardin
Pamela Cundell
Douglas Dick
George Gaynes
Bernard Hepton
Harry Lorayne
Michael Medwin
Warren Mitchell
Pete Murray (DJ)
Nicholas Parsons
Olaf Pooley
Abe Vigoda
Alan Young
Conrad Shawcross (*under 50)