The h2g2 Post 15.12.14
Created | Updated Dec 14, 2014

Posted: 15th December 2014

Still Stargazing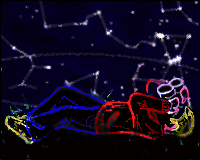 Okay, unless you're Rod or Willem, you probably don't want to go lying on your back to look at the stars this month. Too cold, wet, and/or snowy. But you get the idea. We're looking up and around this week, getting a good gander at our world through the eyes of our contributors, who are strategically stationed in key locations about the planet – like Pontefract, Polokwane, and the Isle of Wight. Our spies are everywhere. And thanks to Expedition 42, we have intel from orbit. The Post has eyes in the skies, folks, and we're grateful. How else could we bring you such amazing stories?

Bluebottle's back to keep us informed about the Guide. Have you written your December space-related Entry yet? Time to get cracking. Or rescue one from the Flea Market. He'll tell you how. He's also got some good thoughts on meeting famous people. That, you will recall, was August's Challenge, but better late than never. We're not fussy, just nosy.

Willem gives us a break from snakes and shows us an astounding Goliath Heron. Awix and Ben check in with the latest from exotic places, ranging from Middle Earth to human experience. Magwitch has come over all spacey with her game report. And we've got a quiz that may make you gag over your gagH, so don't do it while eating. Seriously.

Next week, we'll go all Christmassy on you, and be both merry and thoughtful, as usual. So if you've got any last-minute holiday copy, this Editor promises to try to get it in between now and the New Year, if you'll do your part and get it to us ASAP at postteamhg-at-gmail-dot-com. Have a good week!
NATURAL DEFENCE


NATURAL CURIOSITY


To the Ends of the (Middle) Earth.

Culinary inquisitiveness.

WHEN THINGS WERE LOOKING UP

Space Station plans in 1968.


NEWS AND VIEWS

BLAST FROM THE PAST


USC NOMAD – Tour of Tomorrow.

FEEDBACK, SUBMISSIONS AND DISCUSSION


For submissions and editorial feedback



Chat about The Post with other

readers and the Team


The home of the h2g2 Post team