The Barracks
Created | Updated Dec 24, 2009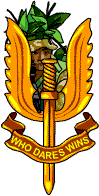 This will remain the land of the free only so long as it is the home of the brave. - Elmer Davis
Any soldier, sailor, airman, or marine has fond memories of sitting around the barracks and sharing tall tales. In the Guide, we can gather here, and share our experiences. Regardless of the nation we served, or whether we were in the Army, Navy, Air Force or the Marines, we are all brothers in arms.
If you have served, are serving, or are thinking about serving, welcome to the Barracks.
At ease.
Roster
Royal Australian Air Force
Royal Australian Army
United Kingdom
Royal Air Force
Royal Navy
Royal Marines
U.S. Air Force
U.S. Army
U.S. Navy

If you want to join, sign in below and subscribe to the Barracks conversations by clicking where it says 'Click here to be notified of new Conversations about this Guide Entry.'



Nickname :
Researcher # :
Branch of Service:
Dates of Service :
Specialty :
Misc :


1This is apparently some sort of weatherman.